« Wednesday Overnight Open Thread (6/12/19)
|
Main
|
Mid-Morning Open Thread »
June 13, 2019
The Morning Report - 6/13/19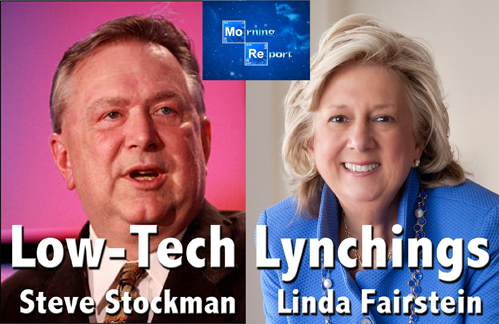 BREAKING NOW: Two Japan-Bound Tankers Reportedly Attacked Near Strait of Hormuz
Speculation ranging from either a direct attack with torpedoes or pre-placed anti-ship mines. Funny how this happens when Japanese PM Abe is to meet with the mullahs. In any case, this is not good. Also, the US Navy is on station in the Gulf. Stay tuned...
* * * * *
Good morning kids. Thursday and the beat goes on. On the immigration, border crisis and amnesty front, the President is confident that Mexico is going to stick to its agreement to clamp down on the Central American migrant hordes dragooned into invading us across the Rio Grande. They have in fact stationed significant troops at their own southern borders to comply. But, the President has warned that in the event they renege, a Phase Two with much harsher penalties will be implemented. Good. I wish he would also go after the millions of visa overstays along with the severe prosecution and punishment of any businesses knowingly employing illegal aliens. I'm looking right at you, Tom Donohue and the Koch/CoC Whores. Now that I think on it, you could say that the latter are to the GOP what Nazi collaborator and wanted international criminal George Soros is to the Democrats, except Soros isn't working against the interest of that party's base (or so that base has been duped into believing [its real base are the elites and apparatchiks]), but I digress.
Meanwhile, Cocaine Mitch says he will take up the crisis next week in the Senate while over in the House, the beleaguered Republicans there are doing what they can to gum up the works with the Dems in order to force them to address this issue with the funding needed. Kudos to them for that. Also, on the issue over the census citizenship question, Trump has told Congress to pound sand by invoking executive privilege, while the Dems have charged William Barr and Wilbur Ross with contempt of Congress. And Rancida Tliban has hinted that her momma might have to refuse to answer that question, so I guess that means we should have DHS investigate her citizenship? Meanwhile, it's coming to light that in the waning hours in the bunker, Obama's underlings deleted all references to the border crisis that was happening and really ramped up under his regime from his online speeches mere hours before Trump was sworn in. Lastly, we have a story about a true Nancy Pelosi spark-of-humanity boy who managed to run a whorehouse and deal heroin in Milwaukee even after being deported. Sounds like he'd be ideal as a 2020 Democrat presidential candidate. Seal that damn border and get real on maximum enforcement and deportation. Short of that, we're fundamentally unserious about this issue.
Over in the Clinton/Obama Coup Against Trump and the Mueller Deception and Cover-Up, several links about the disastrous performance of Watergate mastermind John Dean and lastly, along with Paul Manafort, former Congressman Steve Stockman is rotting in jail on trumped up charges as punishment for being an outspoken critic of Obama and Bill Clinton. I understand he also made the dangerous mistake of trying to go up against Lois Lerner. These are travesties that we usually associate with banana republics or bleak, iron curtain regimes, and yet degenerates like Mueller, Weissman et al at the behest of their overlords in DC pervert and twist the criminal codes and their authority to silence those who dare speak out against them. I hope those two and all the rest swing for what they did. More than likely they won't. But at the very least, let's get Manafort and Stockman out of the hands of their gaolers and start the process of defanging these institutions.
Democrat Scandal Sheet and Officially Sanctioned Anti-Semitism: First up, as Joey Bidet insists that there wasn't a smidgen of corruption or lying during his eight years off of the trash heap with Obama, David Harsanyi has a little bit of a refresher about all those smidgens the paste-eating girl-groping criminal missed. Also, Bro-Fo Omar's walking penis du jour, alternately her brother and/or her husband is in potential deep doo-doo with the IRS (that whole clan should be stripped of their citizenship and deported back to the paradise on earth that is Somalia), the wife of Elijah Cummings (I'm shocked!) is also in hot water with the IRS for hinky finances related to her honest-as-the-day-is-long hubby as well as perjury, and one of Obama's own hacks-in-black dismisses a lawsuit concerning land involved in building some monument to jug-eared narcissism. As to the Joo-hatred, longtime Dem and Israel supporter Eliot Engel has been targeted for termination and Rancida Tliban is still posing with a Joo-hating fundraiser. Meh, another day ending in "I-KEEEEL YOU!"
Civil War 2.0: So, old and busted = milkshakes; the new hotness = battery acid; at least that's what one Brit "comedienne" who looks like that Professor Raimondo only uglier and fatter, thinks it should evolve to. And we'll have more on comedy in the Hither and Yon section. And speaking of Oberlin, as Winston Churchill once intoned about the Hun, the SJW's are either "at your throat or at your feet," a church in Portland is hosting what amounts to an Antifa Hitler Youth camp and there's this Cop Watch Database which resembles a massive hit list to target law enforcement in the event of civil disturbances.
On to politics where Jeffrey Lord dismantles Hillary Clinton, impeachment is actually a great pro-Trump strategery, Betsey McCaughey on the Dem candidates' mad dash to the extreme Left, Howard Schultz has popped up and it seems like whatever there was of his candidacy has petered out for now, Chiquita Khruschev knocks Nancy Palsi, and Nazi collaborator Soros' candidates for prosecutor have beat the incumbents in Virginia. That man is cancer.
First Amendment and Fake News Fakery: Twitter muzzles Project Veritas for actual journalism, Pinterest silences pro-lifers, David French gets fried, and intel agencies can be good or bad depending on who's President. Also, Linda Fairstein speaks out about being persecuted and now having her livelihood threatened by SJWs over the Central Park 5 agitprop on Netflix and now, one of her associates in that case steps down from a teaching post at Columbia (shocked they even let her teach there in the first place) over her involvement. If they can't chuck you in jail on trumped up charges like Manafort, Stockman or even Trump, they will make your life a living hell. And that is their equivalent of the dead fish delivered to the Corleone compound. They don't want to debate us; they want to destroy us. That "message" better be understood loud and clear and dealt with.
Guns: Firearms company that thought Hillary would win, and anticipated massive sales, declares bankruptcy when neither materialized. Early nights are a bitch, yo.
Abortion: Illinois goes full Mengele, legalizing abortion at the point of birth, some Dem Congressbroad opens cake-hole and emits flatus, and the shockingly revelatory remarks of blonde dimwit Kirsten Gillbrand.
Foreign Desk: Hong Kong heats up as police fire tear gas at mass crowds of protesters, how to beat China in what is inarguably now the new cold war, Trump hits Farsi terrorists with sanctions, PDT calls communique from Whoa, Fat! a "beautiful letter," Venezuela goes Henny Youngman and declares "Take your dead - Please!," India for the first time ever sides with Israel against the PLO at the UN, Germany against the populists, Trump and Duda all the livelong day, and Victor Davis Hanson on western self-hatred.
Domestic Desk: Watchdog group finds $15.3 billion in waste yet Cocaine Mitch allegedly bitches at Mick Mulvaney for complaining about pork. And yet we're at $3 trillion in federal spending through last May for the first time ever with the deficit of over $730 billion, it's not a housing crisis but a public safety crisis and NYC's idiotic rent stabilization laws.
The Economy: Bernie Sanders is clueless and dangerous, and a lingering Obama-era rule on debt collectors needs to be trashed immediately.
Red Greens: Pacific Gas and Electric goes bankrupt by finding cheap renewable energy isn't either.
Feminazism, Homosexualization: Maryland government buildings trash POW/MIA flag for hideous rainbow rag, and David Horowitz on the totalitarian tyranny disguised as gay rights.
Hither and Yon: Hunter Biden finds love, mostly by waving wads of dad's ill-gotten lucre, somehow the US Women's Soccer Team winning a championship is evil, how the scales fell away from a former progressive's eyes, and two looks at the politicization of comedy including another great outing by Morning Report favorite Daniel Greenfield.
Anyway, links from around the world, across the nation and up your street. Have a better one and remain blessed.
NOTE: The opinions expressed in some links may or may not reflect my own. I include them because of their relevance to the discussion of a particular issue.


AMNESTY, IMMIGRATION, MIGRANT INVASION BORDER WALL, BORDER SECURITY


posted by at
07:04 AM
|
Access Comments