« Sunday Overnight Open Thread (6/9/19)
|
Main
|
Mid-Morning Open Thread »
June 10, 2019
The Morning Report - 6/10/19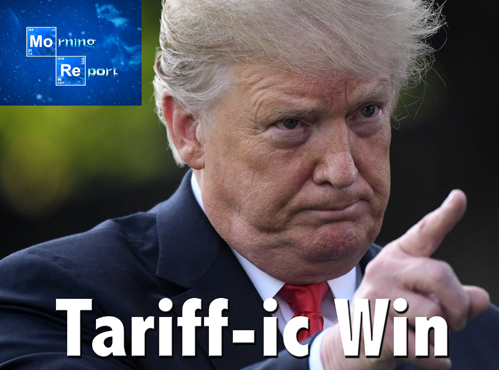 Good morning kids. Start of a new week so let's get with it. The big story over the weekend and continuing is President Trump's yuuuge win over Mexico, who folded like a wet taco when for the first time in my lifetime a US president actually threatened to seriously punish them with tariffs if they did not stop aiding and abetting the depopulation of Central America (and their own failed kleptocratic third world shit-hole) into our country. From a purely political perspective, it represents a Nelson Muntz laugh of epic proportions to the Democrat-Left-Media Complex and their remoras in the GOP-e who claimed it would destroy our economy, it's racist and xenophobic or who just openly hate America and have no phony excuses but are grumbling at being kicked hard in the nadlers by Orange-Man-Bad. Yes, the winning - I ain't now ways tahr'd of it.
From a practical standpoint, are the Mexicans merely paying lip service? I would imagine there must be some way to monitor compliance but with hundreds of thousands (if not perhaps a million or more) of people already rushing our borders and shockingly little manpower to prevent it, while I'm heartened and cheering the news, it's not a panacea. The collusion between Democrat-Leftists seeking to replenish the black voting bloc decimated by its genocidal welfare state policies of abortion and perpetual victimhood with a whole new block of illiterate peasants dependent upon government handouts and crony corporatists who have sold out the American worker and American industry to keep wages low and profit high continues virtually unabated (this President's policies and executive actions notwithstanding). That also connects the dots between China and Mexico vis a vis tariffs and redressing this crime into sharp focus.
Look, we can talk about walls, and troops on the border and all the rest of it all we want. The real long-term solution is to create a virtual wall that for sure is 100% impenetrable: Disincentivizing these people from coming here in the first place. No welfare, no food stamps, no free schools, no college tuition, no free medical care, no drivers licenses... Nada del Tio Azucar, nunca. It's bad enough that upwards of 30 million foreigners are eligible to drain our Treasury legally. But take a look at the story in the links about a blood-sucking tick convicted of substantial food stamp fraud and multiply that by millions as well and, to quote Everett Dirksen, sooner or later you're talking about some real money. The other half of that equation, as I stated, rests with our own citizenry. Any person or business that knowingly hires illegal aliens should be punished with severe fines and serious prison time. Does that mean someone who has a lady from Guatemala come in once a week to clean the apartment? Not sure. But something like a food processing plant, garment factory (if we still have them here anymore) or other industry employing masses of illegals should be shuttered, the assets seized and the owners chucked in D-Block.
And speaking of greedy momzers and goniffs, look who the Koch Brothers Whores are funding; open borders anti-tariff Democrats. Emanuel Goldstein? Never heard of him! Elsewhere the Democrats are belching up that we have an obligation to give illegal aliens amnesty and full citizenship. Does that include Africans and others from the ebola-belt as well as ISISians from the suicide belt-belt? Axing for a fiend...
Moving on to the Clinton/Obama Anti-Trump Coup and Mueller Deception and Cover-Up, it looks like Andrew McCabe is channeling his inner Sammy the Bull Gravano to squeal on Comey, Republicans demanding Elijah "the profit" Cummings drag back Michael Cohen to grill him about lying, Doug Collins warns Nadler about some impeachment stunt, Dershowitz calls out the Mueller team for distorting evidence, Carter Page says the Stefan Halper set up intensified before the FISA warrants, and Margot Cleveland at The Federalist thinks the coming IG report will unleash AG Barr.
Officially Sanctioned Democrat Party Anti-Semitism: No sooner than the Black-Jewish Carcass, er, Caucus invited Bro-Fo Omar to sing her rendition of "The Candy Man" as part of the initiation, she goes out and sings the praises of Sarsour the Hamas Louse.
Civil War 2.0: Some Democrat stooge from Rhode Island has no trouble with Nancy Palsi calling for the imprisonment of the President and a warning about the dissolving of the ties that bind us. Note to Nikki Haley; the Claude Rains "shocked!" face doesn't suit you.
Politics: Latest Harvard Harris poll shows voters enthused not at all by any 2020 Dem candidate, Eric Swallowswell lays an egg, Fauxca-Has-Been's phony flip-flop from "you didn't build that" to "capitalism good!", Nazi collaborator George Soros looks to steal Virginia prosecutor races, Democrats are doom and finally, did the National Popular Vote movement meet its Waterloo with the Nevada governor's torpedoing of the law in that state? Read it and judge for yourself; it's an interesting take.
First Amendment and Fake News Fakery: Oberlin College losers attempting to sabotage the punitive damages phase of the Gibson's Bakery case, Daniel Greenfield with a positive spin on the YouTube conservative purges, another look at this Carlos Maza turd, the media desperate to get Dems to give them impeachment encouragement for ratings, author who lost a book deal for outing black DC Metro goldbrick lay-about suing for millions, Dems go nuts on Teh Ted for pointing out a truth about Twitter, Josh Hawley seeks crackdown on YouTube kiddie porn purveyors, and some words on free speech and how to preserve it.
Guns: Mark Cuban not a fan of the Second Amendment. Run for president on that, champ.
Abortion: US prosecutors will defy their duties by not enforcing strict abortion laws? Fire them all. Also, Clarence Thomas on natural rights vis a vis this issue, and president of the Susan B. Anthony List is positive about the Dems overreach on baby killing.
Foreign Desk: US hits terror-linked Iran oil company, UN sez four million Venezuelans have fled the country, Trump diplomacy is a winner, two essays on Turk tyrant Turdogan, dispatches from Uzbekistan and spiting Poland's commies.
Domestic News: US diplos defy orders and fly the freak flag, Ruth Bader Meinhoff, or an unreasonable facsimile, high on Brett Kavanaugh hiring all-female clerk staff, and disappointing news of government employee hirings, BUT...
The Economy:... Nearly 13 million manufacturing jobs added is highest since 2008.
Crime and Punishment: Boston Red Sox player David Ortiz was reportedly shot in a bar in the Dominican Republic and is in stable condition, male feminist tech journo charged with soliciting child sex and don't let the propagandists fool you; the Central Park 5 were murderous sub-human animals and not martyrs.
Healthcare: UCSF cuts ties with Catholic Hospitals because they refuse to accept human sacrifices for fetal tissue research and Canada sez "can we have your liver, then?"
Education: Bernardo Sandersnista is first in the Dem Klown Kar to call for abolishing charter schools, an essay on campus reform, roll Tide rolls SJW madness at its law school, and the university system is the Leftist seminary.
Red Greens: 9th Circuit gives a big win for Keystone XL, Thad McCotter on "the apocali," Cuck Schemer keeps fucking that Chicken Little, and low cost renewables aren't either.
Actual Science and Technology: Trump's space race.
Feminazism, Homosexualization, Transgender Psychosis: Trannies do the Judy Garland boob binding, and keep the homosexuals away from the kids.
Hither and Yon: Nun fights back against Katy Perry grabbing her convent, note to pro athletes and bartenders; you aren't slaves, a look at Rosenberg co-conspirator Morton Sobell and his finally admitting the truth about his fellow traitors, another essay on capitalism vs. socialism, singer Morrissey feels the SJW wrath, the death of the country club and memories of Chernobyl from someone who was there.
Anyway, links from around the world, across the nation and up your street. Have a better one and remain blessed.
NOTE: The opinions expressed in some links may or may not reflect my own. I include them because of their relevance to the discussion of a particular issue.


AMNESTY, IMMIGRATION, MIGRANT INVASION BORDER WALL, BORDER SECURITY


posted by at
07:29 AM
|
Access Comments