« Overnight Open Thread (06-05-2019)
|
Main
|
Mid-Morning Open Thread [Kris] »
June 06, 2019
The Morning Report - 6/6/19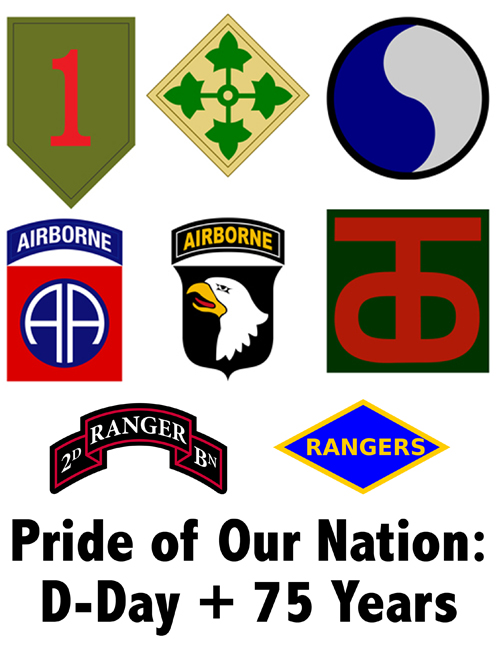 Good morning kids. Thursday and today marks the 75th anniversary of arguably the most pivotal moment of the 20th Century and arguably one of the most in world history: Operation Overlord, the allied invasion of Normandy on June 6th, 1944. I'll have a few words on this at the end of the report and I believe some of the cobs later in the day, so stay tuned for that.
Now, on to the usual meshugas where we start with the situation at the border and the feckless, duplicitous behavior of the party that allegedly represents us but in fact, in the main most certainly does not. Witness the words of CoC-whore supreme John Cornyn who opposes the President's justified and naturally highly effective use of tariff's to bypass Congressional stonewalling (not border walling, of course) and force Mexico to stop aiding and abetting what amounts to the wholesale depopulation of a large chunk of Central America to relocate within our borders. Look, we all know the multiple reasons why the Democrat-Left-Media Complex wants open borders; filling the voter rolls with millions of new Democrats, punishing America for alleged crimes against brown people, supplanting what's left of America's unique culture for much the same reason and Cloward-Piven-ing the nation into a balkanized mass to bring us down once and for all. And the GOP-e? Simple; they want to make a buck off of it by destroying the wages of the American worker. Obviously, the barely disguised loathing of OrangeManBad for coming in and busting up the GOPs role in the long con of New Deal and being a loud, uncouth gavone from Queens figures large in that equation as well.
The links serve to underscore this where not all Republicans are itching to stab Trump and all of us in the face. Several, including some who I would've thought would've been with Cornyn, are lining up in favor of the tariffs. Equally surprising is just the opposite from those who I thought would be on board (I'm glaring at you, Ted Cruz). Whether they're sincere or merely covering their collective ass so as not to face a primary challenge, I'm heartened for the support. Paraphrasing Milton Friedman, "making it politically profitable for the wrong people to do the right thing." Nancy Palsi's dentures rattled out some form of outrage in between grand mal episodes that Trump is treating Mexico as an enemy. As the follow on link eloquently states, that's because they are especially with the current rabid Marxist as its president who openly crows about the righteousness of unleashing millions of illiterate peasants into the US as retribution or justice or some other such bilge. Fuck him in particular, but I digress.
Other associated links, citing zero standing, a judge has smacked down the Dems latest effort to thwart border wall construction, Santa Clara County proudly defends sanctuary status of foreigners even if it means real citizens are murdered, last minute attempts to derail citizenship question of the census reek of desperation as it heads towards a (hopefully) positive outcome at SCOTUS, Joey Bidet should shut his pie hole about kids in cages and this year's migrant apprehensions alone exceed the total of the entire past decade. Crisis? What crisis?
On to the Clinton/Obama Attempted Coup and Cover Up, where as Christopher Steele seems now ready to flip and start singing, Judicial Watch confirms what we all knew about the FBI covering up Clinton's crimes pre-2016, traitor Andrew McCabe outraged he and Comey called traitors, 9 times Obama actually obstructed justice and the last link's seemingly obvious title belies a real good read.
Officially Sanctioned Democrat Party Anti-Semitism: 60% of hate crimes in NYC targeted Jews and yet Bill De Bolshevik claims anti-Semitism is a right wing phenomenon. Meanwhile, the overwhelming majority of Americans still support Israel and call BDS anti-Semitic. And yet both of those figure prominently in the Democrat platform and in the halls of Congress. How about that, comrade De Testable?
Civil War 2.0: Bette Midler, a woman who resembles a transvestite, advocates for stabbing Trump and yet remains on Twitter. Meanwhile, conservatives are being de-platformed and censored everywhere. More on that in a bit. Nancy Palsi says she wants to see Trump imprisoned and the poison of liberal intolerance in the home.
Politics: Not content with the shit-show of Nadler and John Dean and the continued fucking of the Collusion chicken into noting but pulp, feathers and lube, the Democrats are rehashing the idiocy of Trump's mental health as a pretext to remove him from office, Fauxca-Has-Been is full of herself (herself = shit), one of her harshest critics, an honest injun is elected Cherokee chief, Kamala-Toe heads to Alabama after ripping the state (may there be thousands of people there to "greet" her), Josh Hawley and Rick Scott as heirs apparent to Trump, Democrats hate G-d, and David Horowitz with a warning about this dangerous Leftist plan to circumvent the electoral college. Is that even legal? Please weigh in if you have the knowledge along with the rest of the kibitzers.
First Amendment and Fake News Fakery: Vox initiates a purge of conservatives on YouTube and elsewhere as a result of some spat with Steven Crowder, more bad news for the Left as a poll indicates fake news is seen as a bigger threat than terrorism and illegal aliens, two links on the campaign to destroy NYC's highly regarded prosecutor Linda Fairstein in light of a new Netflix agitprop flick on the infamous Central Park jogger rape case, Christian Toto on the pulling of the FBI Lovebirds flick from theaters, and that Dutch teen euthanasia case may be fake news.
Guns: President goes toe to toe with Piers Morgan but then announces he supports banning silencers in the wake of the Virginia Beach mass shooting. Mistake, sir.
Abortion: Pro-Lifers cheering Trump's ban on fetal tissue research funding, Joe Bidet was for the Hyde Amendment before he was against it and yet again before he was for it, Seb Gorka on the Death-ocrat Party, and we could be one more heartbeat bill away from overturning Roe v Wade.
Foreign Desk: Before bashing Trump, Euro-peons need some history (h/t Fenelon Spoke), Far Left thugs attack elderly Trump boosters in London (their violence is speech), Francis the Talking Pope lets his Marxist ankle show, Victor Davis Hanson on the growing importance of Greece as a strategic partner, two on the Tiananmen anniversary, the "Palestinians" prepare to screw themselves over again because corrupt and Joo-hatred, and on the US as a Pacific power.
DEE-Fense: Congress is going to block arms sales to the KSA and UAE. And yet, they were hot and horny to nuke up Iran while possibly sending US troops their to fight and die.
Domestic News: Angelo Codevilla on the rogue judiciary and possible solutions, Ben Carson quietly doing some good and interesting things as HUD chief, shot: LA homelessness is out of control, chaser: LA Dem stooge sez government programs are working. I guess she's right insofar as they are doing what they normally do which is worsen the problem. Also, Bob Casey sez anti-Catholic judicial nominee is probably toast, and a look at the bureaucrat who trashed San Francisco.
The Economy: Fauxca-Has-Been's economic policy plan is about as disastrous to a thriving economy as you'd imagine. And worse.
Crime and Punishment: Former Arkansas state senator found shot dead in her home. She was a Democrat an switched over. Also GOP senators support stiffer fentanyl sentencing.
Healthcare: Betsey McCaughey on lung cancer being ignored.
Education: Teachers freak out over pro American posters, and a way to defuse the student loan debt time bomb.
Red Greens: Good Roger Simon reminds us that Joe Bidet isn't the only plagiarist vis a vis his shamelessly pilfered climate platform, Hillary declares herself queen of "climate change" or something, Jay Inslee slams DNC for not hosting a debate about the scam/fraud/hoax, and crooked slag AG Maura Healy slapped with a lawsuit about her prosecution/persecution of Exxon.
Feminazism, Homsexualization: If you're a cop and a homo, don't you dare wear your uniform to the pride parade, "Straight Pride?" Hell yes!, and Snapchat seems to be pimping normalization of pedophilia.
Hither and Yon: The Air Force admits to UFOs and now the FBI admits to Big Foot, Gallup poll sez Yanks cool with premarital nookie but cheating is not kosher, Evangelical pastor apologizes for praying for Trump and how the trend towards childlessness will impact American society going forward.
Finally... Today marks the 75th anniversary of the D-Day landings. I'll not say much and let the links do most of the talking. I will say that had the landings failed, the world as we know it today, flawed and insane as it may be, would have been a very different and perhaps even grimmer place than even we know it to be now. On a personal note, I would not be here since the Germans would have had the time to finish off the remainder of the Jews they didn't exterminate, making the Final Solution truly final.
For nearly six decades after 1945, America and its ideas an ideals served as a model and a beacon of hope for billions. We also secured the relative peace and stability of the world for longer than any other time in history. As we are witnessing abroad and most alarmingly here at home, we are also made painfully aware that freedom is never free and it is not, as Reagan said, passed down in the blood.
But, at least we know what it is, and how things are supposed to be thanks to the sacrifices of the men who fought, and of course, those who died on Utah, bloody Omaha, St. Mere Eglise, Bayeux, in the hedgerows, in the cruel sea and dozens of other places on that day, which as one survivor said was "without a doubt the longest day of my life."
I will leave you with The World at War: Morning (Lord Olivier's gripping narration and Carl Davis' score are worth noting). God bless those who fought there and for those whose longest day was their last day.
Anyway, links from around the world, across the nation and up your street. Have a better one and remain blessed.
NOTE: The opinions expressed in some links may or may not reflect my own. I include them because of their relevance to the discussion of a particular issue.


AMNESTY, IMMIGRATION, MIGRANT INVASION BORDER WALL, BORDER SECURITY


posted by at
07:45 AM
|
Access Comments