« (6/03/19) Monday Overnight Open Thread
|
Main
|
Mid-Morning Open Thread »
June 04, 2019
The Morning Report - 6/4/19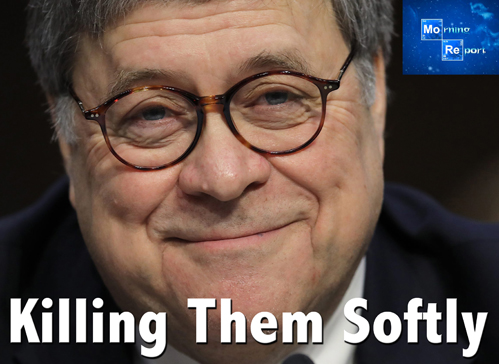 Good morning kids. Tuesday so let's get with it. In the Coup Against Trump Attorney General William Barr is turning into President Trump's most crucial ally in the daunting, almost quixotic task of draining the DC swamp. Considering the forces arrayed against him who, as we have been made painfully aware, will stop at nothing to crush anyone who dares go against them, his remark of "everyone dies" in his CBS interview last week is telling. He doesn't give a shit. He is going to go after the perpetrators of the greatest political crime in American history in the hopes of preventing what happened to Trump from ever happening again, and restoring the trust in the institutions and agencies that were weaponized in the committing of that crime.
Frankly, I think the national law enforcement and intel agencies, like virtually the entire Federal (and many state and local) bureaucratic state is solidly Democrat-Leftst-Globalist from the top down, that short of abolishing the lot and rebuilding them in some manner that bypasses the seeds of corruption (namely the Ivy League and crony politicians doling out the patronage and sinecures) is a tall order to say the least. But that said, what Barr and his boss are doing is at least the long-overdue shock to the system that America desperately needs.
In any case, Mollie Hemingway gives her exceedingly well-informed reading of the tea leaves on Barr's CBS sit-down and what it portends going forward. And no wonder DC is quaking in its boots; the DoJ IG report on just how the FISA warrants were issued during Obama's waning days in the bunker is expected to be released, and a related link on who ran this Operation Crossfire Hurricane. Meanwhile, in a desperate attempt to win the messaging, the crooked bastards in the House are going forward with a vote to hold him and Wilbur Ross in contempt for not acceding to their illegal demands to see Trump's tax returns, and a key witness in Mueller's witch hunt and deception turns out to be a kiddie porn maven. Doesn't that just put the icing on the cake of that career.
Moving on to the border, while everyone is shrieking about Trump's madness on hitting Mexico with tariffs (oh noes! I won't be able to buy Corona!), Mexico knows OrangeManBad, unlike his predecessor, is serious as a heart attack and has agreed to stop 250,000 Central American invaders still on their side of the border from crossing north. Mick Mulvaney states the first tariffs will go into effect June 10th, and lest we forget, Trump is doing this because Congress refuses to do its duty in securing our borders. Also, shocking but not surprising is Mexico admitting that 80% of its territory, including the crucial border areas, are controlled by drug cartels and thugs. Speaking of the aforementioned, the Democrats are set to bring a mass amnesty bill to the floor for a vote, and along with illiterate peasantry from our own hemisphere comes the news, hinted at yesterday, that masses of people from Ebola-ravaged sub-Saharan Africa are somehow finding their way across the Rio Grande. I don't care what Mexico says; keep those tariffs in place and find out how in the hell this is all happening. Before you can wade across the Rio Grande you have to wade across the Atlantic. This thing stinks of something much bigger and more dangerous than the failed state to the south of us. And lastly, Michael Ledeen with words of logic and common sense.
Dem Scandal Sheet and Official Joo-Hate Files: Looks like Chiquita Khruschev AOC has all the qualities of the perfect Socialist apparatchik (apparatchiquita?): she's a flaming hypocrite and corrupt as the gulag is cold. And not only is Joe Bidet a confirmed plagiarist but also a liar about his participation in the civil rights marches of those fabulous 60s. Lastly, Daniel Greenfield on real Jews and the self-gassing variety colliding in California.
Civil War 2.0: I don't know why this slag Dem named Saira Rao, who ran in Colorado for a House Seat lost. She hates America and hates white people, and those are among the key Democrat Party platform items, nein? And the "teacher" so-called, who Tweeted vile smears at the Covington kids gets to resign with a payout and paid vacation time. I understand Dante's Ninth Circle is lovely this time of year. Get thee there, madam.
To politics where the lead item is an alarming report on Secretary of Transportation and wife of Cocaine Mitch Elaine Chao's business and other ties to the Chinese government. It comes from Peter Schweizer via his book Secret Empires and since Schweizer is a straight shooter, this is potentially a bombshell. Elsewhere, Mayor Buttplug knows all is not glitter that glitters, especially campaign gold from his fellow homos, Joey Bidet is fully on board with this anti-Christian "equality act," a Sanders mega-donor wants to cut the South loose from America because dumb and redneck, or something. Meh, cut the blue shit-hole cities loose instead. Plus, Eric Swallowswell releases a diaper video and it's full of Beto biscuits, Seth Moulton thinks feeding Tank Abrams ego will boost his zero chances for the nomination, and Florida Rep Mike Hill is black and conservative and so the tyrannical homo lobby and the GOP-e want to take him down.
First Amendment and Fake News Fakery: Forget about the Daily Beast, it's Facebook that doxxed the Bronx forklift driver, House Judiciary Committee launches anti-Trust probe of Big Tech/Big Brother, which is either a dodge or they really believe they helped the Russians and Trump steal the election, De Bolshevik hated Fox News before he loved their ratings, and David French's stupid move in going against Sohrab Ahmari.
Guns: Gillibrand loved the NRA before she blood-libeled them, NRA gained money and membership last year, and Dennis Prager with some truthful analysis on gun violene.
Abortion: Gillibrand dodges about third trimester or post-natal infanticide.
Foreign Desk: Love fest between Lizzy Windsor and OrangeManBad, PDT's characterization of Sadiq Khan equates to Sad-Dick Con, SoS Pompeo says US willing to talk with the Farsis unconditionally (uh-oh), top NorK official supposedly sent to the gulag seen in public with Whoa, Fat!, with Israeli politics in turmoil, Avigdor Lieberman might be on the rise, and two essays on Trump's tariffs as diplomatic bargaining chips.
DEE-Fense: DoD wants small nukes to counter threats, so Dems want to kill them.
Domestic News: The 10 plagues of California, and the madness of socialist modern monetary theory - print as much as you want without consequence, but still soak the taxpayers.
The Economy: Big Brother/Big Tech stocks lose big time in wake of anti-trust announcement, all your 401-ks are belongs to US, and at VW, look for the union libel.
Education: NYC schools are a hot mess of rabid propaganda, racialism and corruption under De Bolshevik and this creepy Maoist Carranza, and Salena Zito on one legal immigrant's powerful message to kids.
Red Greens: A truly monumental case nears SCOTUS thanks to the idiotic ruling that greenhouse gasses are pollutants, and the case for nuclear power.
Feminazism, Homosexualization: Left goes insane when bishop states not to celebrate "Pride Month," and is Budweiser becoming the next Gillette, or not?
Hither and Yon: Black Lives Matter members demand resignation and apology from one of their leaders, dodgeball is a tool of oppression or something, Netflix ankling Georgia might not be good for the flick-purveyor's bottom line, rave review for Deadwood: The Movie, Richard Fernandez on inconvenient truths over political fundamentalism and finally, the last surviving member of the uprising at the Sobibor death camp, Semyon Rosenfeld, has passed away at 96. I am dreading the day when the last survivors of the Shoah and the last veterans of the Second World War pass into history. Because, then it will all too easily become a myth. God forbid.
Rest in Peace, Mr. Rosenfeld.
Anyway, links from around the world, across the nation and up your street. Have a better one and remain blessed.
NOTE: The opinions expressed in some links may or may not reflect my own. I include them because of their relevance to the discussion of a particular issue.
CONGRESSIONAL COUP, SPYGATE, DEEP STATE, THE MUELLER DECEPTION

posted by at
07:32 AM
|
Access Comments