« (6/2/19)Sunday Overnight Open Thread
|
Main
|
Mid-Morning Open Thread »
June 03, 2019
The Morning Report - 6/3/19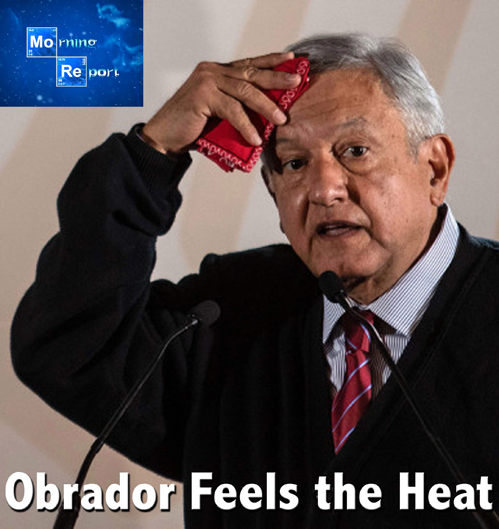 Good morning kids. As we start the new week, we're loaded with links so let's get to it. First up, Amnesty, Immigration and the Border Crisis leads off for the first time in a while. The President hit Mexico hard with a tariff regime if it did not halt the flow of tens of thousands of invaders from Central America through its country and over our souther border. While the usual gaggle of Democrat-Left-Media Complexers and GOP-e CoC-whores shrieked that this is a disaster, immoral, unjust, insane, etc., evidently it put the fear of G-d into Mexico and they are wisely signaling they are willing to cut a deal rather than have whatever the hell is left of their economy crushed.
And now matter how shrill and loud the bleating from the open borders crowd gets, it cannot drown out the cold, hard reality of unchecked, unassimilated mass migration has had on our society. Just look at the three cases in point in this section as confirmation: 1) Illegal alien animals who butchered a couple and raped a 12-year-old girl get slapped on the wrist, 2) the story of the elderly good samaritan in Houston who was stabbed to death by an illegal alien animal because she couldn't help him fix his car, and 3) look at what happened to Minneapolis in less than a generation when we willingly imported Somalis without vetting any of them or realizing what importing a mass of people whose dark age culture is completely incompatible with a modern, open, free society. But wait, there's more! The latest mass grouping of invaders filmed wading across the Rio Grande 116 strong are from Africa. Af. Ric. Ugh.
And now, it's Mueller time or the continued ripping of this nation apart because one political party just cannot accept defeat, especially from someone they not only hate on a personal level but because he represents an existential threat from their plot to overthrow the country as founded. Margot Cleveland over at the Federalist leads off with a piece on how the defamation suit of Svetlana Lokhova against Stefan Halper is exposing the nuts and bolts of this plot, Ol' Yeller Mark Levin wants Lindsay Graham to drag Mueller's carcass before a Senate committee to make him talk, since the House Dems are eager that he keep it shut lest he be forced to reveal the truth they want so desperately to hide, a follow on to Ace's fantastic and comprehensive analysis of AG Barr's CBS interview, what isn't lipid and bilious on Jerrold Nadler is flatus and halitosis, Justin Amash is a fraud, and whither impeachment? Clyburn says probably and Dingleberry's Dowager sez it plays into Putin's hands. Say, what?
Dem Scandal Sheet and Official Joo-Hatred Files: Loudmouth, pompous dimwit Elijah Cummings strangely silent about his crooked wife's refusal to hand over records about her "non-profit" or, as an expert would call it, obstruction of justice, Pete Buttplug wants Uber drivers to know he stands with them, except when being wined and dined by their capitalist pig boss, and when you're running for office like Elissa Slotkin, it pays to have two resumes, one pro-Palestinian and another pro-Israeli. And when you take the most flak when you're directly over the target, as in an advert that ripped Rancida Tliban as the unreconstructed anti-Semite that she is.
Civil War 2.0: Victor Davis Hanson with his usual fine outing looking at the tedious and tiresome Leftist celebrities calling for blood and violence against political enemies, and how it's also quite dangerous.
Politics: Veterans walk out on a Chiquita Khruschev town hall for running down the US and the President. Despite she and her flunkies claiming it didn't happen the vets fired back at the lies. Some crazed animal rights protester rushed the stage as Kamala-Toe was pontificating,
APOLOGIES: I'm now screaming obscenities as Pixy has completely eviscerated the rest of my post. Gotta go pop and amlodipine/lisinopril hate shake with a Valu-Rite chaser.
Anyway, links from around the world, across the nation and up your street. Have a better one and remain blessed.
NOTE: The opinions expressed in some links may or may not reflect my own. I include them because of their relevance to the discussion of a particular issue.
IMMIGRATION, AMNESTY, BORDER WALL, MIGRANT INVASION, BORDER SECURITY

posted by at
07:21 AM
|
Access Comments