« I Think That I Shall Never See, A Poem As Pretty As The ONT
|
Main
|
Mid-Morning Open Thread »
May 31, 2019
The Morning Report - 5/31/19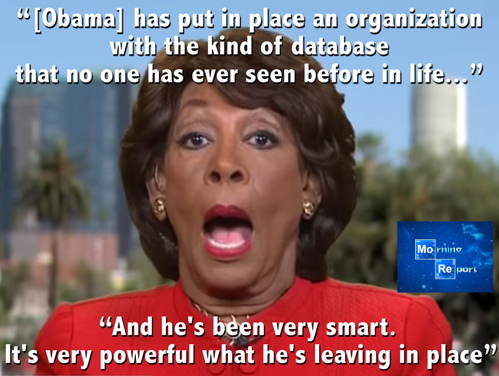 Good morning kids. The weekend is here and we're loaded with links so off we go. First up, we go to the fallout over co-coup conspirator Robert Mueller's announcement. The Democrat-Left-Media complex is shrieking the two-year multimillion dollar nothing-burger that did nothing but roil the nation, smear the President and most crucially cover up the real crimes committed by Clinton and Obama means Trump not only needs to be impeached but now, thanks to Mueller's eight-minute spiel, hanged by the neck.
As William Jacobson at Legal Insurrection stated yesterday, Mueller threw a hand grenade into the Democrat tent vis a vis appeasing the base and pushing impeachment now, or waiting until closer to the election for political cover in the hopes that his approval rating sinks below the magic number of 30 percent, or thereabouts. And given where the economy is (potential sabotage from the Fed notwithstanding), the general public's distaste for impeachment, the even lower opinion of Congress and Trump's unwavering support of his base, that ain't likely to happen.
Unfortunately, (and metaphor number 2) Mueller's performance dumped a Chernobyl-sized reactor pool into the already poisoned Love Canal of the American political and societal landscape to protect his co-conspirators and take a last stab at attempting to overthrow the President. Even to the extent of trashing a supposed long-time close friendship with AG William Barr and essentially calling him a liar vis a vis what he allegedly said about not being able to prosecute a sitting President. Robert Mueller is not only despicable, I'll go on record as stating his words and deeds, underscored in red with his final eight-minute diatribe on Wednesday, place him among the worst political malefactors in American history. The last link in this category is also a very good encapsulation of all his actions up until this point and it's worth a look.
Another story that caught my eye is this one about Maxine "Mikvah" Waters and her very big mouth. Remember late last week Joe DiGenova opined that Obama's spying on Trump in 2016 actually has its roots as early as late 2012, just before that presidential election. Over at American Thinker, Joe Herring had a lightbulb moment about what that sick, decrepit goniff said during an interview with Roland Martin in 2013:
...Congresswoman Maxine Waters (D-Calif.), one of the left wing's most prominent and vocal figures, has a 30-year history of ill advised, frothing rhetoric. "Auntie Maxine" is atop no one's list of vise-lipped confidantes, yet because of her prominence, she is clued in on much of the darker machinations of the Democratic Party and its backers. Occasionally, she reveals more than intended. February 2013 was one of those times.

From Roland Martin's television show:

The President has put in place an organization with the kind of database that no one has ever seen before in life[.]... That's going to be very, very powerful[.]... That database will have information about everything on every individual on ways that it's never been done before and whoever runs for President on the Democratic ticket has to deal with that. They're going to go down with that database and the concerns of those people because they can't get around it. And he's [President Obama] been very smart. It's very powerful what he's leaving in place.

...Combining this documentation with the revelations from D.C. super-lawyer Joe DiGenova that this illegal surveillance and data-gathering operation had been in full swing far longer than anyone suspected, dating back to just before the election of 2012, and you have the bones of the most egregious plot of sedition our nation has ever seen, one involving the takeover of the federal government by use of blackmail.

Taken in light of the previously opaque comments from Auntie Maxine, one can't help but wonder whether the "database like no one has ever seen before" is in fact the result of the operation DiGenova references. Waters' description certainly fits...
We often talk about the other side having blackmail material on our judges and politicians, and I usually take that with a grain of salt. But Herring's take is alarming and worthy of your consideration. If the dots connect as he has laid out, Ho-Lee-Fook. For a bit of comic relief, we have two risibly chutz-pocritical statements from the woman who will never be President of the USA, as well as the case for prosecuting Comey and Brennan.
To the border we go where the big news dropping late yesterday is the President hitting Mexico with big tariffs as a way to force them to get serious and shut down their side of the border. Also, I know it must be a shock to find that 9 out of 10 illegal aliens who are released into the US never show up for the immigration hearings, the latest attempt to remove the citizenship question from the census and police and ICE must cooperate to thwart the MS-13 Nancy Pelosi brigades.
Dem Scandal Sheet and Official Joo-Hatred Files: Nancy Palsi hates Facebook yet still holds $1 million in stock and so is part of the collusion she rails against, Jussie Galore is one party animal, Andrew Gillum facing the heat for campaign fund goniffing, and a Georgia Dem gets hit with an ethics charge over hinky office space dealings. Also, CAIR strong-arming LA mayor Garcetti to not recognize Jerusalem as Israel's capital, and the call to call out anti-Semitism.
Civil War 2.0: Cher takes back her call for Trump to be raped in prison. How nice.
Politics: Pete Buttplug's brother-in-law calls him a liar for political gain, 2020 is the continuation of Obama's goal of disfiguring America as founded, Dems still love Occupy movement but Hickenlooper sez "ixnay on the ocialismSay," Nevada governor vetoes legislature's attempt to thwart the electoral college, Walter Williams with some truth on slavery, the Left and the Constitution, and former Mississippi Senator Thad Cochran dead at 81. Condolences to his family but a limited government, constitutional conservative he was not.
First Amendment and Fake News Fakery: Iranian agents allegedly used social media to fake being GOPers and influenced the media (meh, they don't need to hide who they are for those hacks), discovery phase in massive Facebook suit, and an essay on free speech and safe spaces.
Guns: Maine surprisingly becomes a 2-A sanctuary, Salesforce software is banning some gun retailers from using it, and the Feds are cracking down on violent domestic abusers with illegal guns.
Abortion: Louisiana's Democrat governor signs fetal heartbeat bill and his political death warrant, and the great Justice Thomas on selective infanticide going forward.
Foreign Desk: VP Pence confabbing with Venezuela's Guaido amid political stalemate/crisis there, Saudi King calls on international community to defeat the Farsis, NSA Bolton says Trump wants to negotiate a great trade deal with a completely independent post-Brexit UK, John Cleese spoke the truth about London, and a further look at the revitalized Brexit in context to us and elsewhere.
DEE-Fense: DIA warning about ramped up Chi-Com nuke capability and President Trump gave a rousing commencement address at the Air Force Academy, shaking every graduate's hand. I love that guy.
We-All-Slam-For-I-Slam: Israel destroys most sophisticated Hezbollah attack tunnel yet discovered, and how to prevent John Walker Lindh's from ever being a threat after release. I suggest a bullet behind the ear.
Domestic News: Thom Massie leads the charge to stop Palsi's "legislative malpractice," and, what's this? Chiquita Khruschev teams up with Teh Ted?!
The Economy: 52% of adults say the economy is doing excellent or good, crony capitalists vs the Trump doctrine and how the Chi-Coms ate our lunch all these years.
Crime and Punishment: New Hampshire legislature overrides governor's veto and nixes death penalty, and De Bolshevik's bail reform is the disaster you know it to be.
Healthcare: US looks to travel bans to contain measles outbreak. Calling Judge Buch M. Danno...
Education: Elite Catholic school rocked by homo wedding controversy, Federally funded study tells us what we always knew about Common Core, Heather MacDonald on the college bureaucracy, Marxist academes kill meritocracy to pimp racialist mediocrity, and Daniel Greenfield on Israeli reservists on campus to defend the Jewish state.
Red Greens: Enviro group slams Creepy Groper Veep Joe Bidet on his Climate Change weakness, energy group pushes back on ANWR and energy security, David Harsanyi takes down the alarmists, the dirt on so-called clean energy, and more of Michael Crichton's ideas on environmentalism.
Feminazism and Transgender Psychosis: Church of England school endorses non-Islamic genital mutilation of 8-year-old.
Hither and Yon: Announcing Chubbel Trouble Productions!, and HBO's Chernobyl is an in-your-face indictment of socialism/communism but of course the entertainment press doesn't see it.
Anyway, links from around the world, across the nation and up your street. Have a better one and remain blessed.
NOTE: The opinions expressed in some links may or may not reflect my own. I include them because of their relevance to the discussion of a particular issue.

posted by at
07:36 AM
|
Access Comments