« Wednesday Overnight Open Thread (5/29/19)
|
Main
|
Mid-Morning Open Thread »
May 30, 2019
The Morning Report - 5/30/19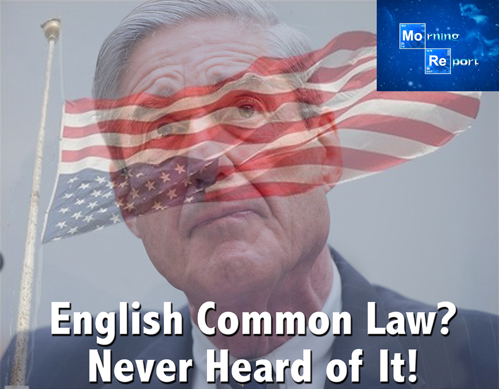 Good morning kids. The big story today is of course Robert Mueller's completely debased and shameless performance yesterday as he officially closed his "investigation" and headed into retirement. That said, the real purpose was to kneecap his own boss AG Barr (allegedly a lifelong friend) and pour gasoline on the embers of hope in the Democrat-Left-Media Complex that President Trump was and is guilty of something, anything, that can be construed as an impeachable offense. If you were listening to Rush Limbaugh yesterday, you could almost taste the bile welling up in his throat coming over your speakers, and he made two rather cromulent points:
First, Robert Mueller stood nearly 1,000 years of Anglo-Saxon legal precept on its ear by essentially stating that despite not having the most minute scintilla of real evidence with which to show this President guilty of anything even remotely related to what he's being accused of, it is nevertheless incumbent upon him to prove his innocence. Secondly, as Mr.Limbaugh put it:
Okay. So, now we know the evidence is clear, the evidence is in. What we have suspected all along is the case. The special counsel, Robert Mueller, wanted to nail President Trump and still wants to nail President Trump. There is no difference between Robert Mueller and any Democrat or member of the media in that town.

The only problem that Robert Mueller had was there isn't any evidence to nail the president, and so he is attempting to imply that the president committed all kinds of crimes, but, in the end, Robert Mueller says Department of Justice guidelines prevent us from indicting the president; it would be [un]constitutional; and so we can't do it.

Mr. Mueller, if that's true - and that's not what Attorney General Barr says that you told him, by the way, and there's a lot of other people in the Department of Justice who say that those guidelines had nothing to do with you and your report on your decision not to charge crimes where the obstruction was concerned.

If all of that is true, then why do this investigation in the first place? Because the only reason for it was to get Donald Trump. It wasn't to find whether or not the Russians had colluded because everybody knew that. There never has been any evidence that Trump colluded. All there ever was was that dossier...
Bingo. And by the way, before the midterm elections, you'll recall Mueller self-righteously preached and preened that he could not in good conscience release any findings until after the midterms lest it cast any undue influence on their outcome. Bull-fucking-shit! He deliberately dragged things out and in so doing cast a pall of suspicion over this president to the extent that 40 or so incumbent Republicans decided that maybe they better not run for reelection and avoid the fallout of what they thought could be the end of Trump's presidency. Remember that incumbency helps keep the political wind at the back of those in the majority going into any election. Mueller's deception and duplicity might also have energized the rabid Left as well as maybe suppressed just enough votes on our side to cause us to lose the House and open up this entire impeachment shit-show, let alone derailing the legislative agenda (of which doubtless the GOP-e was cheering on as well). Whatever the case may be, Robert Mueller committed a deliberate act of political sabotage. And considering the all-star lineup of Leftist hack lawyers on that team, led by gigantic Hillary booster Andrew Weissman, it confirms that all this was was an attempt to overthrow the 2016 election as well as cover up the high crimes and misdemeanors of Hillary Clinton, Barack Obama and their underlings going back not just to 2016 but perhaps 2012 and even further. Meh, what do you expect from someone who was willing to let innocent people rot in prison for decades all to protect one of the nation's most notorious, murderous thugs? Whitey Bulger used guns, knives and fists to do his dirty work. Robert Mueller used a badge and his JD.
On a tactical level, I think this is going to make the Democrats go even more insane than they already are, as witnessed by the reactions coming from Hollywood as well as from the Democrat presidential candidates. And that flies in the snare drum-tight, botulinum filled face of Nancy Palsi who is doing all she can to stop the impeachment madness, until either just before or just after 2020. In any case, from my perspective, Mueller's performance does nothing to move the needle of public opinion, which is demonstrably against impeachment as well as negative towards Congress in general. William Jacobson over at Legal Insurrection states:
...This entire media appearance was a hand grenade thrown into the political process. Nancy Pelosi has been under enormous pressure to green light impeachment proceedings. She has resisted it because of the political damage it likely would cause to Democrats in 2020. I don't see how she holds off now. Mueller likely force[d] Pelosi to go to a place politically she didn't want to go. Mueller breathed life into impeachment, but in doing so may have reelected Trump for the very reasons Nancy Pelosi did not want to go the impeachment route...
The real damage here is both the continued dangerous stoking of political violence and repression against this President and those who support him as well as the will to power of those too young to know any better (thanks, academia!) and those old enough to use the youth as political (or actual) cannon fodder to further the 100-year plus counter-American Revolution. Anyone who thinks what happened yesterday is helpful to healing the body politic, I have a high-speed rail bridge to nowhere I can let you have, cheap.
Moving on to the real crimes of the ongoing Coup against Trump, a top FBI official reportedly leaked classified info to the press and accepted graft for doing so (I'm shocked!), Michael Ledeen calls for the gutting of the entire intel community in the wake of all of the aforementioned, Trump's alleged "secret server" was merely projection of the DNC to further the collusion hoax, and Kamala-Toe confirms my suspicions that none of this ends for Trump, his family, business and anyone connected to him when he leaves office in 2025.
To the border we go where fading turd hors d'oeuvres chef O'Rourke is calling for open borders-open borders, the DHS is aiding and abetting the illegal invasion, the coming crime wave from south of the border, and yes, sanctuary policies kill.
Dem Scandal Sheet: Obama's and Samantha Power's mass unmasking to sabotage allies and Michelle Malkin on Bro-Fo Omar's incest immigration fraud. Deport, deport, deport!
Civil War 2.0: John Lewis from smacked-upside-the-head-in-SELL-muh fame lies and adds fuel to the fires of resentment, and some actor named Jeffrey Wright speaks the truth about what will happen when the Left does get back in the driver's seat.
Politics: Dem prexy field panders like crazy, DNC debate criteria looks to rig the field again, and two essays including from Victor Davis Hanson on Trump as Moby Dick.
First Amendment and Fake News Fakery: Twitter silences analyst who exposed journalist connection to terrorist Antifa, Chris Cuomo is a low-brow jag-off, Nancy Palsi false flag attack against Facebook for helping Russia interfere in 2016 or something, Ohio town backs down after attempting to persecute Catholic schools, and Christian Toto on the threats against the FBI Lovebirds (see last night's post by Ace).
Guns: Alleged illegal gun factory shut down in Canada.
Abortion: Ruth Bader Meinhoff - or someone posing as her - declares pregnant women are not mothers, Illinois House votes for infanticide, WaPo surprisingly gives four Pinocchios to Planned Parenthood prexy, and the 91-year-old judge who green-lit American eugenics. Wait until they discover the gene for homosexuality. You'll see how fast abortion gets banned by the left at the moment of ejaculation.
Foreign Desk: Big story is a shocker out of Israel where Bibi fails to form a government and triggers new elections, Iran tells America "fuck you, we're nuking up," Michael Ledeen warns about inaction on Iran. The man is an expert on the Farsis, and I respect him greatly, but he does not tell us what we need to do to counter them short of invading them, which for me is a non-starter. Also, are the Chi-Coms calling for war with us?, Boris Johnson's moment, US walks out of UN disarmament body as Maduro regime gains chairmanship (why is that man and his thugs still in power?!), praise of India's elections and Caroline Glick on populism's global surge.
We-All-Slam-For-I-Slam: Two on Democrat dhimmitude.
Domestic News: Cocaine Mitch states if a SCOTUS seat comes up in 2020, they will not wait until after the election to fill it (yes!), LA rulers help teacher's union underlings shake down what's left of the taxpayers, and a look at the recent Gorsuch rulings.
The Economy: Yesterday's Dow dump caused by inverted treasury yield curve.
Crime and Punishment: Why broken windows policies actually work.
Education: Bill De Bolshevik's discriminatory policies against Asian kids at the city's top schools, and Trump as champion of free speech on campus.
Red Greens: Schwarzenegger takes the stage with brainwashed Swedish teenybopper to warn us the end is nigh.
Hither and Yon: Take a minority to dinner so she can berate you, stemming the rush to socialism and Rabbi Fischer on baby naming in the age of stupid.
Anyway, links from around the world, across the nation and up your street. Have a better one and remain blessed.
NOTE: The opinions expressed in some links may or may not reflect my own. I include them because of their relevance to the discussion of a particular issue.

posted by at
07:14 AM
|
Access Comments