« Memorial Day Monday Overnight Open Thread (5/27/19)
|
Main
|
Mid-Morning Open Thread »
May 28, 2019
The Morning Report - 5/28/19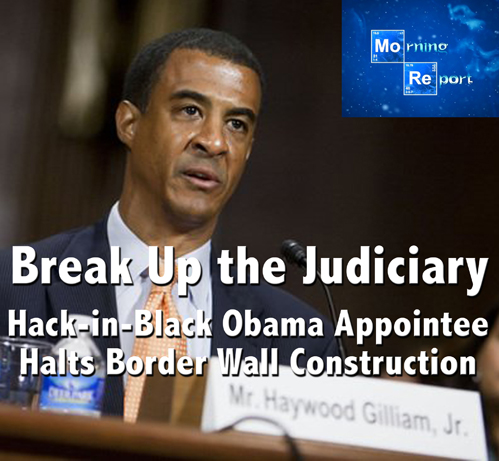 Good morning kids. Back to work for this shortened week so here we go. Nothing really new per se to report in the now post-Mueller Deception and ongoing Congressional Coup except for a few essays on how the worm has turned and that it's the President who is holding all the cards in going after the real criminals. Lindsay Graham echoes that sentiment that the scurrying rats in question are indeed starting to sweat, and if they're not, they should be.
To the border where yet another Obama-appointed hack-in-black has decreed that border wall construction must be halted. Despite the precedent it sets for a future Democrat president (sadly, there is bound to be one and the way that party is going, he/she/it will make Obama look like Coolidge) It is high time the executive branch takes back its rightful power that that rouge branch has usurped. We crossed the anti-Constitutional rubicon long ago and we're in a pre-civil war state as it is, so to damn the torpedoes and secure the border. Also, the question of the President using the Insurrection Act to deport illegals and the next time a Leftist spews the lies of "children in cages" you can remind them of one of their own who actually did far, far worse.
Democrat Scandal Sheet and Jew-Hatred Central: While James Comey was using the FBI to engineer the coup to take down Trump, the resources that should've been used to investigate and fight real heinous crimes were not available. Man, almost more than anyone else, I hope that overgrown coprolite goes down harder than Sandra Fluke at a Viagra Anonymous convention.
Also, a Bernie Sanders adviser by the name of Winnie Wong (sister of Sum-Ting?) is a class act all the way while another one known for being a rabid Jew-hater had a confab with PLO hack Hanan Ashrawi while slamming the president, NYPD is declaring an "anti-Semitism" crisis in the city with the world's most Jews, and this Democrat CAIR droog Rasha Mubarak is a real piece of work.
Civil War 2.0: Chicago gave us Jussie Smollet and now it looks like NYC has its own version, where an anti-gay hate crime turns out to be a self-inflicted hoax. And down the memory hole it goes...
Politics: The President was on board a navy ship in the Pacific to honor the fallen for Memorial Day while one of the Democrat front-runners for 2020 Joe Bidet was nowhere to be found. Two items about Mayor Peter Puffer in which Martha Raddatz of all people grills him about Iran and the failed mayor of shit-hole South Bend warns about the dangers of pardoning a falsely accused US soldier for alleged war crimes. Smarmy Eric Swallowswell continues spewing about "collusion," Blotto Beto's catch and release by any other name is still catch and release, more on the Dems push to destroy the electoral college and wrest permanent advantage in national elections, the real Constitutional crisis and an essay predicting Trump wins again in '20. Please G-d.

First Amendment and Fake News Fakery: What may be the next Citizens United case, the media's cognitive dissonance on document declassification, the FAA looking into discrimination of Chik-Fil-A at airports (how about the CNN monopoly?), and punishing a nurse who talks about G-d.
Guns: Trump's nominee for ATF sounds like he's for real.
Abortion: Calling out Cory Booker on the issue vis a vis his alleged status as champion of women.
Foreign Desk: Continued analysis on the rise of the right in the EU elections, Russkies warn about US sending 1,500 troops to the Middle East, Farsis say negotiations with US ain't happening, Trump contradicts Bolton on situation of new NorK missile testing, is Bibi's new government over before it begins?, Venezuela reconciliation talks continue in Oslo (that city is jinxed, right?), and yet another likening of Israelis to Nazis.
DEE-Fense: Navy pilots reportedly sight UFOs.
We-All-Slam-For-I-Slam: Hezbollah sleeper agent convicted of plotting terror attacks here. And he's a legal immigrant. Yes, let's open those borders wide.
Domestic News: About that massive KKK threat in Dayton, Chicago's housing market about as healthy as you'd imagine, and Trump can do infrastructure without Congress. Frankly, I'd prefer if he took $2 trillion out of the next budget altogether.
Economic News: Fiat Chrysler looking to acquire Renault.
Healthcare: HHS looks to protect religious caregivers.
Education: A professor not of the body will be absorbed, and say no to bailing out student loans.
Red Greens: Real meteorologist totally destroys Chiquita Khruschev AOC's nonsense, and climate change is a political loser. But that will not stop the Left anywhere and everywhere in government from attempting to use it to destroy us.
Feminazism: The good Roger Simon on a disturbing report implicating Martin Luther King Jr. as a #MeToo monster. Should be interesting to see what the Left does with this news. They made him into a deity but his creed of content of character over color of skin stands in direct contravention to their's of identity politics and perpetual minority victimhood.
Hither and Yon: Christian Toto on the demonization of Andrew Breitbart and Matt Drudge (meh, the latter is a sellout but point taken), a look at HBO's Chernobyl as it relates to statism, another review of the documentary about the 8th Air Force The Cold Blue and finally, a World War 2 vet's rendition of the Star Spangled Banner brings down the house.
Anyway, links from around the world, across the nation and up your street. Have a better one and remain blessed.
NOTE: The opinions expressed in some links may or may not reflect my own. I include them because of their relevance to the discussion of a particular issue.
CONGRESSIONAL COUP, SPYGATE, DEEP STATE, THE MUELLER DECEPTION

posted by at
07:06 AM
|
Access Comments