« Food Thread: Don't Slap That Sausage Into Just Anything!
|
Main
|
Sunday Overnight Open Thread (5/26/19) »
May 26, 2019
Gun Thread: Guns Allowed [Weasel]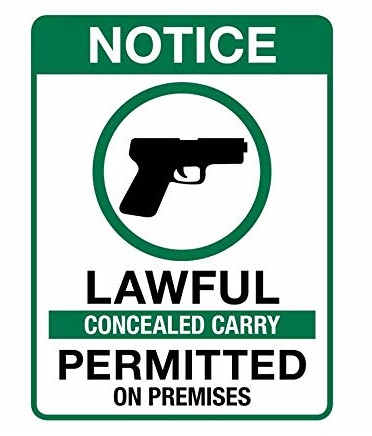 If you are in a place where things go to shit, do you have a plan? Do others have a plan for you?
Are you allowed to have a plan?
A topic we sometimes see discussed here relates to carrying defensive weapons in places of worship. The question is usually discussed among commentors looking for information on whether the matter has been specifically addressed elsewhere, and if it has, if concealed carry is encouraged or even allowed among other congregations. One thing almost never mentioned in the reports of shootings is whether or not it ocurred in a "gun free" area. Once in a while you hear about an armed citizen responding to an attack, but all too often it's just the number of dead and wounded reported. Just about every place has a fire evacuation plan, so doesn't an active shooter and weapons policy make sense, too? And shouldn't an element of that plan include allowing the good guys the chance to shoot back at the bad guys?
Taking the fire analogy a step further, what liability would exist for a building manager if people were killed in a blaze and it was determined the fire sprinkler system had been disabled and personal fire extinguishers were not allowed by policy? Isn't that in effect what is going on in places which prohibit legally carried or concealed firearms? Does anyone know if this has ever been litigated? Is this a stupid example?
Coincidently, Super Alert Commentor and Mindreader ibguy sends this on active shooter insurance which begins to address the general issue, though it doesn't specifically mention how armed congregants might affect coverage in the first place.

You are the one ultimately responsible for your safety. Do not ever outsource responsibility for saving your own ass to someone else! Think about this when you choose to go into any place which curtails or otherwise prohibits your ability to defend yourself if necessary. I personally think these places are negligent by not allowing people the ability to defend themselves and one another. Not everyone is comfortable with firearms, but those who are should be allowed to help those who are not.
For those attending services regularly, how has your place of worship handled this issue? If armed parishoners are allowed, are there rules and guidelines established? What are these rules and do they make sense to you? If not allowed, has a reason been given? Do you agree? Do you follow the rules?
*****
Well now let's see what else there is to talk about:
This YouTube is really too cool not to share. An amazing Miniature MG08 Maxim model - possibly made by a watchmaker. - h/t hcurmudgeon
***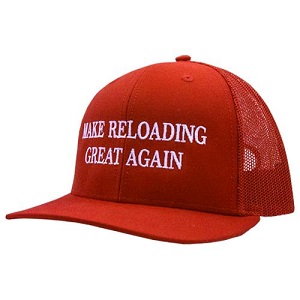 I'm not certain how long Berry's Mfg has been producing thick plated 9mm bullets but it's a great idea. Previously the downside to using plated bullets was a limit on velocities - too fast and the bullets and plating would separate, which effectively limited you to lead bullet velocities. These are said to handle speeds of up to 1500fps, so this is really good news. I am a big fan of plated bullets for plinking and this has always limited me from using them in more calibers with faster loads. Does anyone else use them?
***
Kimber Recall Notice It's for a factory installed handgun optics base plate that can come loose and put your eye out. I've never had a firearm recalled, but I have sent a few in for repair. Smith & Wesson, for example, has always provided great service. What has your experience been with the various manufacturers? - h/t redc14
*******
Link-O-Rama
Not gun related but Sears is having a nice sale on Craftsman tools
Powder Valley: Buy 4# Powder and Get 1 # Free!
Georgia Arms: Free Shipping over $150
Accurate Shooter: AR Platform Cleaning Tips
White Oak Armament: Memorial Day Sale
AR500 Target Solutions: Memorial Day Sale
***Mail Bag***
This weeks entry comes to us from our pal Taro Tsujimoto who shares a nice pair of Ruger New Vaquero .44 Specials.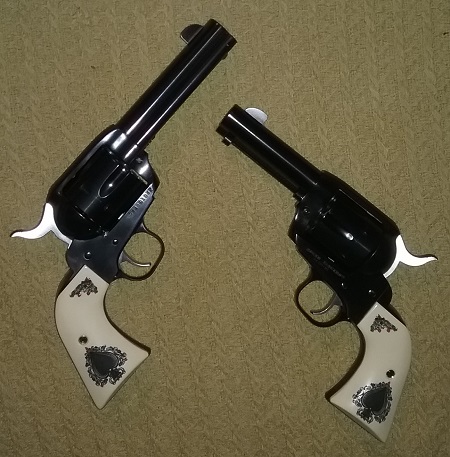 Check out the custom AoS tribute grips!
Taro Tsujimoto tells us:

It took about a month to get them from Altamont Co., but they're pretty enough to wait for!
Very nice! Thanks TT!
*************
Please note the new and improved gmail account morongunthread at gmail dot com. An informal Gun Thread archive can be found HERE. If you have a question you would like to ask Gun Thread Staff offline, just send us a note and we'll do our best to answer. If you care to share the story of your favorite firearm, send a picture with your nic and tell us what you sadly lost in the tragic canoe accident. If you would like to remain completely anonymous, just say so. Lurkers are always welcome!
That's it for this week - have you been to the range?

posted by Open Blogger at
07:00 PM
|
Access Comments