« Flat Pack ONT
|
Main
|
Mid-Morning Open Thread »
May 24, 2019
The Morning Report - 5/24/19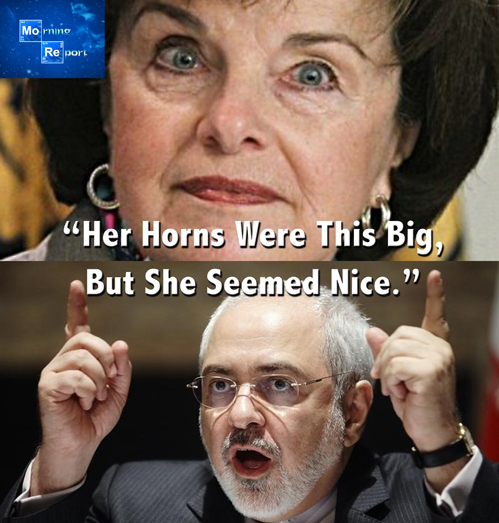 Good morning kids. The weekend is here so here we go. The big news that broke late yesterday is the President's ordering of the declassification of documents surrounding how FISA warrants were obtained, then used/abused in the spying on his campaign in the run-up to 2016 and perhaps afterwards. In a sane world, the revelations will no doubt prove beyond any reasonable doubt that the Obama-Clinton-Deep State Machine engineered the greatest crime in American political history by abusing the instrumentalities of government and what are supposed to be firewalls to protect us to overthrow a national election. At the same time it will completely shred any vestige of the myth that it was the President colluding with Russia to steal the election from Hillary Clinton.
Two observations: First, the release is more than likely a reaction to the call for impeachment in the House and from the rabid Democrat base, Nancy Palsi's and other cooler heads such as they may be notwithstanding. In any case, public opinion from the majority of real Americans now indicates that they are sick and tired of this crap and believe at a minimum that the President is not guilty of what he's been accused of lo these past nearly 30 months. My personal feeling is that he perhaps should have held onto this "trump" card, if you will, until the moment any serious move to impeach got underway.
Second: Despite public opinion and the absolutely incontestable facts that will be laid out for all the world to see, the Democrat-Left-Media Complex and its base base (adjective + noun) is never going to accept this. Whether they knew all along this was garbage or over time swallowed their own Woodstock bad acid and became insane in the brain like their followers, Trump has got to go. Hence, now the campaign in the SDNY's office and the House to get his financial records as a way to engineer a crime that can be used as a pretext to impeach. It's also a way to persecute and punish anyone in his orbit and warn any future Trumps who dare pick up the torch once he has departed on 1/20/25 (please G-d).
This is truly tragic, both for what President Trump, his allies and the rest of us have to endure and for what I believe is the state of the republic (and as I think on it, that much more depressing as we head into Memorial Day weekend and remember those who gave their lives for something that is being defiled and destroyed on a daily basis). There can be no doubt at all that we are a house divided, and quite likely with no conceivable way at reconciliation, because in order for that to happen there must be some vestige of common ground upon which to restore that which holds us together as a civil society. Unfortunately, the Left views our history, culture and laws as not just illegitimate but an evil that must be eradicated. And as the living embodiment of the aforementioned, ultimately it is we who in their eyes must be eradicated. The situation is very much in doubt.
Other links include the President openly using the word "treason" to describe the actions of Comey, McCabe, Strzok and Page. That word is highly charged since, in purely legal terms, if one is convicted of that crime they would theoretically have a date with the hangman. Also, Loretta Lynch still figures prominently in all of this, AG Barr joins VP Pence in blasting at judicial overreach, Susan Rice seems puzzled by AG Barr's actions in pursuing the real criminals of which she may very well be one of, and how the hell did full-on Commies ever get hold of the reins of power?
To the border where Senate hearings confirm Obama's disastrous and illegal edicts created the crisis, the House goes wild as a DREAMr amnesty bill is approved, Pat Toomey wakes up and introduces legislation to crack down on sanctuary cities (where the hell were you when the GOP held both houses of Congress?), typhus and measles now mumps, oh my, an essay on merit-based immigration (meh, we should have a moratorium on all immigration for 20 years), and a look at immigration in context to the trade battle with the Chi-Coms.
Democrat Scandal Sheet: The big item is Dianne Feinstein reportedly had dinner with Iranian Foreign Minister Javad Zarif (I'm still unsure where), which comes on the heels of his contact information being seen on her cell phone. Considering the past 40 years of history between us and Iran, and considering the escalation of tensions between us in the past few weeks, the question is what the fuck is this woman playing at? Meh, that's a rhetorical question. Next to the Clintons, Feinstein is right up there as one of the biggest American traitors who sells us out to our enemies for cash. This comes on the heels of finding out her chauffeur of 20-plus years was an intelligence agent for the Chi-Coms. David Harsanyi asks, if this is not collusion which perhaps borders on treason, because no doubt there is definitely some quid pro quo going on should tensions boil over, then the word truly has no meaning. Teddy Kennedy did this back in the 80s to undermine President Reagan so it goes with the territory. The Democrat Party was, is and always will be a cancer. Elsewhere, Harsanyi goes off on Coonman Northam being thoroughly exonerated for blackface and baby-killing, and a lawsuit seeks the ouster of rabid Marxist Trump-hater Xavier Becerra as California AG on the premise that he does not meet the legal requirement to serve in that post.
Politics: Big news here is the reaction to Nancy Palsi's projection regarding the President needing "an intervention." She gets ripped by the White House staff and the President himself. Mark Levin rips into the Democrat House, Bro-Fo Omar causes Thomas Jefferson to spin in his grave, the top three candidates in the Dem field are all white senior citizens, whackadoo spiritual guru evidently will beat Jello-Brain Gillibrand to the debate stage, Obama really has mental problems, and the race to destroy America by destroying the electoral college.
First Amendment and Fake News Fakery: How the media loved its creepy porn shyster once upon a time, media seeks the scalp of Abby Johnson, the inspiration of Unplanned, former FEC chair hates free speech, and Conrad Black destroys the NeverTrumpers who tried to destroy him.
Guns: Conservative group creates project to combat law-fare against gun manufacturers.
Abortion: Planned Parenthood colluded with Colorado to help them create press releases, Alabama state rep seeks censure of kill-em-now-or-later sick bastard colleague, California puts travel ban on Alabama, and the DCCC aborts fundraiser for pro-life Democrat.
Foreign Desk: Another essay warning against US military intervention in Iran, Julian Assange hit with 17 indictments on espionage, US/EU future clash?, two essays on the EU elections and Brexit, Brit foreign secretary shockingly denounces BDS as anti-Semitic, India's PM Modi en route to landslide victory, a look at France and the Yellow Vests, and yes, Trump's MidEast peace plans, yuuuge and luxurious as they may be, will ultimately fail.
DEE-Fense: From the Water-Is-Wet Department.
We-All-Slam-For-I-Slam: Traitor Walker-Lindh is unrepentant and praises jihad (second look at Star Chambers?), and an interview of a survivor of "Palestinian" terrorism.
Domestic News: Josh Hawley goes after apparent anti-Catholic bigot judicial nominee, no wall funding in $19 billion disaster relief bill, and Gavin Newsom blames his state's homelessness catastrophe on everyone else.
Crime & Punishment: A few disturbing stories here including the 2017 Nashville church shooter is a real charmer; also black and foreigner targeting white people, so this story goes down the memory hole, woman in vegetative state who gave birth was evidently the victim of violent, repeated rape while in an Arizona facility, and three arrested for killing woman and ripping unborn baby from her womb.
Healthcare: California again, this time making sure illegal aliens get your healthcare.
Education: One that hits close to home for me, some fucking piece of shit walking cancer at NYU gave a graduation speech that ripped the President and spewed Joo-hatred not heard since the Nuremberg Rallies. New. York. University. White Dems hate charter schools despite Black Dems loving them, including evidently Cory Booker at one time when he was mayor of Newark. What will the UFT, AFT and NEA think about that?
Red Greens: Greenpeace founder calls mass extinction myth a myth.
Feminazism and Tranny Psychosis: Actor Geoffrey Rush fights back and wins against #MeToo, and two links about the disaster that was and is feminism.
Hither and Yon: Yes, the problem is Leftist supremacy, KISS' Gene Simmons' mystery visit to the White House, and finally, Rabbi Fischer with a thoughtful essay on leftist hypocrisy.
Anyway, links from around the world, across the nation and up your street. Have a better one and remain blessed.
NOTE: The opinions expressed in some links may or may not reflect my own. I include them because of their relevance to the discussion of a particular issue.
CONGRESSIONAL COUP, SPYGATE, DEEP STATE, THE MUELLER DECEPTION

posted by at
07:39 AM
|
Access Comments