« Tuesday Wednesday Overnight Open Thread (5/21//22/19)
|
Main
|
Mid-Morning Open Thread [Kris] »
May 23, 2019
The Morning Report - 5/23/19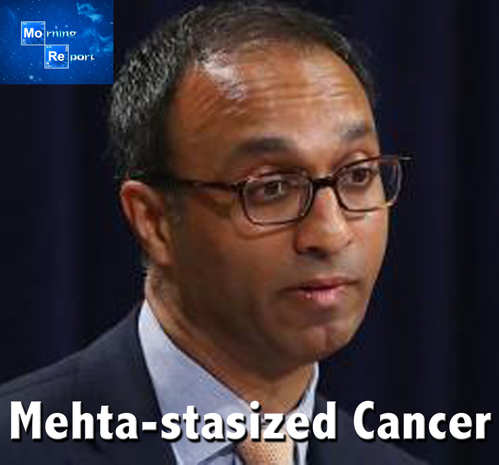 Good morning kids. Lots to cover this Thursday so let's commence. Up front we have two Obama-appointed hacks-in-black (Amit P. Mehta, above) who have ruled that the President and others must turn over their personal financial records to the House Dems so they could go on a fishing expedition to manufacture evidence for impeachment. From Robert Barnes at Human Events:
...The judges' mutual refusal to stay their judgment pending appeal further reflects the partisan motivation behind their conduct. Anyone think they would have approved Congressional subpoenas into Obama's still-sealed educational records? Anyone think they would have approved Senatorial subpoenas into Biden's family finances that concern the large sums of money foreign countries and their agents paid his family during his Vice Presidency under Obama? Anyone think they would have approved wide-scale subpoenas into the activities of the Clinton Foundation during Hillary Clinton's tenure as Secretary of State?

This judgment presents a risk far beyond the politics and personality of Trump, though it is the premise for the courts' conduct; these court orders open Pandora's box for any snooping, stalking, surveilling politician to pry open the most intimate private aspects of any person's life at any time for any reason as they long as they write a memo to themselves that says: we need this for legislation someday, maybe, kinda...
And this cuts straight to the heart of the issue; that is, we are now a nation of two political parties where one respects the founding principles, rules, rule of law and elections in furthering its policy aims (in theory [more on this in a moment]) and another does not. Not only does it not respect the aforementioned, it rejects the very nature of the nation as founded and is hell bent on overthrowing it and installing its leaders and their fellow travelers as rulers in perpetuity going forward. Donald Trump and those who elected him present what amounts to an existential threat to that enterprise. Traditionally, the Democrat-Left-Media Complex knowing full well that many of its policy items could never fly in Congress used the deep state bureaucracy in DC to issue regulations as a super-legislature with an "insurance policy" (there's that phrase again) of as many leftists on the judiciary at every level, especially SCOTUS, to carve them in stone once the inevitable lawsuits flew.
But this action by these two frauds goes beyond mere legislating from the bench. Insidious as that is, at least there is a pretext in most cases of "interpreting" the Constitution to arrive at a decision, gossamer-thin of a fig leaf as that might be. What this is is yet another example of the Judiciary brazenly ignoring the Constitution and acting in an illegal manner to not just usurp the authority of the Executive branch but to be a willing confederate in the destruction of the lives of real people. Just like the illegal usurpations from Judges Buch M. Danno and Tyne E. Bubbles in Hawaii, this must not be allowed to stand. But, it raises another Catch-22 of a problem related to my earlier spiel. How can Trump rely upon a branch of government to redress these issues when that branch itself is the source of the corruption that he is seeking relief from in the first place? As you ponder that M.C. Escher-esque pretzel, I will say that one of this President's greatest achievements is the realignment of the Judiciary from the bottom up. In fact, by the time November 2020 rolls around, we may very well have a 9th Circuit that is no longer majority Maoist. One hopes and prays that all of this will have a stabilizing effect going forward past the Trump years, but my opening observations about the Democrat-Left will not have changed. In fact, you think it's nuts now, wait until 2024 (please G-d), 'cause you ain't seen nothin' yet.
Look at it this way, if the Democrats really respected the rule of the law and the will of the people, would they have engineered this coup to take out Trump before and after his election in the first place? Would they be hell bent to pack the courts, abolish the electoral college, allow foreigners and dead people (including aborted fetuses, presumably) the right to vote (for their candidates only)? As an aside, it's kind of funny, as in completely chutz-pocritical, how they shriek about "stare decisis" when it comes to Roe v. Wade and yet Citizens United, Heller and Janus are evil cancers that must be wiped off the face of the earth.
A house divided against itself cannot stand. As marvelous as these years since that incredible Election Night of November 2016 have been and will be, despite rogue judges and bureaucrats, GOP-e backstabbers, milkshakes, blood-libels, bike locks, sucker punches, beatdowns, and Dick Durbin/James Hodgkinson mass assassination attempts, the specter of 2024 and beyond looms large. Because if the Democrats are willing to do that when they are out of power (the House notwithstanding), what do you think they are going to do the next time they get the Oval Office, legitimately or via the trunk of Al Franken's Buick or the illegal assignment of electoral votes to the national popular vote winner (assuming it's a Democrat, of course). Bad as things are, we're in the eye of the storm right now. Is it merely Katrina or is it the one on Jupiter that's 10 times the size of the Earth with 600mph winds that last forever? Further and further we sail into uncharted territory. G-d help us and G-d bless this President.
Now that I got that out of my system, let's move on to the border, where Prince George's County, Maryland defends its release of illegal alien MS-13 animals who later went on to commit murder, suburban Seattle teen kidnapping suspect is - surprise! - a twice-deported illegal alien animal, a former DREAMr and illegal alien even defends this President and his policies, the administration pushes back on the lie about how much/little wall has been built, Sheila Jackass Lee is as clueless as she is arrogant, and Molly McCaughey with the facts about illegal aliens and the public housing shortage.
Dem Scandals and Official Joo-Hate (a section that gets bigger with each passing day) - Whoa, the wife of Elijah Cummings is in trouble with the IRS over benefitting from hubby's committee assignments, Hunter Biden's money train from offshore is exposed (can we get to see his tax returns???), Democrats are acting as accomplices in pimping Iran's propaganda (aka treason), "Coonman" Northam is cleared of any wrongdoing (pfft), and Bro-Fo Omar has moved on from attacking the filthy Hebes to bashing Christians.
Civil War 2.0: Pro-infanticide maven sez pro-life protestors "deserve to be shot." Our speech is violence, see? Also see the Islam section for the arrest of an Hamas enthusiast keen on bombing Trump Tower and synagogues.
Politics: Trump rightly blasts Nancy Palsi for her smears about a cover up and promptly dismisses her from this infrastructure negotiation, he also says no deal unless the USMCA deal is passed, Palsi under siege from her own party over impeachment, Nevada votes to disregard the Constitution and disenfranchise its voters, Jeffrey Lord on Peter "Puffer" Buttplug and the Dred Scot Dems, flailing, failing Blotto O'Rourke spews all kinds of lies, Ben Carson eviscerates Bro-Fo Omar after she attacks him on Twitter, and Daniel Greenfield takes apart Mittelschmerz Romney.
First Amendment and Fake News Fakery: CNN in the toilet, polls show Dems not really fans of boycotting Fox (I am), Rahm Emanuel shifts from puppet to puppet master, the Voice of America caves to Chi-Com pressure (Deep State organ) and The Forward exemplifies the notion of the self-gassing Jew.
Abortion: California slag lies about Alabama and abortion laws, and a frightening essay on what rape victims say about abortion.
Foreign Desk: Farage weathers milkshake barrage which might be a harbinger for the EU elections, a US cardinal hammers home the insanity of open borders, and the latest secret Israeli weapon is an eye-opener, unless you're ultra-Orthodox. Meanwhile, US jets intercept Russky bombers in Alaska security zone (hello, Tina Feh), Mittelschmerz is a scumbag, and the Deep State sabotages the much-needed Space Force.
We-All-Slam-For-I-Slam: 86-year-old Turkish Christian martyred for his faith.
Domestic Policy: California sues Trump to get its $1 billion in graft back, NYC becomes rat-infested shit-hole again while declaring war on commuters.
The Economy: Netflix meets its match? Plus with Trump's killing of the deduction for state taxes, blue states scramble to hide higher taxes from their voters.
Crime & Punishment: No, it's not from the Onion.
Education: Several good stories on the politicization of schools as well as good ideas about funding real education, plus a look at the brainwashing of our kids.
Red Greens: Underscoring that last link about brainwashing, Dems overwhelmingly believe we have 12 years until doom plus two other essays on the alarmism madness, and Washington State approves of body dumping and scavenging.
Feminazi and Transgender Psychosis: You will be made to conform or silenced, support for "gay marriage" skyrocketed since 1996, and the chilling effect of #MeToo.
Hither and Yon: It took long enough but CAIR sez "I keeel you!" to Aladdin, Hunt's apologizes for naming Manwich after a man, and dismantling the poison of reparations and diversity.
Anyway, links from around the world, across the nation and up your street. Have a better one and remain blessed.
NOTE: The opinions expressed in some links may or may not reflect my own. I include them because of their relevance to the discussion of a particular issue.
CONGRESSIONAL COUP, SPYGATE, DEEP STATE, THE MUELLER DECEPTION

posted by at
07:44 AM
|
Access Comments