« Tuesday Overnight Open Thread (5/21/19)
|
Main
|
Mid-Morning Open Thread »
May 22, 2019
The Morning Report - 5/22/19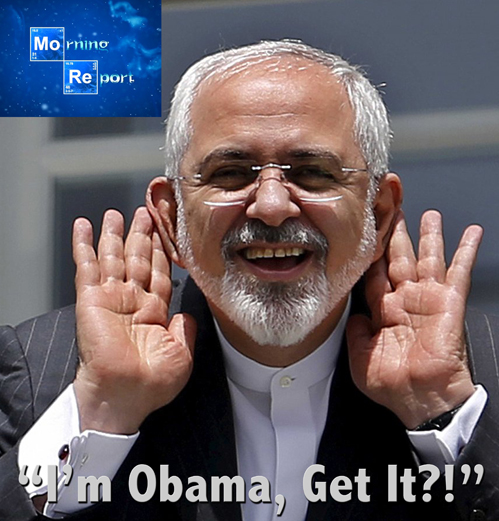 Good morning kids. Midweek and the beat goes on with the revelations about the failed phase 1 coup effort pre- and post-2016 by the Obama-Clinton-intel community to take down President Trump, phase 2 to take him down in Congress, abortion and the tensions with Iran seemingly near a breaking point.
First up, Margot Cleveland with two excellent reports over at the Federalist about more damning evidence of wanton FISA abuse by the Obama regime and Carter Page saying the spying on the Trump administration might have continued well past the election. Also, in the waning days of the Obama era, the video feed in the bunker was suddenly cut off as the discussion turned to the Russia investigation. Total fluke, no doubt, right? Meanwhile, world's largest pastrami sandwich Jerrold Nadler has subpoenaed former Trump staffers Hope Hicks and Annie Donaldson to abuse them and make them confess, Michael Cohen's testimony actually kills a popular Trump conspiracy theory, Justin Amash's backstabbing media whoring gets him a unanimous condemnation from the House Freedom Caucus and a primary challenger, looks like James Comey was a commie just like John Brennan, and while all of this is going on, real collusion committed by Obama and company in the run-up to 2016 vis a vis "Crossfire Hurricane" and lastly, Michael Ledeen with a friendly reminder that the Russians have always been meddling in our affairs and a great idea to declassify all the former KGB files we obtained after the fall of the Soviet Union that would expose some very prominent people and institutions as Communist stooges or willing agents.
To infanticide we go where the Democrats are looking to pass some sort of national edict that cements the right to kill babies at any stage of development up to and including peeking out from erstwhile momma's hoo-hoo. Unfortunately for them, there's this document called the Constitution and the principle known as federalism that prevents that. Okay, you can stop laughing at me. Meanwhile, a baby-killer with a medical school degree takes to the pages of Slim's Slimes to intone Orwellian slogans that sort of fly in the face of reason, and finally a look at a "third party standing" case in Louisiana that could have major ramifications vis a vis a challenge to Roe at SCOTUS.
On to the flare-up with the Farsis where that country is now ramping up uranium enrichment, seemingly as a test of our reaction to it and for practical reasons to get an A-bomb that much faster (Stuxnet 2, Mossad Boogaloo notwithstanding), Daniel Greenfield telling us now that Trump is C-in-C the neocons are distinctly anti-war/showdown with the Iranians, John Kerry bff Javad Zarif threatens Trump, or something, but the UK foreign secretary says not to test OrangeManBad and naturally, the Democrats take a pro-Iran stance in all of this and are seeking out the advice of the man who helped create the nihilistic, armageddon-seeking mad theocracy in the first place: James Earl Carter. Look, the regime in Iran has got to go, both for the peace of the world and more importantly our own national security interests (meh once you have the latter, the former falls into place more or less). That said, considering the past 30 years of the madness of nation-building, I am loathe to go down that road. But Iran has got to be neutralized. Of that I am equally certain. I will leave it to Trump and his team to figure out how to do it. Considering he has done things in complete opposition to conventional wisdom - and the globalist elite - in other areas and has succeeded, I have faith that he can solve this situation.
Moving to amnesty and immigration, Trump taps Ken Cuccinelli to oversee immigration policy, Ben Carson makes Dem heads explode with his wanting to boot illegal aliens from public housing, two illegal alien teens charged with murder were previously released by the sanctuary state of Maryland. May their spark of humanity ignite Nancy Pelosi's botox.
On to the Democrat Scandal Sheet and Joo-Hate Roundup where, after shooting her mouth off about holding businesses accountable for equal pay for women, Kamala-Toe Harris once again lets her hypocrisy show by paying women staffers less than their male counterparts. Then, hundreds of protesters gathered in Times Square to rail against Democrat rising star Bro-Fo Omar, who went on to crow that the nation's two loudest Muslim women are in Congress. True that, tragically.
Elsewhere, and equally hypocritical, the 2020 Dems are railing against corporate money as they rake it in from Wall Street on the down low, Nancy Palsi is doing her best to tamp down the impeachment talk which is falling on deaf ears to the likes of Steve "chicken-fucker" Cohen who accuses Trump of "raping the country," or something, Salena Zito takes a look at the other end of the Potomac from DC and yes, Kamala-Toe's contradictions indeed.
First Amendment and Fake News Fakery: Open letter posted by a Google engineer creates quite a reaction, new report links HuffPo and the Guardian to anti-American front group SPLC and Antifa terrorists, the real journalists who exposed Planned Parenthood take a hit in court, and Rachel Madoff's ratings lower than Bernie's scrotum on an August night in Burma.
Foreign Desk: Beyond Iran, former Czech prexy Vaclav Klaus makes a surprise visit to a Brexit rally, US warnings about Assad prepping new chemical weapons attacks, US Navy sends another warship into Chi-Com claimed waters, the Chi-Coms debut an anti-American trade war tune, and the so-called "Palestinians" reject US calls to participate in an economic conference in Bahrain.
Domestic News: How to pay for $2 trillion in infrastructure with this one neat trick, new lyric idea for Randy Nemwan's I Love LA, Federal efforts at terrorism prevention found woefully lacking and an example fo the feral Deep State in, of all places, NASA.
The Economy: Millennials are the first generation to be economically behind the 8 ball, the insanity that is universal basic income, Dunkin Donuts saw what Starbuck's did and said no thank you, and one small but important example about how Trump's tariffs and "trade war" are working, unlike what the globalists tell you.
Education: Michelle Malkin on Harvard's diversity madness and the equally insane NYC Board of Ed anti-white brainwashing efforts.
Hither and Yon: First the abortion law and now Alabama Public TV is refusing to air the homosexual wedding of that Arthur kid show makes Leftist heads explode, this Game of Thrones controversy of which I am interested not one whit, Christian Toto on Leftist retribution against Meghan McCain for humiliating Seth Meyers, report shows religious couples have happier marriages, David Harsanyi on the myth of poor, poor Millennials, exploding yet again the myth of socialism, despite the alarming news that young people are hot and horny to have it, and the absolute lack of intellectual heft on the Left.
Anyway, links from around the world, across the nation and up your street. Have a better one and remain blessed.
NOTE: The opinions expressed in some links may or may not reflect my own. I include them because of their relevance to the discussion of a particular issue.
CONGRESSIONAL COUP, SPYGATE, DEEP STATE, THE MUELLER DECEPTION

posted by at
07:22 AM
|
Access Comments