« Booming -- and Tightening -- Job Market Has Predictable Effect: Workers Are Getting Their First Legitimate Raises in Decades
|
Main
|
The Morning Report - 5/22/19 »
May 21, 2019
Tuesday Overnight Open Thread (5/21/19)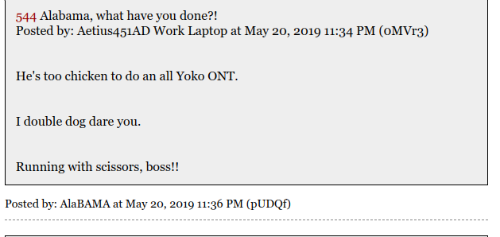 ***
The Quotes of The Day

Quote I

Nobody's life is a bed of roses. We all have crosses to bear, and we all just do our best. I would never claim to have the worst situation. There are many widows, and many people dying of AIDS, many people killed in Lebanon, people starving all over the planet. So we have to count our lucky stars. Yoko Ono

Quote II

Sometimes I am happy and sometimes not. I am, after all, a human being, you know. And I am glad that we are sometimes happy and sometimes not. You get your wisdom working by having different emotions. Yoko Ono

Quote III

I just like to explore all sorts of different forms - no, 'explore' is not even the word - enjoy. You don't want to limit yourself to a particular form. Yoko Ono

80 years young and still hitting it out of the park.................

***
The previous video was Yoko at age 80. What is Yoko up to at age 86? If you are in Syracuse this summer you can find out.

SYRACUSE, N.Y. – Yoko Ono, the well-known and little-understood artist, is bringing her work back to Syracuse this summer for a show at the Everson Museum of Art.

Will her return as an 86-year-old trigger the same breathless reactions that she encountered in 1971, when the Everson hosted her first solo museum show?

Perhaps not. Much of the hubbub around that event centered on Ono's husband, the late John Lennon, who accompanied her and contributed to the exhibition. Still, Ono often surprises.
***

There is more to Yoko than just talented singing. Five interesting facts about Yoko.

Yoko Ono, a multimedia artist, composer and musician, has always been associated to John Lennon or The Beatles in her whole life. The artist who was raised in between the United States and Japan started creating paintings, performances, music and videos in the 60s, before she actually met John Lennon.

Here are some facts about the infamous Beatles breaker who continues to strive her powerful and important position in the contemporary art world today.
***
The ONT Musical Interlude
&&&
&&&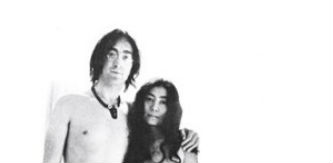 (LP Cover was edited for safe consumption)
How do you finish an album in one night? Let Yoko sing.
*

Wife, mother, artist: Yoko through the years.

Rock-and-roll photographer Bob Gruen first met Yoko Ono in 1971, and has been photographing her continuously ever since. Two years ago, when she was turning 80, Gruen put together a book of his portraits of Ono from the past 40 years — accompanied by quotes from interviews with journalist Jody Denberg — documenting her life as an artist, activist, wife, and mother. "We made a book that you just publish online, and we made a one-off that we gave her as a gift," Gruen explained to the Cut. "She liked it so much that she asked us to publish it."
***

You can't follow me on Twitter. But, you can follow Yoko!
Yes, I'm a giver.
***

When you hire a chauffeur, wouldn't you check and double check the candidate's background. Unless you're a Genius Award Winner.

The melodrama between Yoko Ono and her chauffeur, playing out in New York City courtrooms and across newspaper headlines 11 years ago, appeared to end with that two-month span of accusations, denials and threats. The chauffeur, Koral Karsan, was sent back to his native Turkey after 60 days in jail, and Ms. Ono returned to her public creative pursuits and the side of her life she has long kept private, within the walls of the apartment in the Dakota where she once lived with her husband, John Lennon.

But shortly after meeting with Ms. Ono last month in Manhattan, the police in Berlin this week announced what amounts to an audacious coda to that 2006 chain of events. The police said they have mounting evidence that Mr. Karsan, even as he was accusing Ms. Ono of sexual harassment and demanding $2 million to stay quiet, was stealing Lennon's personal effects from the cupboards of her apartment in the Dakota.
***
Tonight's ONT has been brought to you by Surrendering To Temptation.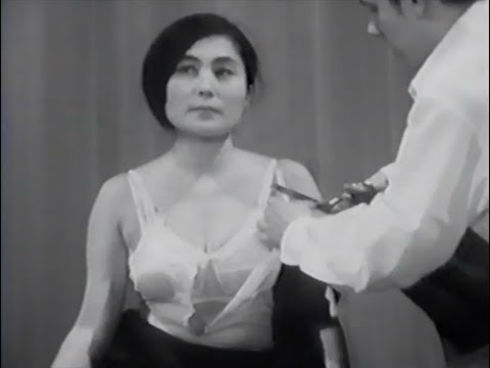 Notice: Posted begrudgingly by the Ace Media Empire and AceCorp, LLC. On the bright side, Platinum Subscriptions are half price tonight through Mid-Night.

Update

Thanks for the reminder Hadrian the Seventh

posted by Misanthropic Humanitarian at
09:56 PM
|
Access Comments