« Saturday Afternoon Chess Thread 05-25-2019
|
Main
|
EMT 5/26/19 »
May 25, 2019
Saturday Overnight Open Thread (5/25/19)
Go ahead, click, it's safe, I promise.
***
The Saturday Night Joke

On her first day at the senior complex, the new manager addressed all the seniors pointing out some of her rules:
"The female sleeping quarters will be out-of-bounds for all males, and the male dormitory to the females. Anybody caught breaking this rule will be fined $20 the first time."
She continued, "Anybody caught breaking this rule the second time will be fined $60. Being caught a third time will cost you a fine of $180. Are there any questions?"
At this point, an older lady named Alice stood up in the crowd and inquired: "How much for a season pass?"
***

If he isn't a Moron, do I hear a motion for his nomination? To my fellow air travelers, this is why you f*cking suck.

We're all in agreement that United sucks, right?

I actively avoid United whenever possible. As a result, my airline experiences are generally tolerable. I accept that stuff like staffing and weather and putting the safety of many people into a metal contraption with countless moving parts built by the lowest bidder and hurtling it through the troposphere at hundreds of miles per hour can result in delays. It sucks, but you just have to file in under "shit happens" and try your best to deal with it.

But a lack of basic human decency from my fellow travelers is of far greater annoyance, for two reasons. First, there are countless insensitive jackwagons on every flight, and second, IT DOESN'T HAVE TO FUCKING BE THIS WAY, YOU BRAINLESS ASS MONKEYS!

Let's be clear: The "you" I'm referring to is actually "them." You're cool because you're reading this article. You're one of the air travelers people should aspire to be more like, here to get your rage on about these cancerous chuds.
***

You never know what you will find when remodeling. A huuuge poster. H/T Hank Curmudgeon

All Ron Berger wanted was to install a door between two buildings.

Instead, much to his astonishment, he opened a window into the early history of Durand, Wisconsin, on Labor Day weekend 2015 when he cut a hole in the wall separating the family business from the property next door to accommodate an expansion.

Initially baffled by the green and brown colors he spotted on a long-buried wall, Berger assumed they must be old water stains. But he eventually uncovered enough of the wall to recognize he was looking at the image of a buffalo, with a puff of steam rising from its nostrils, charging right at him on a grassy plain.

Further inspection, by removing electrical outlets along the wall and shining flashlights into the gap behind, revealed the vibrant colors extended the length of the wall.

By the time Berger was done excavating and researching, he had unearthed a 9-foot-high by 55-foot-long, multi-sheet, full-color paper lithograph circus poster advertising the Great Anglo-American Circus and Menagerie performing in Durand on Aug. 17, 1885, according to the Eau Claire Leader-Telegram.
***

Keanu Reeves is quite the shot.

At this point, Keanu Reeves has already staked his claim as an American badass. After two heart-pounding action franchises in "John Wick" and "The Matrix" alone, he's earned a spot on the Mount Rushmore of action movies.

However, who knew he could actually shoot? He's not only capable with a firearm; he could shoot competitively!
***
***

Basement savers to the rescue. All in a days work.
***

NSFW-Language
Road rage goes horribly wrong.
***

Charlie Brown's Dildo doesn't hold the market on weird, really weird foods. Foods you eat while it is still alive.

Let's ease into this one. Lots of people eat cheese made from sheep's milk. On the isle of Sardinia in Italy, they prefer Pecorino. They also like it served a very specific way. Rather than just fermenting the cheese, they just go ahead and give it a push into the "rotting" territory by inviting maggots to the party. Cheese flies are allowed to lay their eggs, which hosta and start chewing their way through. They start to break down the fats and this makes the cheese very soft. So soft, the Pecorino begins to "cry" (as the locals put it) as the digested fatty liquid leaks out.

When it's time to consume the devil-cheese, it's decision time. Some go for the full experience and eat it, maggots and all, in thin strips on some crispy bread that in no way disguises the taste of live larvae. For the faint of heart, one can also seal the cheese in a bag which causes the maggots to lose oxygen and start launching themselves out of the cheese at distances up to 15 centimeters. That's over 18 times their body length, about the same as you leaping a 10 story building. When the bag stops making the sweet pitter-patter of maggots in their death throws, the cheese is certified baby fly free.
***
The ONT Musical Interlude

The first video H/T from Hrothgar.

&&&
An interesting cover of Bowie's "Heroes"
&&&
***
Cody Coots AKA Big Cody AKA Pastor Cody, is a Pentecostal preacher from Kentucky. Pentecostals point to passages from the Gospels of Luke and Mark, promising the faithful won't be harmed by venomous "serpents."

According to Mark 16:17-18,

And these signs shall follow them that believe: In my name shall they cast out devils; they shall speak with new tongues. They shall take up serpents; and if they drink any deadly thing, it shall not hurt them; they shall lay hands on the sick, and they shall recover.


Anyway, Big Cody's father Jamie was a Pentecostal preacher as well, that is until he died from—you guessed it!—a venomous snake bite. Jamie Coots was bitten on the face in 2014 and died within minutes at the age of 42.
***

I was quite surprised that Florida wasn't involved in this. Anarchy Erupts at Texas 'Go Topless' Beach Party: Brawls, Property Destruction, 120 Arrests

More than 100 partygoers were arrested in Crystal Beach, Texas, during the "Go Topless Galveston" beach party where massive fights broke out, a jeep was lit aflame, and lewd and drunken behavior reigned.
Galveston, Texas, County Sheriffs arrested 120 people over the weekend with suspects variously charged with drunk driving, lewd behavior, assault, and a long list of other charges, according to the Daily Mail.

Video of the outrageous behavior was posted to social media showing half-naked young partygoers engaged in massive fistfights. Police also found one vehicle set on fire and several others used as demolition derby vehicles with often drunk drivers dangerously ramming into each other.
***

The first rule of Party Club is: You do not talk about Party Club. The second rule of Party Club is: You do not talk about Party Club.

Some Florida teenagers were set to absolutely rage their faces off after their prom was over, but unfortunately, their plans and all the money they used to crowdfund their post-prom shit show went down the drain when police discovered the AirBnB wherein they planned to throw the sort of party that ends with Shock and Awe levels of property damage and shut the whole thing down.

Martin County sheriff's deputies were informed by a school resource officer at West Boca Raton Community High School that a party likely to be attended by an upwards of 200 high school students was going to go down at a Palm City house on the 3300 block of Southwest Grass Trail. The house was rented as an AirBnB by a 19-year-old and then stocked with an absurd amount of booze (including a ton of Smirnoff Ice) and weed. (For real, feel bad for whoever rolled all those blunts. There was an impressive amount of labor put into that.)
***

Poetic justice and karma all wrapped into one event. Genius Award Winner.

Police were called to the 400 block of 20th Avenue shortly before noon on Monday, May 20 after for a report of gunshots in the area. A witness reported seeing a man running from the area.

Police say they found an empty garage with blood stains on the garage and ground nearby.

A short time later, an 18-year-old Moline resident, identified as Derek J. Baustian, arrived at a nearby hospital with a gunshot wound to the hand.

Police said they discovered the teen was mishandling a stolen gun and accidentally shot himself in his left hand.
***

Tonight's ONT has been brought to you by Dual Purpose Appliances.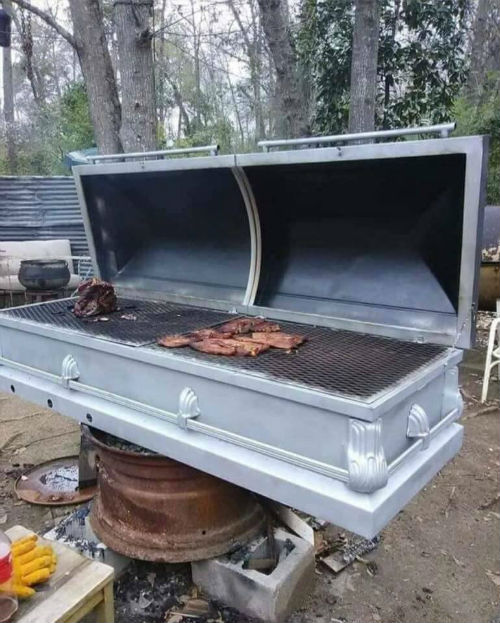 Notice: Posted with permission by the Ace Media Empire and AceCorp, LLC. Double dog dares do not faze The ONT.

posted by Misanthropic Humanitarian at
10:03 PM
|
Access Comments