« Food Thread: Don't Put Inane Things In Good Food
|
Main
|
Game of Thrones Finale Thread »
May 19, 2019
Gun Thread: Some Assembly Required [Weasel]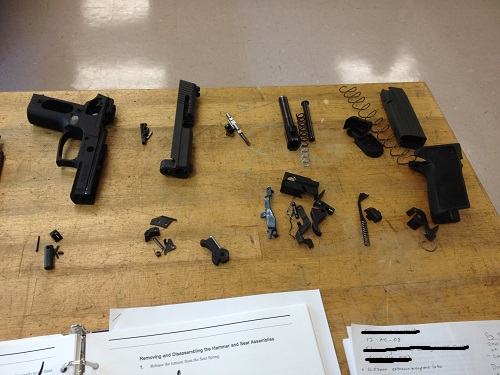 Gun Thread Pop Quiz: Identify this gun!
From a very young age I was fascinated by taking things apart to see how they worked. The only problem being that I wasn't particularly good at putting things
back together
again. I vividly recall the sheer delight my father expressed when he came home from work one day to discover his little scamp of a son had taken apart a rather expensive clock. What a precocious and inquisitive rascal I was!
This trait followed me into my adult years and has been vigorously displayed with my interest in firearms. Simply cleaning a weapon requires some level of disassembly and I was always curious about all the little pins and springs and other teensy parts that make up the innards of a gun. Frequently my re-assembly attempts ended with leftover parts on the bench, necessitating a frantic YouTube search until a helpful video help was found, or worse, taking the gun and a baggie of loose parts to my gunsmith. Oh the shame.
Two things eventually happened; my collection of Sig Sauer semi-automatic pistols grew large enough, and I got tired of paying for simple adjustments, repairs and parts replacement. It was at this point that I decided to take Sig's Armorer's Course so I packed a bag, pointed the car north, and headed for Epping, New Hampshire.
The Sig Sauer Academy sits on 140 acres a little over an hour north of Boston, MA. The facilities include an assortment of indoor/outdoor ranges, classrooms, tactical training areas and a pro shop. It's a really impressive setup, and I'd been to the Epping facility before taking rifle courses so I was familiar with the layout. Signing up was simple and done online including uploading various credentials required for the specific courses. The armorer's courses are conviently held in locations all over the country, last two days, and cost $430. Upon sucessful completion, students are awarded a certificate good for three years which allows them to fully service the pistols while maintaining the factory warranty. Recertification is a one day refresher class for $260.
The P226 in the picture above is the gun I took apart and put back together about 100 times over the course of two days. You start by working on the smaller sub-assemblies and eventually work up to complete disassembly and re-assembly of the pistol. I thought I'd be cute and organize the parts by group to make it easier, but I guess the instructor had seen this before and helpfully mixed everything up into a big pile for me. Eventually, it was fairly straightforward to take a pile of parts and turn it into a working firearm. The course is quite a bit of fun, but it's also no joke. You must demonstrate proficiency working on the weapons to the instructor and pass a written test. I've found the experience gained even helps in troubleshooting problems with other brands of firearms.
I have to say I'm happy to have taken the course but I haven't felt compelled to keep the certification current. I'm also not sure I'd pay any more than the the $430 they're charging. The quality of instruction is very good but at that price I don't think it's a bargain for the casual shooter. Not a waste, but not a bargain.
What do you think? Would this be the sort of training you would be interested in at that price point?
*****
Well now let's see what else there is to talk about:
I'm seeing more and more ads for laser target trainers of one sort or another. Here's one reviewed by Shooting Sports USA, the PET II Reactive Target Laser, and they seem to be getting both smaller and more functional.
Anyone tried one of these? We featured several models some time ago and they didn't seem to generate much comment.
***
Another week and another round of
poo flinging at the NRA
This time, Col. Allen West, a member of the NRA board, speaks out against both Wayne LaPierre and the newly-elected President, Calolyn Meadows. The whole mess is turning into a circular firing squad, and somebody needs to get control of this shit and fast. Unless the organization wants to continue to self destruct to the delight of the left, some sort of review committee needs to be formed to clean house. I've been a life member for many years, but otherwise I wouldn't send them another dime.
***
I'm a contrarian and for a long time I resisted trying
Black Rifle Coffee
because everyone else was jumping on board and singing its praises. Well, I finally gave in and holy cow is it ever good! I mean really very damn good. Really very extra damn good! So don't be a retard and give them a try sooner rather than later. I like the dark roast Blackbeard's Delight, but there are a bunch of different roasts to choose from, and a portion of proceeds benefit military personnel assistance organizations, law enforcement and first responders. Win-Win.
*******
Link-O-Rama
Nine New(ish) Handgun Reviews
More on the 303 British
Gun Digest: Choosing a Revolver
Kragujevac Arsenal M24/47
Ammoland: 2019 NRA Meeting Report
Powder Valley - Free Hazmat for orders over $149
***Mail Bag***
This week our pal and 'ette Emmie went to the range for the first time and would you take a look at her target!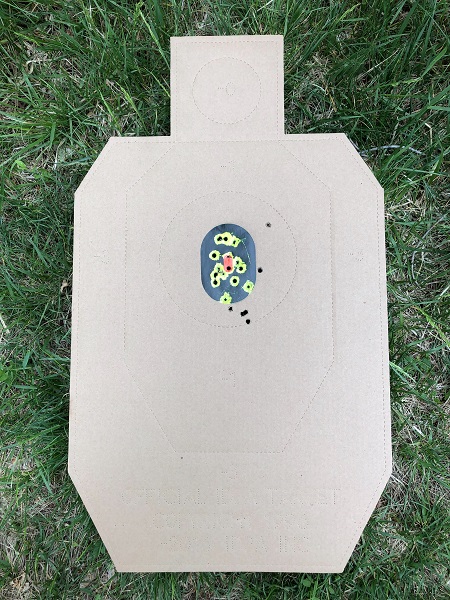 Emmie pops some caps in cardboard!

I don't know about the rest of you, but from now on, I'm addressing her as Ms. Emmie! She mentioned trying a number of different revolvers and pistols in various calibers and liking a smaller .38 Special revolver the best, because she is an 'ette of refinement and high class. Very nicely done!
*************
Please note the new and improved gmail account morongunthread at gmail dot com. An informal Gun Thread archive can be found HERE. If you have a question you would like to ask Gun Thread Staff offline, just send us a note and we'll do our best to answer. If you care to share the story of your favorite firearm, send a picture with your nic and tell us what you sadly lost in the tragic canoe accident. If you would like to remain completely anonymous, just say so. Lurkers are always welcome!

That's it for this week - have you been to the range?

posted by Open Blogger at
07:00 PM
|
Access Comments