« Wednesday Overnight Open Thread (5/15/19)
|
Main
|
Mid-Morning Open Thread »
May 16, 2019
The Morning Report - 5/16/19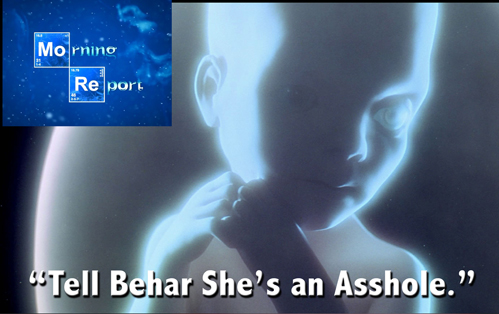 Good morning kids. Heading into Thursday, the big story is Alabama governor Kay Ivey signing into law a bill that effectively bans virtually all abortions in the state. The Democrat-Left-Media complex is in absolute freakout mode since the bill no doubt will head for the Supreme Court and perhaps present a real threat to Roe vs Wade should it not be stricken down, which has been the fate to my knowledge of every serious challenge it has faced since being rammed down our throats in 1973. With that as a preamble, I direct your attention to a link in the Crime & Punishment section A Supreme Court Decision You Never Heard Of...
...What puts more bite in the Franchise Board v. Hyatt decision is that Chief Justice John Roberts assigned Clarence Thomas to write the majority opinion. Thomas is an originalist more than he is a conservative. A Court conservative, at least how liberals would define one, would honor the principle of stare decisis. This means that once a decision is made, it stays made. Thomas instead approaches cases according to the original intent of the Founding Fathers. He believes if an initial decision was wrong per the original intent of the Constitution, it should be overturned.

This has the four Court liberal dissenters - Stephen Breyer, Ruth Ginsburg, Sonia Sotomayor, and Elena Kagan - in a tizzy. What has them and their soul mates throughout the liberal establishment in panic mode is not the particulars of the Franchise v. Hyatt case itself, but the fact that it overturned a precedent. As Justice Breyer said: "Today's decision can only cause one to wonder which cases the court will overrule next..."
Give that man a kewpie doll! And no doubt with the Alabama law headed to SCOTUS (without looking, the ACLU and PP probably filed suit before Governor Ivey's pen hit the table), Justice Thomas' brilliance on this might be the foundation for yet another 5-4 decision - probably one of the most crucial decisions either way that the Court has ever made. I say "either way" since, past being prologue, the giant "X" factor here is John Roberts. We all saw what he did in the Obamacare trial, which was probably even more brazen an abrogation of his Constitutional oath on legislating from the bench (the fucking hack actually took a red pen to the law and literally rewrote it right then and there!) than Harry Blackmun's "penumbras and emanations" if that's possible. Striking down Roe would cause such paroxysms on the Left that, once again, Roberts would ignore his duty to uphold the rule of law and his oath to the Constitution for some imagined greater good, which to him is being excluded from Beltway cocktail parties. Unless Ruth Barely-Conscious joins the choir invisible before the case can be heard, which would make the issue moot as a 4-4 tie without her successor would mean the law would stand. But, then again, Roberts. *sigh*
Circling back to the article and the principle of stare decisis, to my non-law school mind, it is as stated, a principle, not a hard and fast e-pleb-neesta holy decree that must never be transgressed. But as we all know, the Left puts people on the bench who will either ignore the Constitution completely or, when convenient, use it (or what they imagine it says) as a shield to preserve that which advances the anti-American program of their fellow travelers - an "insurance policy" (nudge-nudge-wink-wink) against us rubes and to create edicts that would never pass as laws in Congress. Stare decisis is one such parlor trick that they pervert in advancement of the aforementioned. "It's the law of the land!" they'll shriek. Unless of course the decisions don't go their way as we have seen with Citizens United or, dare I say it Dred Scot which actually did go their way. If stare decisis was a holy commandment and not merely a guiding principle, slavery would still be the law of the land and Japanese Americans might still be behind barbed wire, something that Maizie Hirono deserves, but I digress.
It's also interesting to note the hypocrisy of the Left insofar as claiming the Constitution is a "living and breathing" document that changes with the times. It isn't (it's the gold standard by which all enacted laws are supposed to live up to as times may change, but the essence of human nature remains constant) but let's play along. If indeed as the Left claims that times and social norms change, what happens when they swing in a direction that is opposite of their desired path? That's a rhetorical question. And it also underscores why the Constitution is not "living and breathing." Or at least is not supposed to be. If it were, our inalienable rights could be taken away on a whim at any time (yes, I am aware of the irony of that statement). Yes, prior decisions in courts of law should be taken into consideration. But, as Justice Thomas and others note, if the fundamental underpinnings of those decisions are corrupt and anti-Constitutional, they cannot and must not be allowed to stand. Oh, the things you learn from listening to Mark Levin. Anyway, stay tuned on this one.
Elsewhere, the other big story is the continuing unraveling of the Collusion myth and the revelations that the Clinton/Obama machine did in fact conspire to overthrow Trump. With the revelations of the abuse of the FISA system, two of the main conspirators in the plot, John Brennan and James Comey are pointing fingers at each other over who is to blame for using the Steele Dossier as pretext to spy on Trump. Maybe Joe DiGenova is right in that these two tits better lawyer up lickety-split. Also, Jim Jordan is calling on Elijah Cummings to release some secret memo he and Mikvah Waters cooked up about sabotaging the Trump administration, AG Barr zings Palsi Pelosi, and the FBI is beyond hope of reform, not with Comey-crony Christopher Wray there, anyway.
To the border where PDT is expected to speak on his immigration plan, DoJ with a shocking yet not so surprising stat on the nature of prison inmates, the "Abolish ICE" mantra has all but disappeared from Democrat candidates' vocabulary, and PDT honors a slain officer killed by a Democrat "spark-of-humanity" boy.
Dem Scandals and Joo-Hate: Charlie Crist takes a secret trip to Cuba for bestiality and hosta Act violations, but mostly bestiality and hosta Act violations, Caroline Glick on Rancida Tliban, and GOP corners Dems with pro-Israel vote in the House.
Civil War 2.0: Flabby yenta Joy Behar wants to rip white male balls off because of the Alabama law (how about force women to put an aspirin between their legs?), and an NYU "journalism" teacher declares GOP a terrorist organization.
Politics: Several Kamala-Toe links where she will run with Bidet, she rips Bidet and also rips Fox News while pimping more gun-grabbing, Tom Styrene is like herpes to Arizona, Tulsi "spelled backwards" slimes Bolton and Haley, Bernie Sandersnista loves them a 9/11 truther and convicted killer, and Mackubin Thomas Owens on the coming Dem implosion (G-d willing).
First Amendment: The White House creates an on line portal for conservatives to fight back against on-line muzzling, BBC still translates Islamic hate propaganda use of the word "Jew" as "Israeli," Al Jazeera attacks anti-abortion in Alabama but not so much in Qatar, Josh Hawley goes after Big Brother Tech, and a deeper dive into the WaPo's obfuscation/cover up of Frank Marshall Davis and its relevancy today.
Guns: Kamala-Toe shoots mouth off.
Abortion: Besides Alabama, Democrat stronghold Rhode Island's state senate surprisingly rejects pro-infanticide legislation.
Foreign Desk: Ted Cruz rips the State Department's shielding of Iran, two on the China Trade standoff and what it means for national security, is Maduro looking for an escape hosta and a tanker captain refuses to sail his load from there to Cuba, Steve Bannon high on Nigel Farage as the next UK PM (oh please oh please), Congress cool to base in Poland unless they commit to Holocaust reparations (sadly, there's no one left to pay really), a look at the mindset of Rancida and the myth of a two-state solution and mideast peace, and Daniel Greenfield on Bernie's and Chiquita Khruschev's socialism leaving South Africa in the dark.
We-All-Slam-For-I-Slam: A painting depicting historical truth causes art gallery to freak out when used by a German political party and Ralph al-Qram-deen drives the bus in Paris (to the moon-rock, Alice!)
Domestic News: GOPers blast Cuck Schemer for continuing the blocking to Trump nominees.
The Economy: Several links on the trade "war" with China including the Koch Brothers Whores railing against tariffs, former Goldman exec Blankfein in favor of it and the national security implications of confronting the Chi-Coms on this. Also two links about corruption vis a vis the insane post office banking scheme and exposing legal settlement shenanigans/waste in enviro lawsuit payouts.
Crime and Punishment: President Trump pardons Conrad Black, the latter discusses it in his own words, AG Barr with logical and good advice for the Trayvons and Gentle Giants of this world, a look at Austin's top cop and that Clarence Thomas stare decisis case.
Healthcare: A look at on-line pharmacies.
Education: Bring on the participation trophies and the K-12 "edu-crats."
Red Greens: Good Roger Simon on enviro-commie madness.
Feminazism, Tranny Psychosis: The psycho-crotch-mutilators are coming for your kids, and a look at what drove the Colorado shooter nuts.
Hither and Yon: Teenager goaded on Instagram to jump off a roof, Selena Gomez speaks the truth, US birth rate plummets, and actor Stephen Fry the latest target of the SJW cultural revolutionaries.
Anyway, links from around the world, across the nation and up your street. Have a better one and remain blessed.
NOTE: The opinions expressed in some links may or may not reflect my own. I include them because of their relevance to the discussion of a particular issue.
CONGRESSIONAL COUP, SPYGATE, DEEP STATE, THE MUELLER DECEPTION

posted by at
08:10 AM
|
Access Comments