« Monday Overnight Open Thread (5/13/19)
|
Main
|
Mid-Morning Open Thread »
May 14, 2019
The Morning Report - 5/14/19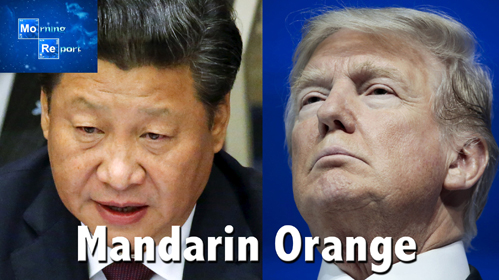 Good morning kids. Top story for Tuesday is the market's and the Democrat-Left-Media Complex's reaction to the Dow's 617-point dump yesterday over China-US trade/tariff "wars" for lack of a better word. On the practical level, this President is doing the 100% correct thing. For decades, America has willingly allowed the shuttering of vast swathes of its once indomitable manufacturing sector and let it move lock, stock and barrel overseas. The reasons are myriad and there's enough guilt to go around. Whether it was unreasonable demands of the formerly powerful trade unions to the massive expansion of the regulatory state (OSHA, EPA, et al), to the corporate mantra of the cheapest labor possible no matter the consequences at home, suffice it to say there were third world shit-holes eager to take advantage of it. Largest of all was China, who now holds trillions of dollars of our debt. So, for the past 40 years, as they have expanded their industrial base and prowess (much of it via industrial spying and theft, by the way) at the expense of ours, the American consumer has built his life around the ready availability of cheap goods manufactured there. And as the Chinese consumer has become prosperous enough to the extent that he too can afford goods, his government has made buying products still manufactured in America virtually unaffordable due to impossibly expensive tariffs or outright bans on the sale of our products. As the saying goes, "that's not cricket."
Along with the aforementioned, America has willingly been taking it in the shorts, in economic and even foreign policy, for decades. Rush Limbaugh attributes this as part of the post-World War 2 attitude among America's self-appointed elite (whose epicenter was and remains in the State Department) who pray at the altar of globalism that it is dangerous to allow America to be the lone superpower and that our dominance in every sphere - including trade - is grossly unfair. Look at the words and deeds of the past four US administrations, especially the Obama 8-Year Reign of Error. Each of those Presidents did something to either actively or passively screw the American worker and American enterprise. Some worse than others.
Trump is having none of this. He has looked upon all of this, not only in the past two years as President but over a lifetime as an American businessman and has declared that this insanity must stop. So the reaction is both knee-jerk and mindless insofar as whatever Trump does must be opposed reflexively without thought, and no doubt in Deep State and Krony Kapitalist quarters panic-stricken and enraging since it is aimed at cutting off the gravy train of those who have built their ill-gotten castles on a foundation of blood, bones and suffering of the average American worker. I refer you to the outstanding piece from Peter Skurkis at American Thinker at the end of the Economy section:
...What benefits the American worker -- fair trade policy and tight immigration control -- will initially hurt Big Biz and Wall Street. And the hurt will continue until the financial economy is scaled back to its proper size and is no longer allowed to the tail that wags the American economic dog. Until then, MAGA is at war with Big Biz and the bought-and-paid-for political establishment. And this explains much of the resistance to Trump's tariffs and trade position.

A closing observation says a lot. Thomas Donohue, the president of the Chamber of Commerce, is 80 years old. His board is pushing him to retire. The replacement they are looking at is former Congressman Paul Ryan. A perfect fit given the Chamber's agenda."
Q.E. fucking D.
Circling back to the reaction from the Dem-Media Complex, you will note that every talking head is parroting how tariffs are like taxes that will hurt the middle class and stifle business. And this is no doubt going to be a calculated, pre-digested line of attack they hope will cleave voters away from Trump in 2020. First, what is disgusting is that along with what the Chi-Coms are doing, the shenanigans of Putin and others in Venezuela, the Iranians acting up and even the Euro-Peons going against us is all because they are under the impression that despite the Mueller Report nothing-burger, Trump is under the gun and they should just wait out the next two years until a Democrat regains the White House and they can go on as usual pissing all over us as they did under Obama. Even with this hiccup, I do not see Trump losing in 2020 at all, especially given the utter freak show that is the Democrat Party and field of candidates.
Also, I think this rhetoric about "taxes/tariffs bad" is a perfect weapon for this President to throw back in their faces. A theoretical Tweet storm or speech:
"Happy that Democrats agree with me that taxes and tariffs are bad. To offset what the Chinese have done, I invite Democrats to make my Tax Cuts of last year permanent and to lower them across the board by another 50%. Also, decrease the size of the Federal bureaucracy to make business boom, bring back manufacturing to our shores and hire more workers for great jobs!"
Something like that, but good.
Moving on to the rest of the news, the other big story is AG William Barr appointing a US Attorney to start looking into the origins of the Russia hoax and investigation that it engendered. Related to this, I'm sure, is the revelation that Hunter Biden's co-conspirators in this shady yet lucrative China deal are Whitey Bulger's nephew and John Kerry's stepson. Whitey Bulger being a former partner in crime (so to speak) with one Robert Mueller. And speaking of John Kerry, Marco Rubio is calling for the Merry Widower to be hit with a Logan Act prosecution. There's more incest going on here than in Bro-Fo Omar's panty-girdles.
On to the border where ICE busts up a massive number of asylum-fraud scammers, New Mexico is getting swamped and Lindsay Graham wants to detain illegal alien kids for up to 100 days in some new bill.
The latest in Democrat Joo-Hatred, we have Bill De Bolshevik blaming Trump and Republicans for black people beating up Hassidic Jews in Brooklyn, equally chutz-pocritical is the Democrats demanding the GOP apologize to Rancida Tliban for her horrid remarks, a couple of other good essays on that bag of unreconstructed filth, and a warning about the self-gassing Jooz aligning with Islamic terrorists.
Civil War 2.0: White nationalist who hated Trump indicted for alleged death threats. But, but Charlottesville!
Politics: Black pols want Joey Bidet to grab Kamala-Toe for veep, Eliot Engel not a fan of his fellow party members, Obama hack-in-black greases wheels for election fraud in Florida, Joey Bidet embraces Hillary, is impeachment brilliant or nuts, and a good essay about South Africa as the Democrat model.
First Amendment: This Democrat Equality Act destroys religious freedom (as intended), two good outings from Victor Davis Hanson and Daniel Greenfield on the media, the new media and freedom of speech, FCC Chair Ajit Pai to dump robo-calls, and a DC author gets persecuted for exposing employee double-standards in the DC subway.
Guns: John Paul Stevens reveals, yet again and as if we didn't know, his loathing of the document he swore to defend.
Abortion: Bearded clam Brian Sims forced to clam up after backlash over his persecuting old ladies and teeny-boppers, Mary Clogginstein reins supreme in Montpelier, and Dems speak the truth about infanticide, accidentally.
Foreign Desk: US blames Iran for sabotage of Gulf shipping, Michael Ledeen analyzes the situation, two pieces on Trump and Hungary's PM Orban, Chi-Coms have a million Muslims in concentration camps and the Left and Middle East governments yawn, anti-Maduro forces take over embassies in Caracas, David Harsanyi on why Israel matters in light of the Rancida Tliban row, and how a US citizen could take over Libya.
DEE-Fense: Big, beautiful, luxurious lasers (the best!) and Congress wants Russkies and Chi-Coms accountable with their nukes before new nuke START treaty approved.
Domestic News: Seattle and California transforming into third world shit-holes before our eyes.
The Economy: Analysis of the latest Chi-Com -US trade war exchange, and Nelson Muntz laughter as the socialist food co-op totally fails in Mr. De Bolshevik's neighborhood.
Crime and Punishment: DC at the bottom for drug abuse amid national epidemic and reefer madness at LAX even with legalized pot in California.
Healthcare: Democrats and illegals make measles great again, Kamala-Toe wants you to pay for illegal aliens' insurance which you cannot have, and if Trump is for it, the left is against it, even if it helps the people the AARP allegedly represent.
Education: With a name like Roger Scruton, you know it's good and in the water-is-wet department, NYU hates Jews. Meh, these days I'll bet SJP is even a thing at Yeshiva University.
Red Greens: Maryland AG Frosh is part of this Bloomberg plot to use state AGs to persecute oil companies, Bill Nye, the non-scientist Mr. Softee doppelganger goes on a profanity-laced tirade about global warming, and Chiquita Khruschev, fresh from being humiliated over her 12 years until doom prediction, sez Joey Bidet's plan is a non-starter.
Actual Science and Tech: Jeff Bezos supports PDT's lunar lander and even has one of his own.
Feminazi and Transgender Psychosis: Tranny freak weightlifter stripped of 4 world records for his/her unclean jerk.
Hither and Yon: Leftist gamers freak out over Nintendo opening a store in Tel Aviv and getting Joo-cooties, Christian Toto not high on gender-swapping flicks, the modern bonfire of the vanities and finally, a 95-year-old World War 2 veteran passes away on the return trip from DC on an Honor Flight. RIP, sir.
Anyway, links from around the world, across the nation and up your street. Have a better one and remain blessed.
NOTE: The opinions expressed in some links may or may not reflect my own. I include them because of their relevance to the discussion of a particular issue.
CONGRESSIONAL COUP, SPYGATE, DEEP STATE, THE MUELLER DECEPTION

posted by at
07:44 AM
|
Access Comments