« Oil Tankers Near Strait of Hormuz -- World's Most Important Oil-Shipping Chokepoint -- Damaged by "Sabotage Attacks;"
US Suspects Iran or Iran Proxies In Attacks
|
Main
|
The Morning Report - 5/14/19 »
May 13, 2019
Monday Overnight Open Thread (5/13/19)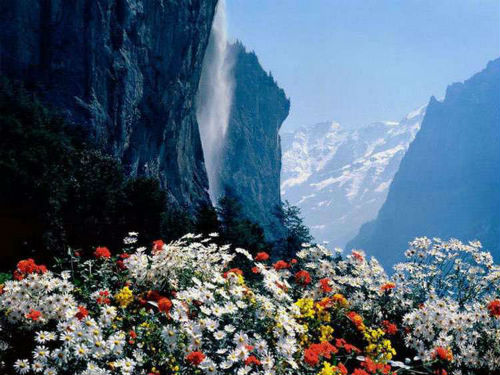 ***
The Quotes of The Day

Quote I

"Look, Ilhan Omar has made statements, anti-Semitic comments, statements against our most cherished ally Israel that ought to be rejected by every American. And frankly, the fact that very recently she has been trying to blame the United States of America for the deprivation and the poverty brought on by the dictatorship in Venezuela tells me — look, the people of Minnesota will decide whether or not she remains in Congress, but Congresswoman Ilhan Omar has no place on the House Foreign Affairs Committee and the Democratic leadership ought to remove her." Vice President Mike Pence

Quote II

"An artist has power to inspire. Make sure you use your power for good and to bring people together. I never understood artists who boycott an entire country, you're singing for people not for governments." Sarah Idan, Former Miss Iraq

Quote III

"There will still be oil companies out there. Some will continue to make money. Others will have to go out of business or transition to other models," Jens Peers
***
Isn't it cheaper to go to the range for target practice? Detroit cops, guns and dogs, not looking like a good mix.

Speaking of Detroit cops, Marion McGilvary may want to apply to the Detroit PD. You see, she really doesn't have use for a dog after a week.

A new puppy wrecked my health, home and happiness: She hoped a dog would fill the hole in her empty nest. But in a confession that will horrify pet lovers, MARION McGILVARY admits she sent the pooch back

Marion McGilvary had always wanted a dog and prepared to welcome pet Blue

When collected the pup Marion cried and thought the mixed-breed was beautiful

However after week she was like a 'zombie' and had no quality time with partner

Marion worried about everything and took Blue back to the breeder in Devon

Moar K-9 for you...........
***

In light of the pro-abortion laws recently passed, why are the neighbors shocked? Why?

Hiralbahen Bhavsar, 29, of Little Ferry, New Jersey allegedly slashed her baby's throat and arm last Thursday night. The baby died at only five-days-old because her mother "didn't want her," according to police reports.

Police responded to a complaint from Bhavsar after her husband went berserk and allegedly tried to kill her in response to what she had done to their infant daughter.
***

OK, I'm not an attorney, nor do I play one on TV. But, I do have one question, WTF is taught in law school?

Harvard University's administration has unilaterally surrendered to a mob of student-activists demanding the termination of law professor Ronald Sullivan as faculty dean of Winthrop House, an undergraduate residence, over his "trauma-inducing" decision to join Harvey Weinstein's legal defense team.

"I am writing to let you know that Ronald Sullivan and Stephanie Robinson will not be continuing as your Faculty Deans when their term ends on June 30, 2019," Harvard College Dean Rakesh Khurana wrote in an email to Winthrop House students on Saturday.

Obviously the basics aren't being taught.
***

Does recycling work? According to Sara Goddard it does. Penn & Teller? Not so much.

***
The taboo of the 'almighty' Dollar is one of the byproducts spawned out of 20 years of Bolivarian Revolution in Venezuela; heck, just the mere mention of the word can cause quite the array of emotions down here.

It's been sixteen years since we last had the ability to freely exchange currencies with the outside world. Back in 2001 my mother traveled to America in order to attend a medical conference in San Diego; I still remember walking to an exchange booth inside the airport with my uncle and exchanging what little cash I had in my wallet for a single Dollar just for the childish novelty of it — to this day I still have that 'lucky' dollar in my wallet.

That's not something you can freely do in Venezuela, not for the longest time. Buying or selling foreign currency has been a shady but necessary practice, always shrouded in secrecy, at the fringes of legality yet hidden in plain sight—everyone knows it, but no one openly talks about it.
***

Rules are rules, unless you are a Social Justice Warrior.

A legit but somewhat petty complaint has cost an author her book deal and reputation after liberal Twitter ganged up on her for reporting a DC Metro employee eating on a train. It's a violation, but the employee is a black woman.
Jordanian-American journalist and writer Natasha Tynes faced Twitter wrath after she alerted the Washington Metropolitan Area Transit Authority (WMATA) to a black woman in a Metro uniform eating on a train presumably on her way to work. Tynes, who has since deleted her tweet, reportedly wrote: "I thought we were not allowed to eat on the train. This is unacceptable. Hope @wmata responds."

"When I asked the employee about this, her response was, 'worry about yourself,'" Tynes said.

It did not take long for WMATA to respond. The transit authority asked Tynes to provide the exact time and location of her encounter and thanked her for helping to "make sure all Metro employees are held accountable."


But that was only the beginning of the story, as Twitter erupted with outraged posts accusing Tynes of being a snitch. The backlash mostly focused on the race and gender of the employee, with many calling out Tynes for contributing to the oppression of women of color.
***

So when she opens her mouth, what are we to believe?

Freshman Rep. Alexandria Ocasio-Cortez (D., N.Y.) on Sunday attempted to downplay her claim that the world will end in 12 years unless Congress acts on climate change by mocking Republicans and saying, "You'd have to have the social intelligence of a sea sponge to think it's literal."

"This is a technique of the GOP, to take dry humor + sarcasm literally and 'fact check it," Ocasio-Cortez tweeted. "Like the 'world ending in 12 years' thing, you'd have to have the social intelligence of a sea sponge to think it's literal."
***
All you need is love. Love isn't possible and talking ourselves out of this mess isn't going to work either.

But they are not goals which the progressive Left shares. Indeed, the Left has absolutely no desire to see a "free and open exchange of ideas" because when that happens, they lose. When stacked against virtually any alternative, progressivism has a horrible track record, and deep down inside they know this. This is why they spend so much effort using institutional power to suppressed dissenters from their orthodoxy. It's why when they do appear to be engaging with ideological competitors, it nearly always takes the form of screaming about "fascism," "racism," or some other slur designed to signal to their fellows the presence of an enemy, much like the moaning of a brain-dead zombie in a horror movie.
The ONT Musical Interlude
Born on this day: 13 May 1947
Pete Overend Watts, bassist with Mott The Hoople, who had the 1972 UK No.3 & US No.37 single 'All The Young Dudes' which was written for them by David Bowie. Other hits include, 'All the Way from Memphis' and 'Roll Away the Stone'. Watts continued with Dale Griffin, Morgan Fisher and Ray Major in the Mott successor British Lions. He later became a record producer, producing albums for artists including Hanoi Rocks and Dumb Blondes. Watts died on 22 January 2017 from throat cancer, aged was 69. via thisdayinmusic.com
&&&
Born on This Day: 13 May 1950
American musician, singer, songwriter, record producer, and multi-instrumentalist Stevie Wonder. A child prodigy who developed into one of the most creative musical figures of the late 20th century. Wonder who has been blind from shortly after birth, signed with Motown's Tamla label at the age of eleven and continues to perform and record for Motown to this day. Wonder has scored over 40 US & UK Top 40 singles. Albums include Talking Book, Innervisions and Songs in the Key of Life. via thisdayinmusic.com
***
What do we say here at The ONT? Never, ever stick your dick in crazy. H/T Bitter Clinger

When deputies in Pinellas County performed a pat-down on Jeymie Wescott Tuesday, she let out an expletive.

They didn't learn why until they got her back to the county jail.

Wescott, 35, could be heard yelling from the restroom, according to an arrest affidavit reviewed by the Miami Herald. The deputies went to check on her and said she showed several signs of drug use.
***

Have you ever been high? Have you ever been as high as this Genius Award Winner?

Naked intruder in rooftop stand-off with police
A NUDE man spotted on a school's roof was fleeing an earlier incident where he entered a teenager's bedroom


The suspect was taken to a hospital for checks, before being booked on suspicion of burglary, indecent exposure, assault with a deadly weapon, vandalism,possession of drug paraphernalia and possession of a controlled substance.
Rhetorical question, no need to incriminate "a friend".
***

Being front and center was his dream and is Tonight's Feel Good Story of The Day.
Tommy Sondgerath loves choir and was so excited for his first duet/solo.

The morning before Harrison High School's Spring concert, Tommy told his parents, "Mom and Dad, I'm going to be famous at school today."

That's because he sang lead vocals for the choir's performance of "A Million Dreams" from The Greatest Showman.

His reaction after the duet is everything.
***

Tonight's ONT has been brought to you by the Handyman's Secret Weapon.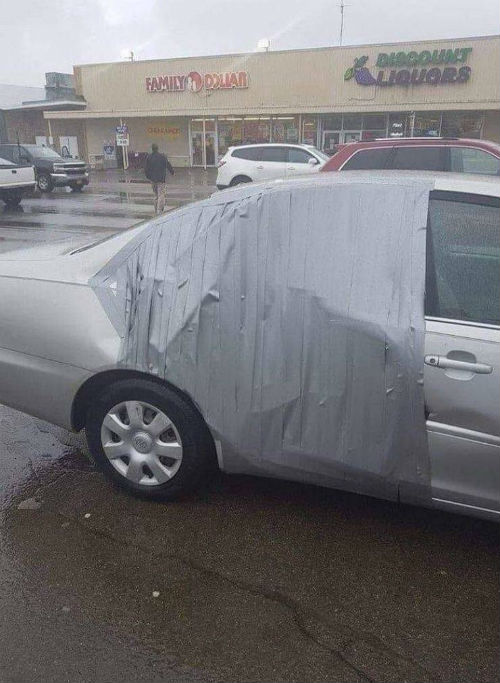 Notice: Posted with permission by the Ace Media Empire, AceCorp, LLC and their attorneys, Dewey, Cheatem & Howe, S.C.

posted by Misanthropic Humanitarian at
10:00 PM
|
Access Comments