« Food Thread: Of Monster Chickens And Exploding Kitchens
|
Main
|
Sunday Overnight Open Thread (5/12/19) »
May 12, 2019
Gun Thread: Happy Mother's Day! [Weasel]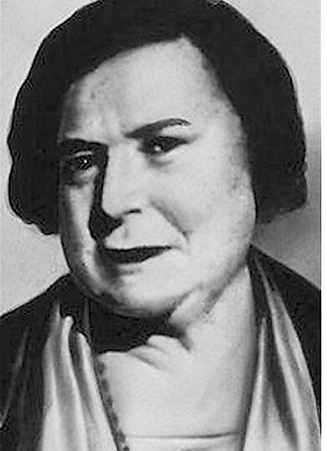 Kate "Ma" Barker c. 1932
Well today it seems fitting to pay tribute to the shooting Mom's in our lives. In fact, all the shooting 'ettes deserve a special day of their own, don't you think?! Ma Barker, pictured above, certainly fit the definition of a shooting mom... or did she? While there is some question regarding her level of participation in the "gang" bearing her name, some of her sons were unquestionably familiar with firearms. In any event, it's an interesting story, some of which is chronicled at the Oklahoma Historical Society's website, and Wikipedia even has some interesting things to say on the subject.
Unsolicited Opinion
Last week in the comments the topic of women shooters came up during a discussion of sports where neither men nor women had an inherent advantage over the other. The case in point was, as I recall, some male transgender wacko who was competing as a female and sweeping all the girl's weightlifting records. Since I find the whole transgender sports thing to be idiotic bullshit to begin with I do not propose to open that discussion again, but it did get me thinking about my personal experience instructing and coaching ladies in what is otherwise a male dominated sport; long-range competitive shooting.
I have had the honor and privilege of coaching some of the very best long-range shooters in the world, both men and women. I have also had the pleasure of introducing many new shooters, again, both male and female, to recreational target shooting. I have always held the opinion that women are much better students, regardless of experience, because they more readily accept instruction. It seems only the very best male shooters; those with years of experience and a very high degree of professionalism and dedication to the sport, have the same level of concentration, focus and willingness to accept instruction as the ladies possess naturally from day one.
I have also observed that women seem to handle the stress of competition much better, too. One important aspect of a coach's job is deciding when a promising shooter is ready to move up and compete in an important national or international level competition. Match shooting may not seem like a particularly stressful activity, but depending on the circumstances there can be an enormous amount of pressure on everyone involved. Much of the needed focus is gained through experience, but no matter how experienced they may be, some shooters never seem to get a handle on it. Stress, and a shooter's response to it, always plays a critical part in their ability to perform when it counts and you're not going to have a good day as a team if one member is coming unglued on the firing line. Developing new team shooters always includes a critical assessment of their ability to control themselves and perform steadily when under a significant amount of pressure, and women almost never seem to have a problem in this regard.
So having said all of that and to answer a question that no one really asked, I think women shooters, especially as beginners, have an advantage over the men. Plus, they usually smell better and are nicer to look at, too. So to all the ladies out there, Moms and otherwise, I hope you had a great day. We love you!
*****
Well now let's see what else there is to talk about:

Here's a short article from NRA Shooting Sports on choosing an AR15 Match Barrel. While most people will buy a complete rifle, or a complete upper, there are those who build their own and need to have at least a starting point for discussion with their gunsmith. The article gives you a few points to think about.
***
Here's a series of articles from Shooting Sports USA on the history of the National Smallbore Outdoor Rifle Championships:
Part 1: The Seed is Planted
Part 2: The Roaring Twenties
Part 3: The Depression and Wartime
Part 4: Post War Reorganization
I was lucky enough to attend the National Fullbore Matches at Camp Perry one year before the NRA kicked the F-Class shooters out. Camp Perry is an amazing place to shoot, and you can feel the history just being on one of the ranges, each of which being named for a Medal of Honor recipient. I recommend anyone who shoots in one of the divisions still holding their national championship there to go at least once in your life. Even if you're a casual shooter, it's the experience of a lifetime.
***
Here's a Guns America Review on Bushnell Spotting Scopes. If you're a serious shooter, or birdwatcher, or peeping Tom, you need a spotting scope. The quality of the optics is clearly the most important factor, but you don't always have to spend a fortune to get good glass. If you're considering one, look around at your local range to see what brands others are using and ask questions on how much they like what they have, and more importantly if they would buy the same one again.
*******
Link-O-Rama
Interesting: Berry's Mfg Aluminum Load Trays
Powder Valley - Free Shipping Over $49!
Scott Duff Publications - Buy a Book or Ten!
Georgia Arms - Weekend SALE!!
Interested in Competitive AR Shooting?
Interested in the Next Step? The NRA World Championship of Shooting
***Mail Bag***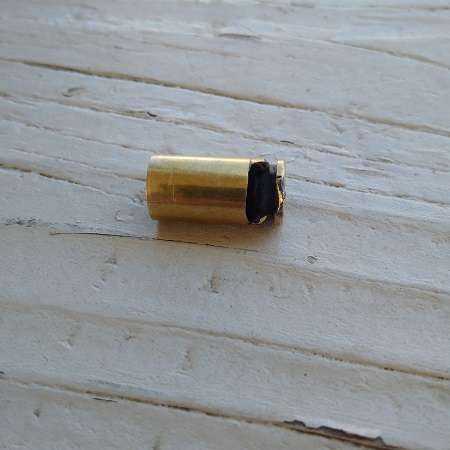 Undesirable Outcome

Following up on our recent reloading series, this week's entry comes from our pal Blake who was recently at the range when someone nearby had a bad day. Blake explains:

This happened today, it's from a Glock chambered in 40 S&W, I believe. The reload blew out the bottom side of the case and the magazine went flying out of the gun. Fortunately, the shooter wasn't hurt, other than a powder burn on his hand along with a small blister. Best guess: The defect in the case was missed during the reloading process, though one of our very experienced shooters says that Winchester brass is known to be brittle.
Looking at the case, I'd say there was a defect somewhere! Either in the powder charge, or in the case itself, or both. If you look carefully, you can see a ring just above the case head and the rupture occurred along this line. You will normally see this in rifle cartridges which have been reloaded many times and are nearing a case head failure. The brass has stretched and become weakened from multiple firings, and this line is your indication the brass no longer safe to use. The ring could also simply have been caused by the overpressure against the chamber wall when it ruptured due to an excessive powder charge. It's difficult to say without inspecting the case. At any rate - pay attention to what you are doing at the reloading bench! This could have easily caused much more significant damage to the shooter's hand and the gun.
Thanks for sending this in, Blake!
*************
Please note the new and improved gmail account morongunthread at gmail dot com. An informal Gun Thread archive can be found HERE. If you have a question you would like to ask Gun Thread Staff offline, just send us a note and we'll do our best to answer. If you care to share the story of your favorite firearm, send a picture with your nic and tell us what you sadly lost in the tragic canoe accident. If you would like to remain completely anonymous, just say so. Lurkers are always welcome!
That's it for this week - have you been to the range?

posted by Open Blogger at
07:00 PM
|
Access Comments