« Rashida Tlaib (an excellent argument for the niqab) Is a Worthy Succesor To Goebbels And His "Big Lie"
|
Main
|
Food Thread: Of Monster Chickens And Exploding Kitchens »
May 12, 2019
Global Cooling..errr...Global Warming...errr...Climate Change! But Mostly Virtue-Signalling, Redistributionist Policies Of The Left
No theme to this other than the ridiculousness of the whole scam.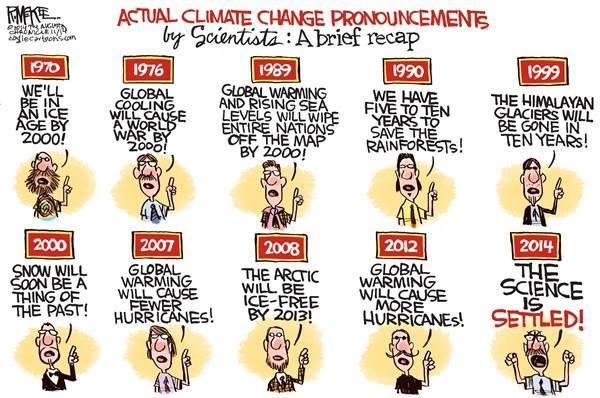 Superstar rapper Drake, who rails against climate change, buys massive private jet
Nothing new here, other than the size of the jet...
Climate Science Violates The Basic Precepts Of Science
Climate science is too primitive to be of any use in making policy. Let it first get its predictions right and become a genuine science.
There are a few rules that real scientists follow, and hiding the data ain't one of them. That alone should disqualify most of the studies done in support of AGW.
Trump Administration Might "Re-Examine" Climate Modeling
"The United States reaffirms its commitment to re-examine comprehensive modeling that best reflects the actual state of climate science in order to inform its policy-making decisions, including comparing actual monitored climate data against the modeled climate trajectories on an on-going basis," says the U.S. portion of the communiqué.
Maybe it's time to re-purpose that 1960s balled,
The Times They Are A-Changin'
?

posted by CBD at
02:15 PM
|
Access Comments