« Wednesday Overnight Open Thread (5/1/19)
|
Main
|
Mid-Morning Open Thread »
May 02, 2019
The Morning Report - 5/2/19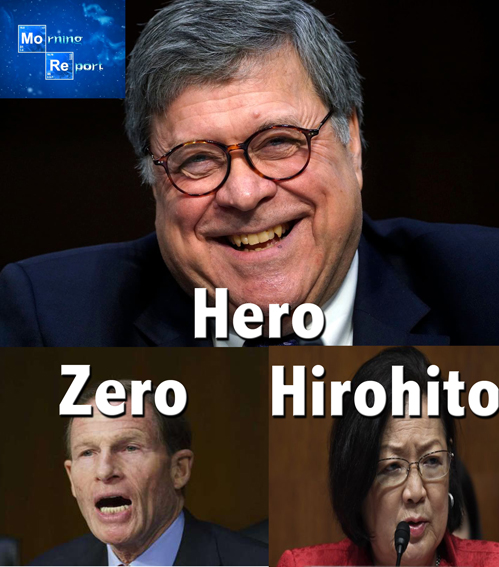 Good morning kids. Lead story for this Thursday is the Democrats' puerile, debased and loathsome display yesterday in attempting to publicly impugn and slander Attorney General William Barr. With absolutely zero ammunition with which to charge this President and his AG coming from Mueller's "Report," and only the 400-plus pages of non-prosecutable yet polticially-charged smears and insinuations cooked up by a team of highly partisan Clinton boosters, the Democrats did the only thing they could (apologizing to Trump and Barr being a nonstarter); they behaved as adolescent chimpanzees by flinging their own excrement and masturbating in front of the TV cameras for the benefit of their base. No doubt to get them to fork over campaign cash to the DNC or whichever member of the committee is running to be the Democrat 2020 nominee. Worst performances of the bunch were Maizie Hirohito and Da Nang Dick Blumenthal. The former treated the AG like a deadbeat in her mother's Hawaiian whorehouse while the latter, after his ham-fisted attempt to entrap the unflappable AG in a process lie, he thought he was going to corner Barr, who then gave him a rhetorical punch in the face a la Brad Pitt from Snatch:
..."Did you make a memorandum of your conversation?" Blumenthal asked.
"No, I didn't," Barr responded.
"Did anyone, either you or anyone on your staff, memorialize your conversation with Robert Mueller?" Blumenthal said.
"Yes," Barr added.
Blumenthal then asked, "Who did that?"
"There were notes taken of the call," Barr said.
"May we have those notes?" Blumenthal continued.
Barr: "No."
Blumenthal: "Why not?"
Barr: "Why should you have them?"
The look on that lying, needle-nosed sack of dung was priceless. I'll say this; whatever justifiable cynicism or trepidation I have about the real traitors and criminals ever facing justice let alone being minimally called to account for the greatest political crime bar none in American history, it is evident from both AG Barr's attitude as well as his words, that he is not only not going to knuckle under and crawl, but he is going to hit back with a terrible swift sword of plain, unvarnished and ugly truth - just like Donald J. Trump, albeit without the Queens accent and attitude. Barr is also refusing to continue to willingly crawl before Democrat-led committees in the House just to provide campaign fodder and soundbites that their allies in the agitprop media can edit and take out of context.
One might ask, well isn't Barr in contempt of Congress as is alleged by Nadless, Schiff-for-Brains et al? Considering that we just spent nearly two years, tens of millions of dollars and interrogated hundreds of witnesses to find a total of zero crimes and zero evidence of obstruction of justice (how can there be obstruction if there was no crime in the first place?), anything over and above this, and because of the fact that Rod Rosenpenis gave Mueller carte blanche to conduct a witch hunt and smear campaign, is completely out of line, despite the fact that yes it is technically within the purview of Congressional committees to subpoena and hold hearings. Well, bravo to this AG and this President for openly calling out the lawlessness and telling them to pound sand. And that's something I wish Trump would do vis a vis the power grabs coming from a Judiciary quashing his legal, Constitutional executive orders at every turn, but that's another story.
It's a sad state of affairs but the rubicon was crossed years ago. Attempting to use the Constitution and the rule of law to combat a political party and movement that seeks to destroy them when they're not using them to their advantage and for political expediency when it suits them, is a fool's errand. But, it is what it is and you fight the war with the army you've got. Here's hoping that Trump and Barr are harbingers of the way future presidents, cabinet members and other politicians on our side will react when confronted with this lawless will to power. William Barr is showing how to buttress the solid foundation laid down by this President.
Beyond the frothing at the mouth hatred of Trump and for some the refusal to believe the plain truth that there were no crimes, this mad display is only the beginning of a furious attempt to stonewall, obfuscate, derail or delay AG Barr's legitimate investigation of the abuses of power that led to the attempt to sabotage Trump's candidacy and then presidency. Hence the attempted character assassination as they did to Ken Starr back in 1998. Failing that, whatever charges may be laid at the feet of the players in the coup attempt will be painted as partisan political retribution. That was what we witnessed yesterday from the Democrats. But, this is not 1998 and we have a President and now an AG who is not going to take it. Plus, unlike 1998, we have a general distrust of the agitprop media, a distaste for the outright policy insanity coming from the Democrat Party, the visible and palpable success of Trump's policies (despite the attempt to cover them up ), and an awareness to all of it by more and more average Americans on a daily basis. As Michael Goodwin in the New York Post writes:
It was politics at its most dishonest as they tried to argue that up is down and black is white. Barr was mostly stoic, but allowed himself a brief moment to brilliantly summarize the outlandish effort to twist reality...

...At one point, he talked of possible "overreach" by top officials, then added: "But what we have to be concerned about is a few people at the top getting into their heads that they know better than the American people."

At another point, he said, "We have to stop using the criminal justice process as a political weapon."

The references are unmistakable and the strongest sign yet that Barr suspects wrongdoing in very high places. It's also a sign that the worm is turning...
Moving on, the other big story continues to be the Venezuela crisis, where opposition leader Guaido is trying to rally support to excise the intransigent cancer that is Maduro and his ilk, evidently aided and abetted by the Russians. Maduro also denies he was planning to beat it to Havana. Also, Trump putting the screws to Maduro's Cuban allies gets high praise as a strategy that could go a long way in liberating both those countries from socialist tyranny. And that of course makes vermin like Bro-Fo Omar have the sadz and blame evil Amerikkka and capitalism (Jooz! [sarc]) for all of Venezuela's woes.
On the border, the administration is going high tech in combatting the asylum scammers, where less than 10% of unaccompanied minors actually have relatives in the States to go to, and a look at the madness of so-called sanctuary cities.
Dem Scandal Sheet: Now that the Mueller Deception has been quashed, the counteroffensive to expose the real colluders begins, and Victor Davis Hanson says projection ain't just a river in Chappaqua. On the Dem-Left Joo-Hate storm front (SWIDT?) Seattle Lefties claim Jews defending themselves against attack is racist and harmful to blacks and Muslims, or something and Mr. Softee doppelganger Jamie Raskin defends Bro-Fo Omar by equivocating her real bigotry with the Charlottesville blood-libel of Trump and the GOP.
Politics: Yes indeed, between yesterday's pornographic performance art and the usual halitosis and incoherence coming from Maxine "mikva" Waters and others of her ilk, the Dems are doing a Thelma and Louise straight into the Grand Canyon, Bro-Fo and Rancida incite the usual Democrat racialist bigotry, a trio of links ripping Joe Bidet and clan, and two links about two broken-down nags bringing up the rear as theirs' collectively sag.
First Amendment and Fake News Fakery: Nick Sandmann lays down a $275 million lawsuit against NBC Universal, NY Times cries uncle after being ripped over the Julius Streicher toons and yet the cartoonist himself blames Joo-media controllers for the backlash (like the Sulzbergers, eh?), David Harsanyi rips them a new one, Tu-Ca rips the Republicans for being hot and horny to send US troops to Venezuela and Daniel Greenfield on the 8-year media myth on Syria.
Guns: On red flag laws and your 2A rights.
Abortion: Crazy in Alabama and what happened in Kansas is a perfect illustration of the dangers of Leftist court-packing.
We-All-Slam-For-I-Slam: Why Muslim Joo-hate gets a free pass.
Domestic News: GOP passes a budget, hit Dems for not doing same and the zombie California high speed rail.
The Economy: Trump's economy is political doom for Dems, and Joe Bidet gets 4 Pinocchios from the WaPo for lying about the tax cuts.
Education: Kent State employees want to reap the benefits of the Janus decision too and the war against charter schools.
Feminazism and Transgender Psychosis: Google axes top female black exec for speaking truth to madness and an essay on the dangerous tranny Gestapo and the silencing of opposition to the agenda.
Hither and Yon: Christian Toto on the distinctly non-PC of Weird Al Yankovic.
Anyway, links from around the world, across the nation and up your street. Have a better one and remain blessed.
NOTE: The opinions expressed in some links may or may not reflect my own. I include them because of their relevance to the discussion of a particular issue.
CONGRESSIONAL COUP, SPYGATE, DEEP STATE, THE MUELLER DECEPTION

posted by at
07:28 AM
|
Access Comments