« Monday Overnight Open Thread (4/29/19)
|
Main
|
Mid-Morning Open Thread »
April 30, 2019
The Morning Report - 4/30/19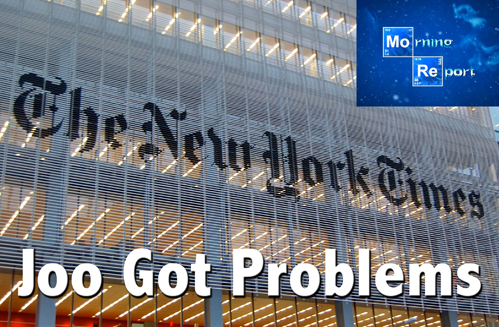 Good morning kids. First and foremost, a big thanks to Misanthropic Humanitarian for pinch hitting whilst I was away on personal business. The big story for this Tuesday is the continued fallout over the New York Times' publishing of not one but two (count 'em, two!) truly repulsive anti-semitic cartoons which is only symptomatic of the alarming rise of open, unreconstructed Jew-hatred here and abroad. No, it's not coming from deep within a cave somewhere near Tora Bora by some bearded, eighth century throwbacks with scabies, kalashnikovs and a Twitter account or from a survivalist compound up in the Cascades from equally repulsive Neanderthals on a ham radio with a marginally larger audience than CNN. It's coming from the hearts and minds (such as they can be said to resemble anything human) from the US House of Representatives, the British House of Commons, the lecture halls and faculty lounges of so-called elite academia and the editorial boards of the internationally-renowned newspapers and media outlets. And it's as loud, strident and vicious as any sermon you will hear on any given Friday at the grand mosques in the capitals of every Arab and Muslim country.
The most tragic aspect to all of this is the complicity, active or passive, by my co-religionists, particularly those who are in political and cultural positions of leadership to for once in their dissolute, corrupt and wasted lives to openly, unequivocally proclaim that those on their side of the political divide have gone too far. And yet, there is silence or worse, equivocation and even staunch defense of the poison. The question is "why?" And the answer (or answers, really) is a complex, multi-faceted one at the intersection of religion, culture and over 2,000 years of often tragic history. It requires more time than I can give it justice here, but a good place to jump off is a damned good essay in book form by Norman Podhoretz that you should read for real insight into the issue of why, especially over years since the Shoah that Jews are becoming the willing Kapos of evil totalitarian movements.
Circling back, with the vomitus coming from the collective cake-holes of Bro-Fo Omar, Rancida Tliban which is merely a continuation of that of Al Sharpton, Jesse Jackson, Louis Farrakhan (oh yes, gentle reader; he is a Democrat leader) and others, there can be now no denying that the hardcore, openly Maoist faction of the Democrat Party is primed to purge the traditional stealth-Socialist old guard. Jew-hatred, poorly disguised with the gossamer-thin veneer of "anti-Zionism" criticism of Israel, is the order of the day. And all things considered and put into context, given the history of the State of Israel and its desperate, sometimes foolhardy pursuit of peace at any cost, I'll state it loud and proud that there cannot be any legitimate criticism of that state. Period, full stop. I find it funny (not ha-ha) that synagogues can be vandalized in Sweden or little girls and old women be beheaded and tossed off of buildings in France because of alleged crimes against so-called Palestinians in Israel. Square that circle, Lefties. But I digress.
Getting back to Democrat-Left Jewish thought and political leadership, from the instant that Bro-Fo and her coven spouted out the first noxious trope about Jews, Chuck Schumer and Nancy Pelosi should have gone to the nearest microphone as well as gone to the well of the Senate and the House to severely reprimand and censure her. They didn't. Even after repeat performances. And that emboldened the brain-dead Bronx bimbo to call for the cutting off of foreign and defense aid to Israel (one has to assume this is not her idea but that of her puppet masters). What it boils down to is Schumer and every other Democrat Jew in Congress would rather attempt to hold on to power by not going against a blood red Maoist tide in their ranks by taking a stand just this once to call out something that is not just wrong, but dangerous. I'm far from an observant Jew, but Schumer and all the rest have quite obviously abandoned their faith and any sense of ethics or morality that stems from it to such an extent that they are willing to let rabid Jew-hatred take center stage in their party if it can somehow be made to redound on to Trump and the Republicans (I can't see how) or more importantly, preserves their own power and influence within the Democrat Party. And leading that pack amongst the base is Bernie Sanders, who long ago sold his birthright for six houses in the Green Mountains.
Whatever spark of yiddishkeit or hell, even plain common sense or sanity, that remains in any American Jew (and really anyone who has heretofore identified as a "liberal" or voted Democrat) whatever one thinks of Donald Trump or has been indoctrinated to believe about Republicans, Conservatives, Christians etc., you cannot vote Democrat ever again. To do so means that you are what I call a self-gassing Jew.
Many excellent links in both the Democrat Anti-Semitism and First Amendment sections for your consideration looking at the New York Times' kerfuffle as well as on the overall theme of open anti-Semitism here and abroad.
Moving on to the coup against President Trump, more on the Rod Rosenpenis resignation, Angelo Codevilla asks the question all of us want to an answer to, and Sebastian Gorka on the seriousness of ObamaGate.
On the border, as the crisis worsens with both thousands of peasants as well as MS-13 and other animals in their midst heading our way, our government is actually making them comfortable when they get here, and not in the Coonman Northam way either. And up here, DAs are trying to kneecap ICE, Dick "Weed" Durbin acknowledges that indeed there is a crisis as does Thomas Friedman but not quite the way he should, and the all-important swing voters are solidly behind Trump when it comes to immigration.
Dem Scandal Sheet: Progressive caucus bigwig makes an oopsie when it comes to Dark Money, California Dem boss gets called out for aggressive pole-smoking, Bennie Thompson is a vile, pompous bigot, and this Flint city councilman sounds like he guzzles his city's poisoned water by the gallon.
Civil War 2.0: FBI investigating possible violent Antifa plots.
Politics: Joe Biden is in bed with Ukraine to the tune of billions (where's Schiff-for-Brains?), Jello-Brain Gillibrand is going down (her candidacy), assault charges against Mayor Buttplug seem specious, Tank Abrams is still a fat, loud-mouthed sore loser, Walter Williams on the reparations madness and Victor Davis Hanson on the madness of adolescent progressivism.
First Amendment: The Left's big lie about Trump as a threat to the press, Daniel Greenfield on the media all in on internet censorship and Facebook takes Dark Money to continue to smear Brett Kavanaugh.
Guns: Stability returns to the NRA amidst previous contention, and the NY State court overturns a SAFE Act conviction.
Abortion: California professor dehumanizes the unborn as does Vermont and Kansas, and there were more later term abortions than murders in NYC by almost 4 to 1.
Foreign Desk: Evil Jooz discover mostly peaceful Hezbollah tourism tunnels, EU socialists scared that their open arms migration policies might be effectively used against them, Spain goes socialist again, Tommy Robinson may run for Parliament, Australia's troubles and this UN 2030 agenda is a threat to our borders as much as what's happening now.
DEE-Fense: Former State Department official was a Chi-Com spy, and the threat from that country to us and the world.
We-All-Slam-For-I-Slam: Vet who converted to Islam charged with big terror plot on LA, Jihad Johnny Walker to walk among us, and ISIS leader emerges and praises Sri Lanka attacks.
Domestic News: Union forced to return dues money, Dems want an end to economy-growing tax cuts or else no infrastructure spending (as if we need more corrupt boondoggles), in wake of 3.2% growth, Conservatives pushing Stephen Moore for the Fed, real "green" energy; oil and gas workers make big green cash.
Crime: US incarceration rate down to 2-year low (sentence reform or cultural shift?).
Education: The Oberlin trial preview, Virginia schools trot out some bizarre stats on tranny students, and don't bail out the colleges.
Red Greens: Blotto O'Rourke's Green New Deal makes Chiquita Khruschev's look reasonable.
Feminazism: More on this really dangerous Democrat Equality Act.
Hither and Yon: Seattle (non-Frasier) Crane collapse kills two, dangerous technocracy, R.S. McCain on the Charlottesville lie, Christian Toto looks at the legacy of In Living Color vis a vis today's politicized comedy landscape, and Hollywood eating its own.
Anyway, links from around the world, across the nation and up your street. Have a better one and remain blessed.
NOTE: The opinions expressed in some links may or may not reflect my own. I include them because of their relevance to the discussion of a particular issue.
CONGRESSIONAL COUP, SPYGATE, DEEP STATE, THE MUELLER DECEPTION

posted by at
07:50 AM
|
Access Comments