« Media Pushes a New Anti-Trump Story, And It's...
Rolls d1
...Another #FakeNews Lie
|
Main
|
Massachusetts Judge Charged in Federal Court With Conspiracy, Obstruction of Justice, and Perjury for Helping an Illegal Immigrant Evade ICE in Her Courtroom »
April 25, 2019
Are You As Racist as a #Woke Leftist Democrat?
Joe Biden's already getting slammed by #Woketarians over his Instagram announcement.
Can you spot the offense?
No? How about I zoom up on the part of it containing the offense?
Can you spot it now?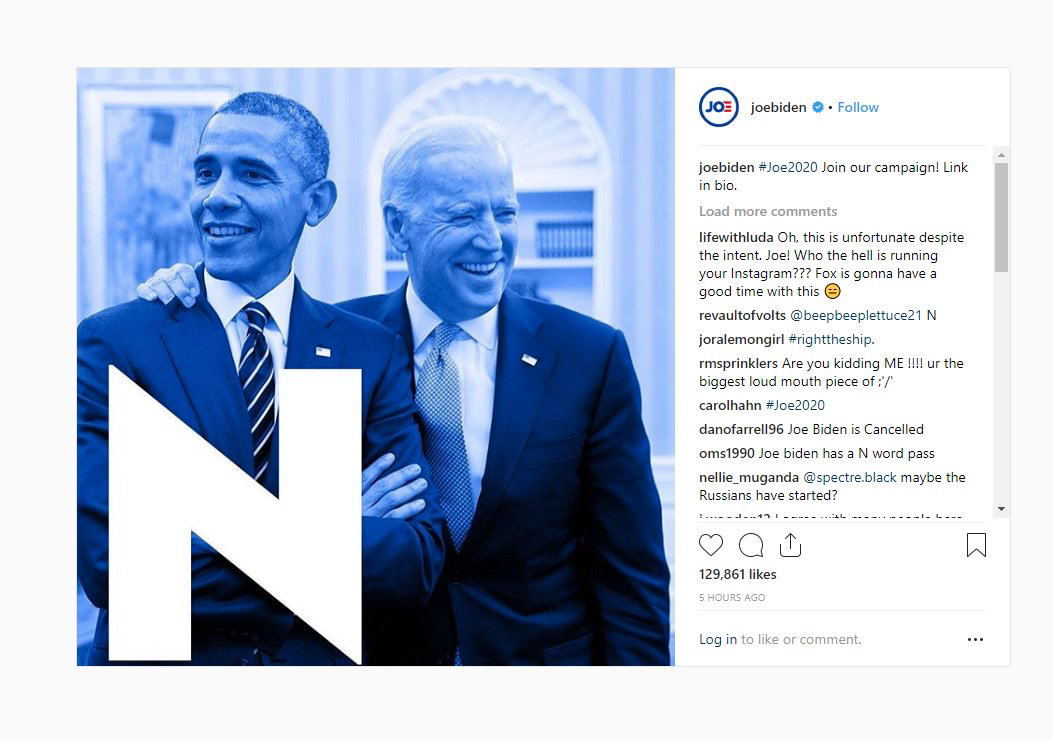 This offense is so grave that, as you can see in the comments, one Democrat searches around for reasons to explain such a horrible thing and comes up with the excuse, "maybe the Russians started it?"
Do you see it yet?
No?

Well I didn't either.
My guess was that they were taking Biden's hand on Obama's shoulder to be "possessive" and "colonialist" or some bullshit?
But no, that's not it.
A friend had to explain it to me.
The "anti-racists" immediately saw the "N" on Obama, which was really just the last letter of Biden's name, and thought "N***er."
But you didn't see that, so you are a racist, and their brains all immediately filled with the all-caps word "N***ER," which means, see, they're not racists.
Gaslit enough yet?
Another fun story is Joe Biden's claim that Obama isn't endorsing him for President because Biden asked Obama not to endorse him.
Not even idiot leftwingers believe that.

posted by Ace of Spades at
06:25 PM
|
Access Comments