« Wednesday Overnight Open Thread (4/24/19)
|
Main
|
Mid-Morning Open Thread »
April 25, 2019
The Morning Report - 4/25/19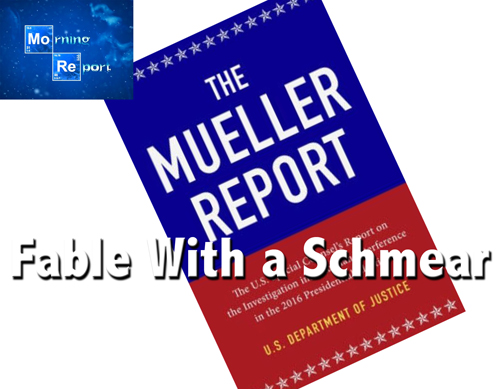 Good morning kids. Lots to cover for this Thursday so let's dive right in. With the Mueller Deception now deceiving no one but self-deluding Leftists, the Democrat-Left-Media Complex is now going pedal to the metal to use the telephone book-sized nothing-burger of a political hit piece to continue the effort to undermine President Trump, either via impeachment now or after 2020 if they cannot destroy his chances for the election (and they can't). Our lead item is a perfect case in point to prove both what I just wrote as well as to underscore how bereft of character, morals and ethics is Robert J. Mueller.
A Georgian-American businessman is calling for a retraction of a footnote in the special counsel's report that refers to a text message exchange with Michael Cohen about a rumored Trump sex tape. Giorgi Rtskhiladze's lawyer sent a letter to the attorney general claiming that the Mueller report has "glaring inaccuracies." The report quoted a text message in which Rtskhiladze told Cohen he was "stopping the flow" of tapes of Trump. But in a text message left out of Mueller's report, Rtskhiladze suggested he did not believe the rumor.
The fact that this is just a footnote in the "report" to me is not an outlier or an anomaly but is part and parcel of what was used to fill up all those blank pages with nothing but innuendo and speculation and ZERO hard, factual evidence to prove that President Trump and anyone remotely associated conspired with Russia to steal the 2016 election. The cold hard truth here is that Hillary Clinton, Barack Obama and Valerie Jarret used the Federal law enforcement and national security apparatuses to sabotage the campaign and failing that overthrow the duly elected President of the United States. And as all of this is starting to be revealed more and more, you'll notice that the reaction from both the conspirators and their allies in the Media is to circle the wagons and start firing back at we the people.
Most glaring, galling and frankly insane is Hillary Clinton herself. After everything we have witnessed and learned, this shambling, drunken battle axe has the unmitigated temerity to publicly encourage Congress to use this government-sanctioned lie as a pretext to remove Trump from office. When you think about what she has done spanning the past 40 or so years in public life, she is arguably the most evil woman in American political history, and probably in the top 10 over all of worst American political actors.
The gall of this woman is risible in the extreme, but given the fact that we have Mittelschmerz, the Alaskan "snow" blower and her Maine squeeze plus other RINO flunkies in the Senate, I frankly worry that they could vote to convict Trump if the House votes to impeach. Then again, while no one was looking, mostly because no one in the media was reporting it, the Dow Jones bounced back into record territory and unemployment was at a nearly half-century low. This is all Trump. Is any Republican really going to stab him in the back and his/her political career in the face by joining in this madness? I doubt it. Won't stop them from continuing to smear, insult and otherwise bitch about him to a willing microphone stuck in their faces.
Meanwhile, the President's defiance of kangaroo kourt kongressional kommittees is completely warranted. See the link to Elijah Cummings for the skinny on that. Lastly, Michael Ledeen raises the salient point that much of the groundwork for all we have been through dates back to General Mike Flynn's going against Obama and his foreign policy of bend over, grab the ankles and take it like an Afghan goat. When he became one of the first public figures to endorse Trump's candidacy, they found their target and then their way to seemingly take down OrangeManBad. Sadly, all they did was ruin the life of a decent man. I hope not only that he is pardoned but that perhaps Trump does the Trumpian thing and re-hires him in a top post. That would be righteous retribution IMHO.
On to the border where the crisis continues, and the President is vowing to make the effort to secure it and the opposition to same from all quarters a key issue heading into 2020. As we reported yesterday, hard-Lefty-nutter Cher is absolutely right on the issue of illegal aliens adding to her failed state of California's woes, and she is feeling the heat from the true believers. Red pill moment or blind squirrel/broken clock? Also the coyote racket is worth billions and Florida begins cracking down on sanctuary cities. I assume Andrew Gillum is in the crosshairs on this. Good.
Dem Scandal Sheet: Illinois Dem governor Pritzker is under a Federal investigation and about that "non-partisan" protect Mueller group, it's big time funded by dark Dem dinero. No Bro-Fo stories but we do have the lovely Democrat mayor of a Jersey town advising "Juden raus." Nice.
Civil War 2.0: Leftist baby-killing enthusiast tries practicing the gentle art of infanticide on an elderly pro-life woman by breaking her bones.
General Politics: Gwyneth hosting a steamed clam bake for Buttplug, Bernie hated millionaires before he became one, Chiquita Khruschev's puppet master all in on convicts getting the vote while CNN's Cuomo and Lemon are not so sanguine, Cindy McCain is now not supporting Joey Bidet, Rush has a salient point vis a vis why go to college if you get free shit for life anyway, a look at other radical Dem policies pimped by the prexy hopefuls, Spartacus' claims of Newark being a shining city on a hill are specious at best, and Dems won't support a woman or minority candidate because America is racist, or something. The logic - it burns.
First Amendment and Fake News Fakery: Facebook may take a $1 billion bath, YouTube strips ad revenue from Second Amendment activist Antonia Okafor, and the media kissing Mayor Buttplug's butthole is not going to end well.
Guns: Blind squirrel ThinkProgress finds a nut vis a vis gun crime.
Abortion: Planned Parenthood wrote the California rules persecuting religious groups to violate their faith.
Foreign Desk: Rick Scott looking to get our hair mussed over Maduro, Whoa, Fat! pow-wows with Putin, UN Human Rights Council says "Sri Lanka? Never heard of it," Turdogan defends killing Armenians (but don't call it genocide), and John Bolton praises the Bay of Pigs freedom fighters, the ones Obama blasted and apologized to Castro for.
DEE-fense: A new look at the Iraq debacle, and the Navy is chasing SHADOs.
We-All-Slam-For-I-Slam: Father of 2 Sri Lankan Islami-kazes pinched, Armenian Genocide Remembrance Day, and Germany is screwed.
Domestic Affairs: Connecticut toll madness and Cocaine Mitch high on raising tobacco age. But let's legalize pot, shall we?
Economic News: SCOTUS hands big win to business as Ruth Bader Meinhoff's clerks go nuts.
Education: Daniel Greenfield on student Palestinian thugs going after gay, Jamaican prof who's pro Israel, and scholars want freedom of speech on campus.
Red-Greens: Tesla pollutes more than a Mercedes diesel, Green Nude Eel helps the climate not one bit.
Feminazism, Tranny Psychosis: Government persecutes father for calling tranny daughter a "she."
Hither and Yon: A trio of pieces on the fate of religion in America including Kanye at Coachella, non-believers not on the rise in the US and born-again Andrew Klavan's take on faith.
Anyway, links from around the world, across the nation and up your street. Have a better one and remain blessed.
NOTE: The opinions expressed in some links may or may not reflect my own. I include them because of their relevance to the discussion of a particular issue.
CONGRESSIONAL COUP, SPYGATE, DEEP STATE, THE MUELLER DECEPTION

posted by at
07:56 AM
|
Access Comments