« Sunday Overnight Open Thread (4/21/19)
|
Main
|
Mid-Morning Open Thread »
April 22, 2019
The Morning Report - 4/22/19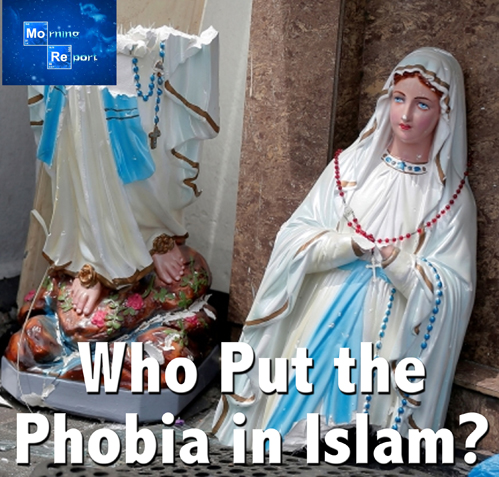 Good morning kids. Monday and the top story is yesterday's Muslim massacre of Christians celebrating Easter in Sri Lanka. As of this writing, there are over 200 confirmed dead and at least 450 wounded. Americans, Canadians and other foreigners are also listed among the casualties. Those whose lives were savagely snuffed out for doing nothing more than being devoted servants of G-d died at the hands of others who in their mind were doing exactly the same thing. The so-called "religion of peace" is not a religion, let alone a peaceful one. It is a totalitarian death cult dressed up in the trappings of religion that for over a millennium and half has been waging a war against the ideas and ideals represented by what ultimately evolved into post-Enlightenment civilization, individual freedom and real human progress to subjugate the entire world or destroy it trying. Those goals happen to be identical to that of another malignant, pseudo-fundamentalist death cult: Leftist-Socialism. Despite certain incongruities the latter conveniently overlooks (the enemy of my enemy, etc.), the two have joined forces both here and abroad to bring us down, either by violence or by deception, infecting the vitals of society and using the very freedoms they despise, along with the naivete and willful blindness of our political and cultural leaders, as weapons against us.
I don't have to look at the way the agitprop media is going to cover this, if they indeed cover it at all. The religion aspect will be downplayed or the perpetrators described as "lone wolves" who are misguided, uneducated, come from poverty-stricken areas that lack midnight basketball etc. Funny how the psychos who shot up the New Zealand mosques last month were splashed all over every front page and dominated the news cycles for days. They were also described as emblematic of white nationalism, bigotry, Islamophobia and Trump. Funny though how when that massacre occurred, no one in Bible-Belt America or anywhere else in the civilized world for that matter was passing out candy, dancing on rooftops and ululating "Onward Christian Soliders." The Left's other avenue of attack is to try and find moral equivalency by declaring that all religions kill in the name of G-d. I'm no Rabbi Schneerson or John Paul II, but there is kind of a big difference between people who abuse and completely misinterpret scripture as their excuse to massacre others and those who are following the central tenets and core beliefs of their prophet and his writings. Three guesses as to which "religion" that one is.
And please don't cite some phrase in the Bible or the Talmud or wherever to claim otherwise. Interpretation and the gradual evolution of the liturgy disproves it. There can be no such interpretation or "evolution" of Islam out of its Dark Age cradle as to do so, like so many other things that allow people to think and worship as they please, carries with it a death sentence. In any case, the body count from 9/11/01 onward (and before, really) speaks for itself. May the good Lord bless the souls of those whose lives were cut short, and bring comfort and healing to the survivors and those left behind.
The other big story is, of course, the aftermath of the release of the Mueller Report, the complete mischaracterization of what is in it by the Dem-Left-Media Complex and using that as pretext to move forward with impeachment proceedings against President Trump. As disgusting as these people are, I invite them to go for it. If the infanticide, open borders, red-green madness, economic suicide and assault on free speech isn't enough to kneecap them, the confirmation that this President and his supporters are being persecuted will bury them electorally in 2020.
That said, the inchoate, mad ravings of Maxine "Mikvah" Waters confirm that President Trump is, aside from a political target, a symbolic one; the real enemy of her and her band of traitorous, anti-American criminals are we the people and by extension We The People. By her calling out our "patriotism" she is signaling its okay to harass us - or worse - anytime and any place. This woman and anyone in a position of power who speaks openly like this is manifestly irresponsible and dangerous. Unfortunately, with loathsome, despicable failures like Mitt-elschmerz Romney putatively on our side, we don't need Democrats. What a prick he is.
Down at the border, the migrant invasion crisis continues where fresh off trying to help oust a sitting president, the FBI has arrested a citizen who dared commit the crime detaining illegal aliens at the border and turning them over to the Border Patrol. Hey, he's only doing the job some Americans won't do. The FBI is an unnecessary menace. Sorry about the decent people who do work there, but ever since Hoover and Tolson let their slips show, outside of a few instances here and there, they seem to do more damage than good.
In politics, some shady dealings with the Progressive Caucus and an outside charity, more on the hatred, bigotry and anti-Semitism of that caucus and its jihad-loving members and you can't get more racist than Marx and Engels. Elsewhere, the impeachment trap the Dems are blundering into, Tubby Riefenstahl crashes Blotto's party and gets ripped, Chiquita Khruschev might actually face a real GOP challenger in 2020 and Pete Buttplug is doing it wrong, or something.
First Amendment: Aside from the fallout over the Mueller report and the author getting accosted after Easter services, Michelle Malkin has an alarming report on Chase Bank and others de-platforming conservatives for their political viewpoints. Social credits are not just for Chi-Coms anymore.
Foreign Desk: Comedian wins Ukraine prexy election, US sanctions even allies to isolate the Iranians, and tiny Malta faces down the Russky bear in interdicting help to Maduro. Also, another jihadi Easter massacre was averted in Spain.
The Economy: How the Dems obfuscated the wildly successful Trump tax cuts and the price of natural gas plummets as the US sets production records.
Healthcare: Humana looks to be the Alfred Krupp of healthcare. Bastards.
Education: The Joo-haters really hate the Canary Mission.
Red Greens: It's Earth Day so celebrate by driving a gas guzzler and making your electric meter spin like a dervish.
Hither and Yon: Oklahoma - NOT - OK... etc.
Anyway, links from around the world, across the nation and up your street. Have a better one and remain blessed.
NOTE: The opinions expressed in some links may or may not reflect my own. I include them because of their relevance to the discussion of a particular issue.


SRI LANKA ISLAMIC TERROR ATTACK


posted by at
07:50 AM
|
Access Comments