« Wednesday Overnight Open Thread (4/10/19)
|
Main
|
Mid-Morning Open Thread »
April 11, 2019
The Morning Report - 4/11/19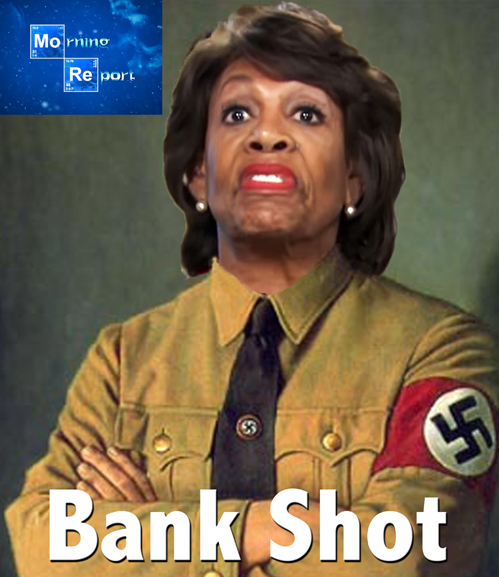 Good morning kids. Thursday and the big story is the reaction to Attorney General William Barr's unvarnished, unapologetic and clinical declaration that yes indeed, there was spying (or bugging or eavesdropping or espionage or whatever Hawaiian Senator Brian Schatz-n-giggles can understand it) being perpetrated against the Trump presidential campaign. After more than two years of a steady diet of Trump and Russia colluded to steal the 2016 election and the anticipation that Robert Mueller's persecution of the President and his allies would eject him from office, the one-two punch in the gut and boot to the groin of first the Mueller deception dissolving into thin air and AG Barr openly stating the plain hard truth was a marvel to behold. And without missing a beat, Barr announced that his office was going to at long last launch an investigation to uncover how the whole thing started and who was behind it. Frankly, there's really not much to investigate since we know the machinations of the phony Steele dossier being used as a pretext to abuse the FISA courts to spy on the campaign and then use that as propaganda to insinuate Trump was a Russian spy or dupe. The real question is was this done with the knowledge of Hillary Clinton and Barack Obama or was it done directly on their orders?
No matter what, this entire thing is without doubt the greatest political scandal in American history. And that sentence doesn't even come close to describing the depths to which the barest minimum of character, morality and ethics required of our political leaders, let alone the people we entrust to administer justice blindly and fairly and to ensure our national security have sunk. Look, I wasn't born yesterday, and I understand the nature of politics and the character of people who seek elected office (or all too often what happens to it once elected). But if the eight years of 2009 to 2016 weren't enough of a shock, the past two were truly breathtaking. And all that considered, it's sad to say that I do not expect any of the players involved to feel the terrible swift sword of justice, let alone Clinton or Obama. Compare and contrast the lives of say Andrew McCabe and Peter Strzok today with those of Paul Manafort and Michael Flynn (it may seem out of left field but look at the former two and keep in mind the Ivy League college admissions scandal). Look at the magnitude and gravity of the scandals, crimes and the grand larceny in the tens of millions committed by Obama and Clinton during their years at the controls and how despite all of that, they are given a free ride. Dear Lord, with Clinton's e-mail servers alone, she was allowed to cherry pick and then destroy evidence while the FBI and DoJ gave her the all clear. It's not just them but entire instrumentalities of government - the most important ones - that have been thoroughly and completely corrupted from the bottom up.
I don't mean to throw cold water on you this morning. Along with Barr's testimony, yesterday saw the re-election of Benjamin Netanyahu, a man loathed by the Left because he's the leader of a nation they loathe even more, the winning of a crucial Wisconsin supreme court judgeship by a conservative and the delivery of a truth nuke on the Democrats about their guilt in the genocide of black Americans by Candace Owens, and Maxine "Mikvah" Waters forced to swallow her scabies-ridden wig with one of the dumbest gaffes ever, all within a week or so of the dissolution of the Mueller inquisition.
Yes, it's great that Barr will be investigating what the hell happened vis a vis spying on Trump, but as I stated, I hold no illusions as to what that outcome might be. And the breaking story late yesterday is that Obama's chief counsel Greg Craig is expecting to be indicted on corruption charges relating to meddling in the Ukraine in 2012 which ironically came to light as a result of the Mueller investigation into 2016. Come what may, at the very least, all of this coming to light is a victory in and of itself.
And now that the shock has worn off, the Democrat-Left-Media Complex is doubling, tripling and now quadrupling down that Barr and Mueller are Trump stooges and the holy-of-holies E-Plebneesta Un-Redacted Report will prove Trump is guilty. Let them rant and rave all the live long day right until November of 2020. What all of this reveals sadly is that there are two Americas: one for the elite who are handpicked almost from childhood to assume the reins of power to transform/subdue America as founded and for the rest of us, the rule of law, morality, ethics and the Constitution be damned. There are also two Americas insofar as the Anti-American Left and the rest of us seeking National Restoration. What all of this reveals, sadly, is that there is no reconciliation. Look at the campuses, look at your television, look at Congress, and then tell me how we E Pluribus Unum our way back.
On to the rest of the news and first to the border where it's a bit of a mixed bag. The Pentagon has authorized $1 billion in funds to begin construction of the border wall, the administration is looking to beef up DHS with hardliners, a former Obama underling defends child separations when they did it, more and more invaders are heading our way and that suits the Democrats just fine for obvious reasons and Kris Kobach shows his mettle as a potential replacement for Kirstjen Nielsen.
Democrat Scandal Sheet and Jew-Baiting: The corrupt UAW Dem super delegate gets the chop, NY Democrats ignore "Bro-Fo's" hideous 9/11 comments but the mother of a FDNY hero who perished that day lets her have it, and Sebastian Gorka examines the official Democrat Jew hatred. Elsewhere, several links on reparations mania, Nazi collaborator Soros and his fellow travelers looking to spend $275 million for 2020, Kevin "Charlie" McCarthy says the right things but a few years too late, Fauxca-Has-Been is a filthy one=percenter, big conservative win for Wisconsin supreme court seat, and Conrad Black on Trump.
First Amendment and Fake News Fakery: Ted Cruz wants to wield the anti-trust hammer on Big Brother Tech, House passes waste of time net neutering bill, David Reaboi on the MFM hate for the Saudis, Turk journalist blasts CNN for pimping Turdogan propaganda, and East Lansing hates Catholic farmers.
Guns: Jamie Dimon defends doing business with gun makers and Eric Swallowswell's anti-gun prexy platform ain't gonna help him much.
Abortion: US bishops fight for passage of pain capable abortion ban, Texas gets close to passing ban on taxpayer funded infanticide, and Unplanned is having the exact effect the Left feared.
Foreign Desk: VP Pence demands UN expel Maduro flunky and recognize Guaido, Pompeo wishy washy on Iran nuke ramp up, Rabbi Fischer on Bibi's big win, and the "gauche" French use their children as political puppets - mmm mmm mmm. Also, the Chi-Coms are playing havoc on us with the millions of hacked Office of Personnel Management files.
We-All-Slam-For-I-Slam: Daniel Greenfield on foiled Muslim terror plots against synagogues or as "Bro-Fo" Omar spews "something by somebody," she also wants to nix Trump's travel ban, Chi-Coms defend concentration camps for Muslims, and sharia police and no-go zones in Brooklyn? The hell you say! [sarc]
Domestic News: Spending up but taxes down, Democrat tax hypocrisy and Victor Davis Hanson on the shambles of his home state.
Crime & Punishment: Don't read it on an empty stomach.
Education: Radicalization, persecution and censorship on campus.
Feminazi-Homosexual-PsychoTranny News: On the Mike Pence and Chick-Fil-A smears, all but one House Dem wants to force men on women's sports teams, and father distraught over cancer-stricken child given Frankenstein hormone poison.
Hither and Yon: Anarchy and the social order, a look at this Titania McGrath fruitcake Tu-Ca highlighted and a further essay underscoring my misgivings on national reconciliation.
Anyway, links from around the world, across the nation and up your street. Have a better one and remain blessed.
NOTE: The opinions expressed in some links may or may not reflect my own. I include them because of their relevance to the discussion of a particular issue.

THE MUELLER DECEPTION, SPYGATE, DEEP STATE, CONGRESSIONAL COUP


posted by at
07:59 AM
|
Access Comments