« Monday Overnight Open Thread (4/8/19)
|
Main
|
Mid-Morning Open Thread »
April 09, 2019
The Morning Report - 4/9/19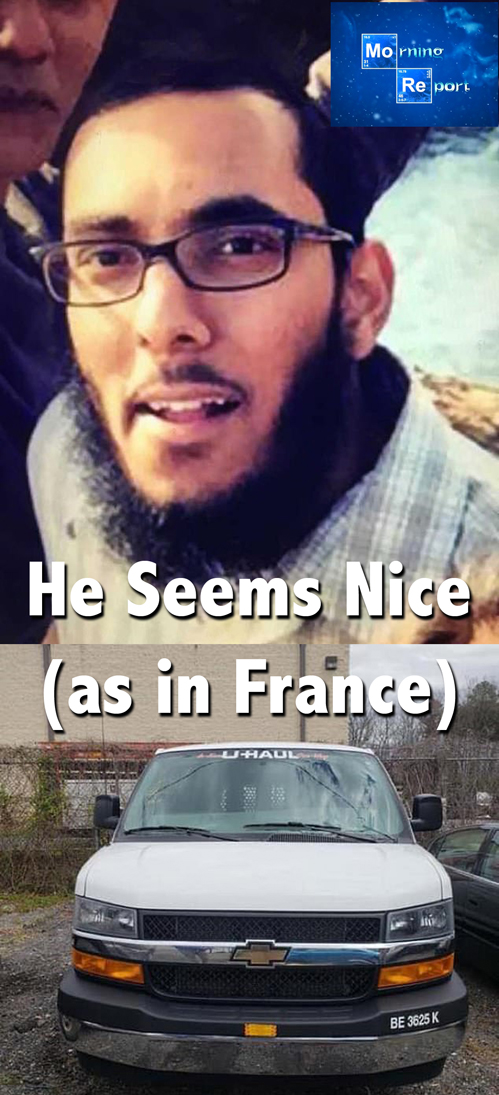 Good morning kids. Tuesday and lest it get lost in the sauce - and by that I mean completely ignored by the media - police arrested a man yesterday in Maryland after he stole a U-Haul truck with the intent of using it to mow down a crowd of people at National Harbor, like the ISIS attack in Nice, France. You can hear the disappointment at the editorial boards and newsrooms since no blood was shed and the violence could not be blamed on Trump and racist, bigoted, Islamophic America. Make no mistake; this incident, along with the dozens of other "lone wolf" Islamic-inspired terror attacks and plots, go hand in glove with the crisis at our border and the intentional dissolution of American culture and identity, because they are two fronts of the same geopolitical/ideological war. It also presents that much more of a challenge to deal with. Lack of political will notwithstanding, in theory, you can deport illegal aliens a helluva lot easier than alien ideologies. Especially if those ideologies are espoused by those who are actual citizens, at least in legal status if not mindset.
After the 9/11/01 terror attacks, between George W. Bush and Barack Obama, America naturalized immigrants from Arab and Muslim nations in numbers that were orders of magnitude larger than at any other time in our history. And that was the exact wrong thing to do since the vast majority came here not to embrace the flag and our culture, but to bring with them their failed, miserable, medieval totalitarian death cult in the hope of destroying us from within. If not at the violent hands of maniacs like Nidal Hassan, Omar Mateen and this cupcake in Maryland than by the words and deeds of "Bro-Fo" Omar, Rancida Tliban, Sarsour the Hamas Louse and their equally America-hating shills and dupes in the Democrat-Left-Media complex.
Jocelynn Cordes over at The Federalist (linked in the Politics section) warns us:


...We need to be honest about these contradictions, and define with clarity what our real values are. Otherwise, by blindly following the herd, we might be chipping away at our own foundations.

This is why the uproar over Jeanine Pirro's recent Fox News opinion segment, in which she posed questions regarding Rep. Ilhan Omar's allegiances, was a mistake. We must ask people about their belief systems. Doing so is bringing their fundamental values into light, which especially matters when dealing with elected representatives.

Otherwise, even something that appears to be bedrock to our polity, such as equality under the law, becomes vulnerable to extinction. This work is what the Founders were referring to when they said the price of liberty is eternal vigilance...
Look around America, not just in the big blue cities but even in small towns and more rural areas. They look less like America and more like Tegucigalpa or Mogadishu. Is this a good thing or a bad thing? The Left will argue that this is what was said 100 years ago when a kosher butcher shop or a Chinese takeout joint opened up. Except that it isn't. Those who came in the great wave of immigration from 1880 to about 1925 did so to escape where they came from for a better life to be lived as Americans. They did not come to try to transform their new home into what they left behind. With the poor, illiterate peasantry from Central America, probably not, although we as a nation are doing nothing at all to ensure that they at least are forced to take the most minimal steps at assimilation, but that's another issue. With those that are coming here from the Muslim world, all things considered since the attacks on 9/11/01 and really given the historical record and texts of its adherents since the 7th Century, it is valid and necessary to ask what is their real intention of coming here? Take a look at places like Birmingham, England, Malmo, Sweden, Marseilles, France, Mollenbeek, Belgium and all across the continent before you dismiss that question as racist and "Islamophobic."
Turning to immigration, after sacking Kirstjen Nielsen and then Secret Service chief Tex Alles shortly thereafter, the President and his allies in the administration are looking to shake things up over at DHS vis a vis the border and immigration crisis. Advisor Stephen Miller tells us they are looking for immigration hardliners to staff up, and that is a good thing and long overdue. That said, they are still up against the forces of insurrection as witnessed by yet another hack-in-black judge who has blocked the administration's policy of rapid repatriation back across the Mexican border. I think the time for threats vis a vis Mexico and the other nations involved has passed. It really is time to punish them financially for allowing the forces that be to organize the migrant invasion caravans to operate. And as I stated yesterday and for a long time now with other issues, it's time for the Executive Branch to kneecap a rogue Judiciary and ignore their edicts. Yes, one day (G-d forbid ever) we will have to deal with a Democrat-controlled Oval Office but that party is so far off the rails that it is in facto operating as a de-facto insurrectionist group within our own borders. We crossed the rubicon long ago so damn the torpedoes.
In the Mueller Deception and Congressional Coup, the noteworthy items are the DoJ's disinterest in real Democrat-Ukraine collusion in 2016 and yes the same people behind the Iraq War pretexts are behind the Russia Collusion myth.
Dem Scandal Sheet: Malkin on Palsi's perv problems, DeBolshevik's real estate corruption at City Hall, Michigan Dems send corrupt UAW official down the memory hole and calls for Baltimore's mayor to step down. Also, "Bro-Fo" Omar blasted for smearing Stephen Miller, Bobby Rush is a straight-up, lowlife thug and a woman is charged for sending Susan Collins some ricin krispy treats.
Politics: Trump positive about 2020, Eric Swallowswell is running for president now, two essays on the socialism angle, Cory Booker introduces reparations bill as good Roger Simon blasts the concept, Salena Zito thinks Mayor Buttplug is for real in the rust belt (hell, he rusted South Bend, Salena), and the next target of the Der-Left-Media Complex is Herman Cain as a result of his being tapped by Trump for a Federal Reserve position.
Abortion: Woman whose experiences were the basis for Unplanned goes on the offensive against the smear machine and California moves bill for campus-provided abortion pills.
First Amendment and Fake News Fakery: Katie Courveh belches up a polyp, collusion between media and the Pulitzer Prize? Shocking! Daniel Greenfield on the media's desperate attempt to destroy Bibi Netanyahu and a look at the LA Times' Islam apologist.
Foreign Desk: The aforementioned Bibi is in the race of his life in the Israeli elections, comedy gold from the Iranians but no laughing matter about their nukes, Venezuelans turning to an app to overcome government censorship, Queen Elizabeth invites the President to join in the 75th D-Day commemoration, the Brexit sellout, is there a Palestine, and US troops leave Libya but the Obama-Clinton taint goes on.
The Economy:
UPDATE:
Hmm. Somehow the rest of this post got lost, probably by me screwing around with it. Oh well...
Anyway, links from around the world, across the nation and up your street. Have a better one and remain blessed.
NOTE: The opinions expressed in some links may or may not reflect my own. I include them because of their relevance to the discussion of a particular issue.

BORDER WALL, MIGRANT INVASION, AMNESTY, IMMIGRATION, BORDER SECURITY


posted by at
07:54 AM
|
Access Comments