« Wednesday Overnight Open Thread (4/3/19) Slacker Edition
|
Main
|
Mid-Morning Open Thread »
April 04, 2019
The Morning Report - 4/4/19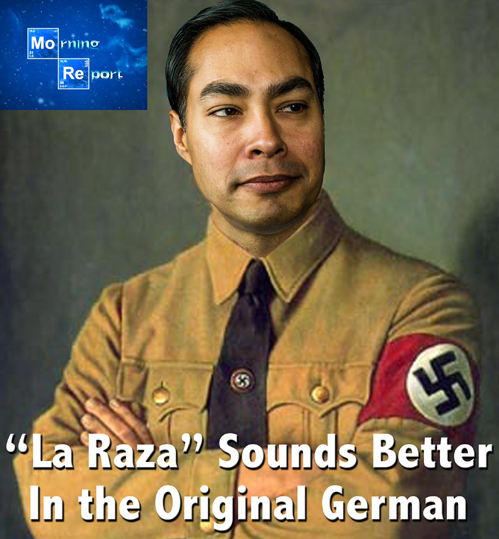 Good morning kids. Thursday is upon us and let's face it; Joe "Boldfinger" Biden's troubles are only troubles because one or more Democrat presidential candidates and perhaps the DNC leadership itself does not want him to run against Trump because a) he's not intersectional enough b) not Shining-Path-Maoist enough c) would get a rhetorical ass-kicking of yuuuge proportions in any debate with President Trump or perhaps a combination of all of the above. Some commenter posited yesterday that he thought Hillary was behind this because she is itching to run again. I actually stifled a laugh when I realized she is obsessed and vindictive enough to actually do it. We shall see. In any case, given Joe's nearly 50-year pedigree as a Democrat in good standing, many are reticent about denouncing him for his creepy grab-asstic proclivities with females of all ages, and so now the headlines are appearing about some very shady financial dealings involving him, his drunken failure of a son and the Ukraine. Stay tuned for that.
Meanwhile, sure as night follows day, now that the Mueller Distraction-by-Persecution of Trump has failed, the usual gang of momzers and miscreants are continuing the attempt to bring down a man whose popularity and support only grows in direct proportion to the volume and frequency of the attacks against him. Jerrold Nadler and company have subpoenaed the entire unredacted Mueller Report as well as hundreds of thousands of pages of notes and files pertaining to it, from Attorney General William Barr. The latter will not (or should not) comply with that for the simple reason that to do so would be a violation of Federal law - one the Democrats including the putrid polyunsaturated pustule of a Congressman himself helped pass into law to shield Bill Clinton and his bottom-feeding remorae - from exposure. Hoping the public is too dumb to know this, Nadler and company will crow, preen and strut in front of the cameras that Trump and Barr are obstructing justice and must be guilty of collusion and obstruction and being not-nice-guys!
And as the left hand is doing this, the far left hand of the House Ways and Means Committee is demanding to see the President's tax returns while also using his expected refusal to comply as camera fodder to show he must be hiding something. Except what could he be hiding on documents he has willingly given to the IRS over the course of decades that they would have found out ages before he even dreamed of running for office? As one of the links states, the Democrats are ignoring the first rule of holes and only making the President look like a victim of political witch hunts. And it should be noted that the only reason why the base that voted him in and a growing number of disgusted and disaffected people are gravitating towards him day by day is that he is going to the mattresses and in many cases delivering for the American people on a number of fronts, despite the forces in the Democrat-Media Complex and the CoC-GOP-e arrayed against him. That said, it is a miracle that he has survived and thrived in an environment that would have crushed any other conventional Republican president ages ago. Actually, it's not a miracle. It's merely Trump being true to himself and true to the best of his abilities to the people who elected him. And they elected him to stop the several decades-long madness being foisted on us by the Deep State. And the latter will not stop because even if they fail to crush Trump, they are sending a warning to anyone else who tries to do what he did by going against them. When his time is done on January 20th, 2025 (please G-d), I hope and pray he becomes the leader - figurative or actual - of a movement that marks the beginning of the long road back to pre-1913 Constitutional limited government republicanism.
Key to that is going to be his continued fight to secure our border from what is an organized effort to flood America with millions more foreign peasants from the third world in order to boost Democrat voter rolls, swamp the welfare state and dissolve whatever the hell is left of American society, culture and national identity that remains. A big step would be for the president to follow through on his warning of closing the border with Mexico. The Left going into total freakout mode about it means it would be the absolute 100% right thing to do. And of course traitors like Xavier Becerra and Julian Castro, whose mother was one of the founders of the racist, anti-American group La Raza, are calling for a complete decriminalization of border jumping which would be a de-facto amnesty for not only those coming now but the upwards of 30 million or more illegal aliens already here. No thanks. Several other links about the spark of humanity brigades including dragging kids through razor wire and a child pornographer among the nabbed future Democrats of America.
On to the Democrat Scandal Sheet where Kamala-Toe is throwing Joey Boldfinger under the bus, Chiquita Khruschev being hit with yet another FEC complaint, Blotto Beto and his poo-fed wife also have sticky fingers vis a vis campaign funds, 67 nonprofits are calling for the SPLC's head, and a look at Democrats and so-called "hate crimes." Meanwhile, in the Joo-hate subsection, "Bro-Fo" Omar is lobbying hard for a Muslim Brotherhood terrorist to be released, two essays on the disgusting display of Democrats seeking the approval of Al Sharpton and an uptick in anti-semitism on our airlines.
Elsewhere, it looks like the conservative candidate for a Wisconsin Supreme Court seat is holding onto a 6,000 vote lead, two essays on Chicago's new black lesbian lefty mayor, after raising holy hell about a budget, Dems fail to write one and let's see how Mayor Pete Buttplug excuses away firing South Bend's first black police chief.
Abortion: Dems save kittens while pimping infanticide, GOP pushes a House vote on the latter, and Boldfinger's stance vis a vis his chances in 2020. Meh, this is the least of his worries.
First Amendment: Even emo-giraffe Comey had to school Christiane Amanpour on the first amendment, this justice Democrat PayPal Jayapal broad demands you respect transgender psychotics or else, CNN's national security "experts" are really foreign agents of the Qatari terrorist regime, Texas AG rides in to investigate the San Antonio Chic-Fil-A restraint of trade, Mike Pompeo gets an award revoked from media lefties (BIRM) and then given to an Obama stooge, and Daniel Greenfield on the black grandmother now being the latest Emanuel Goldstein of the Google gulag gaggle.
Guns: Magpul shipping all kinds of magazines to California in the wake of the repeal of the magazine restriction.
Foreign Desk: Russkies are warning Venezuela's neighbors about using military force to oust Maduro (go suck on a blini, Pooty-Poot), Aussie pol egged by a Lefty for speaking the truth about Islam is censured, it takes a German to define the cause of anti-Semitism as Islamophobia, and a warning about Chi-Com persecutions.
DEE-fense: Lockheed should take a chill pill, US will not be celebrating the Chi-Com navy, two essays on NATO and the US Army chief-of-staff is stuck in the 70s.
The Economy: Jamie Dimon sez $22 trillion national debt? No worries! Also, California is looking to shakedown people everywhere for internet sales taxes. A rogue nation on our western border.
Healthcare: Oxycontin lawsuits has the makers scrambling.
Education: A couple of good links about the need for charter schools, primarily in the transgender psychosis indoctrination, a Texas teacher demands anti-Trump homework and funding a Farrakhan acolyte.
Red Greens: Colorado votes to kneecap its economy, and Cuck Schemer uses the disaster relief funding bill to spew global warming propaganda.
Feminazism: After reading that headline, the Alien chest-burster appears downright cuddly.
Hither and Yon: Francis the Talking Pope set to install fellow traveler in DC pulpit, another look at Unplanned and several good essays on progressivism and the family.
Anyway, links from around the world, across the nation and up your street. Have a better one and remain blessed.
NOTE: The opinions expressed in some links may or may not reflect my own. I include them because of their relevance to the discussion of a particular issue.
THE MUELLER DECEPTION, SPYGATE, DEEP STATE, CONGRESSIONAL COUP

posted by at
08:16 AM
|
Access Comments