« Gritty ONT
|
Main
|
Mid-Morning Open Thread »
March 29, 2019
The Morning Report - 3/29/19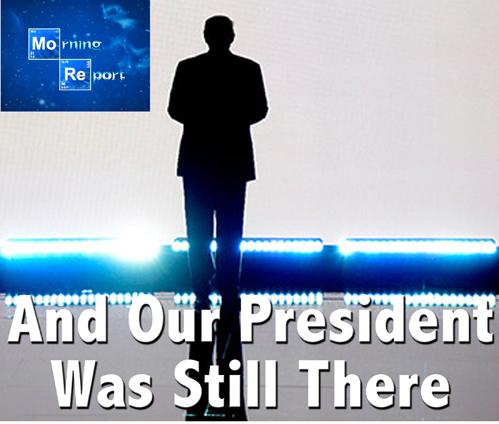 Good morning kids. The end of another crazy week and almost the end of March. With all of the insanity swirling around us, if you step back and survey the cultural and political landscape of America (and the two are virtually intertwined in this day and age) from a high level, the picture presented is abject chaos. All of it emanates from the Democrat-Left-Media-Academia Complex and is catalyzed by a single entity that day after day proves to be a force of nature: President Donald J. Trump.
Look what his candidacy and even election have wrought. The dropping of whatever fig leaf of a pretense of objectivity the media may have had, the exposure of what has come to be known as a Deep State of both political appointees and bureaucratic lifers within our national law enforcement and intelligence communities who conspire and, er, collude, with one another and even foreign entities to abuse their power to subvert the will of the people and steer the nation to an unnatural globalist destiny. Then, having failed to sabotage the election to install their hand-picked figurehead (Hillary couldn't drive a Hoveround let alone an agenda), they used phony opposition "research" that no one believed, attached it to an intelligence file and used that as a pretext to smear the President-elect as a foreign agent who stole the 2016 election.
But while all of this was going on, the one thing that they did not count on was that Donald J. Trump punches back. Twice as hard, and right in the throat. And the harder he fought back the more shrill and nakedly partisan were the voices from the Democrats, Media and NeverTrumper Coup-Cuck-Clansters, which fomented incidents of violence and intimidation against ordinary people and political leaders. The other thing it did was touch off an internecine war within the Democrat Party between the pseudo-stealth Socialist old guard and the naked, in your face Shining Path Maoists. Suddenly, anti-Semitism, anti-Christianity, open borders, actual infanticide, killing field-level ludditism and the setting alight of whatever fragments of our Constitution and heritage remain in a Reichstag fire made by the Up-Talk-Brown-Shirt-Brigades was mainstream and playing all over the nightly news like a Sunday night Disney movie. This cannot be playing well in Peoria.
And all of this is happening because of the election of Donald J. Trump. But make no mistake; Trump himself is not really the cause of all this. Or at least, he is just half of the equation. The other half is a sizable number of Americans having lived through and survived the 24-year period from 1992-2016 - especially the last 8 - understood full well that something was wrong with the nation. Trump merely articulated the rage and more importantly the promise that something could and would be done about it.
Let's hit the links. First up, the Mueller Report aftermath where Palsi Pelosi starts the attack on AG Barr's credibility, House Intel Republicans tell Schiff-for-Brains to resign (won't happen but it is put on the record and sends a message), the pencil-neck now wants to grill Mueller, Rand Paul and the Republicans want to grill Brennan about his role in elevating the Dossier into an intelligence file, plus several good essays including from Victor Davis Hanson and Jeffrey Lord pointing out where the real guilt lies and that probably no recriminations will be felt from the traitors in question. Meh, if it awakens enough people to keep their party out of power and kneecap the DC bureaucracy, that will be a victory.
Immigration and Amnesty: the Border Patrol chief as well as DHS Nielsen sound the alarm about a totally out of control border, Mexi-Prexy poo-poo's Trump's threat to seal our border, and the Aryan Brotherhood loves wetbacks with greenbacks. Plus, Trump accuses the Dems of welcoming illegals at the border.
Jussie Galore, Illinois Prosecutors blast Kim Foxx while Angela Davis with a badge hits back at her detractors, another look at this Tina Tchen dame, plus Heather MacDonald on corrupt prosecutorial discretion.
Civil War 2.0: Jm J Acosta thinks the Puerto Rican governor's threat to belt Trump in the mouth is a laugh riot while some NJ teacher union thug hopes Molly DeVos dies a slow painful death. This is how you get non-Durbin-Hodgkinson's sudden lead poisoning.
Dem Scandal Sheet: What the hell is wrong with Virginia? Now former governor and the first with actual blackface Doug Wilder is accused of his own Poonman shenanigans, all the big corporate donors to the subversive front group SPLC are suddenly silent about that groups sex scandal, and creepy porn shyster Avenatti is in trouble now with the IRS.
Politics: Delaware now close to its attempt to destroy the electoral vote, Chiquita Khruschev tells progs not to give to the DCCC (pass the popcorn), Rancida Tliban suddenly quit about impeaching the mother**ker, #WalkAway a hit in Harlem, "Tank" Abrams aide slams Joe Bidet for the vp offer, Eric Holder says not so fast on lowering the voting age, a look at the internal Dem civil war and Victor Davis Hanson on the Democrats voting reform as total power grab.
Abortion: Lois Frankel projects (projectile vomits) on Mike Pompeo, black pro-lifers against Planned Parenthood and Ohio will cut off the aforementioned from your tax dollars.
First Amendment/Fake News: White reporters banned from covering black mayoral candidates in Savannah (no word about Jews and dogs being allowed), USA Today blacklists The Federalist for actual truth, and Slim's Slimes is just so fucking openly disgusting, it's disgusting.
Foreign Desk: VP Pence pens op-ed saying Maduro must go, Maduro regime (it's still there?) bans Guaido from running for office for 15 years, Brussels urging Brits to vote in EU elections despite Brexit, Putin colludes with utilities to further swindle our uranium, why Israel should now annex the West Bank, Iran will try to wait out Trump's term and the EU gets reparations fever.
We-All-Slam-For-I-Slam: Nigerian Christians are being slaughtered but all you'll ever hear is "New Zealand! Ban Guns!"
Domestic Affairs: Senate GOP still nuking in judicial appointments, HUD probing Twitter and Google for housing discrimination, a rebuke of the Dondi/Mittelschmerz childcare bill, WOW Air goes down, and the answer to NY's woes? More taxes!
Crime: Parkland teacher op-ed rips response to the shooting, SCOTUS blocks an execution for lack of a Bhuddist priest.
Healthcare: Maryland says no to assisted suicide. For now.
Education: Michigan substitute teacher accidentally shows porn to students (motivation!), and the rotten state of academia.
Red Greens: Democrat hypocrisy on nuke energy, and they really are dangerous insane luddites.
Feminazism, Tranny Psychosis: Dem lawmakers remove POW/MIA flags and replace them with transgender flags. I can't even...
Hither and Yon: Harry Reid's lawsuit agains the Genco Exercise Band Import Co. going as well as you'd expect, leave John Wayne alone, and an excellent account of one man's experiences that is so revealing about the Socialist and Islamic states of mind. Worth a read.
Anyway, links from around the world, across the nation and up your street. Have a better one and remain blessed.
NOTE: The opinions expressed in some links may or may not reflect my own. I include them because of their relevance to the discussion of a particular issue.
MUELLER REPORT AFTERMATH, SPYGATE, DEEP STATE, CONGRESSIONAL COUP

posted by at
08:08 AM
|
Access Comments