« Wednesday Overnight Open Thread (3/27/19)
|
Main
|
Mid-Morning Open Thread »
March 28, 2019
The Morning Report - 3/28/19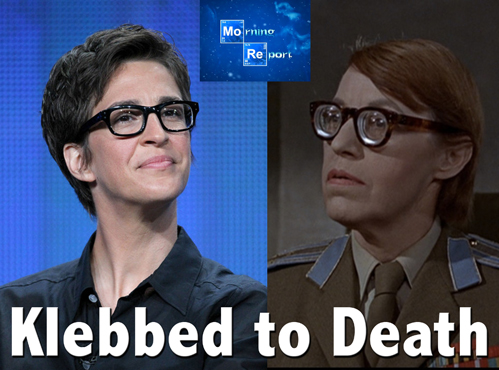 Good morning kids. Thursday and the beat goes on with both the Mueller Deflection and the Jussie Smollett travesty so let's get to it. With the dropping of the report and the conclusion of no collusion (yet with the obstruction angle conveniently left out by Mueller for future Democrat weaponization), there is a window of opportunity here for the President as well as political and media leadership on our side to go on the offensive, but that is going to close and very soon unless we can wrest control of the narrative and start pumping out the truth to the American people.
To reiterate what I said yesterday, Mueller is not the admirable, independent arbiter of the truth. He's a Deep State hack and co-conspirator of the Obama/Clinton led attempt to sabotage the Trump campaign and now to overthrow the 2016 election. There were no Russian agents colluding with the President to rig the aforementioned election. There was only the Obama/Clinton machine and high-level traitors within the intel community, domestic and British, and FBI attempting to infiltrate the Trump campaign and sabotage it from within by making contact with their opposite numbers in the KGB and creating a collusion pretext to go after the President. The Steele Dossier was a fiction that was used to game the FISA courts to obtain warrants to bug the Trump campaign.
Obviously, we are not going to get any assistance from the House and in fact, even more persecutions from that side of the aisle against Trump, his business and family that have no bearing on anything. That means, it's all up to the Senate, the majority of whom are at best not fans of the President and in point of fact also dragged their feet for his first two years thinking that he did collude with the Russians or hoping evidence - real or manufactured - would be found to show he did. Now, we're expecting them to initiate investigations that have the potential to go right to Barack Obama and Hillary Clinton themselves with language that has to flat out accuse them the very thing Trump was: initiating a plot to sabotage a candidate, then overthrow him while simultaneously manufacturing a phony special counsel to cover up their crimes.
Now that is a tall order, given who is involved. But it has to be done. In any case Devin Nunes is sounding the call to start the counter-offensive and the President is stating he's going to unseal the FISA files to see who and what got this crap rolling. It would be a godsend for Lindsay Graham to use the same language and tone that he did during the Kavanaugh hearings to go after the traitors involved. Hope he does. Not holding my breath in any case, all things considered. And let's for a moment assume the rosiest of scenarios where Senate hearings are held and all the players involved are dragged kicking and screaming before them. Does anyone think that Brennan, Clapper, Comey and all the others are going to face serious recriminations, let alone Obama or Clinton? Whatever does happen, we have to accept the sad reality that we live in a land of two justice systems; one for the elite and powerful and one for the rest of us.
And that brings us to the Jussie Smollett travesty where yesterday, the Chicago Police managed to release much of the files on the case that expose this loathsome character before a court could seal all records, seemingly forever. And this Kim Foxx dame looks to be cut from the same cloth as Marylin Moseby of Freddy Gray infamy. That is angry, anti-American and anti-police. I know that Nazi-collaborator George Soros had an attorney general project to fund the campaigns of radical acolytes to do his bidding in those positions, so I would not be surprised if there were connections between Foxx, Moseby et al to one of his front groups. On a granular level, the FBI (yay [sarc]) is supposedly going to look into why the charges were dropped and Michelle Malkin looks at another player in this case, one Tina Tchen who just happens to be a longtime Obama aide. Shocking.
Moving on to the rest of the headlines, in immigration and amnesty, two cases of two different illegal alien animals murdering Americans, one a Washington state sheriff's deputy, nearly 1.5 million new illegal aliens are expected to establish a beachhead behind our lines this year, and Orange County, California shutters an ICE detention facility.
Civil War 2.0: Here's a minor little nothing sure to be ignored by our media betters; a man has been detained in Maryland for allegedly threatening to kill the President and blow up the Pentagon, and Keith Olbermann gets reprimanded by ESPN for encouraging his audience to "make life a living hell" for a 22-year-old hunter. I hope everyone remembers your words if ever they have the distinct displeasure of personally encountering your bloated mien.
Politics: Poll of registered voters looks good for Trump's 2020 prospects, Eric "Swallower" Swalwell would rather run away like a whiney little titty-baby than answer questions about the phony Trump pee-pee tape, Bill Burr flames Chiquita Khruschev's confiscatory tax scheme/scam, a look at the siren song of universal income, a look at this Andrew Yang character, Lloyd Billingsley on the Left's time-honored divide and conquer strategery, and Discover the Networks exposes yet another subversive front group called "Brand New Congress." Hmm, possible comeback song for Melanie?
First Amendment and Fake News Fakery: Congratulations to Rachel Maddow for winning the New York Post's Mueller Madness brackets and for losing half a million viewers overnight. Mark Levin is right; they will never learn their lesson and continue to keep fucking that chicken. But that's their job, Great One. Sub-literate mouth-breather Elijah Cummings is on the attack against the Fox News bogeyman, MSNBC is so insane that they refuse to cover the totally apolitical event of the President awarding a posthumous Medal of Honor, the Trump FTC is beginning anti-trust investigations into Big Brother Big Tech, and Daniel Greenfield calls for investigations into the Washington Post's collusion with Qatar.
Guns: A look at how blue states can go for gun confiscation without any due process or checks whatsoever.
Foreign Desk: President Trump tells Russia to get the hell out of Venezuela, Theresa May hints she'll resign after a Brexit deal, Rabbi Fischer on the recognition of Israeli sovereignty over the Golan Heights, a look at the Algerian political transition, Pompeo warns about the Chi-Com threat, Brits take Bible out of context to deny Iranian Christian asylum, and India warns of attacks by Muslim terrorists on Jewish targets there.
We-All-Slam-For-I-Slam: Texas retaliates against Air-BnB for their Israel boycott.
Domestic News: SCOTUS hears opening arguments in potentially huge anti-bureaucracy case, Dondi and Mittelschmerz roll out socialist-lite family leave bill (yay, GOP), and California rolls out... yup, more taxes.
Healthcare: Two links about Trump's new focus on healthcare including Susan Collins threatening to disinter McStains' downward-facing thumb.
Education: Duke University pays $100 million settlement over fake research (the Matthew Lesko chair in theoretical studies?), Ed Sec DeVos opens investigation into schools involved in the admission bribery scandal and Yale is first to rescind a dodgy admission.
Red Greens: Several links on the Green Leap Backwards Deal vote fiasco, mostly highlighting the Democrats' total hypocrisy, flabby Austrian krumpli warns about the evils of oil after arriving in giant Chevy Suburban, and Native Alaskans rip Democrats for closing off ANWR to oil exploration.
Real Science: On the US taking the lead in the new space race.
Hither and Yon: Ariana Grande and the millennial mood and Christian Toto asks can comedy recover from the Russia hoax.
Anyway, links from around the world, across the nation and up your street. Have a better one and remain blessed.
NOTE: The opinions expressed in some links may or may not reflect my own. I include them because of their relevance to the discussion of a particular issue.
MUELLER REPORT AFTERMATH, SPYGATE, DEEP STATE, CONGRESSIONAL COUP