« The Morning Rant
|
Main
|
My New Favorite Thing: Watching NeverTrumpers Who Have Pushed the Collusion Narrative For Years Now Claiming to Have Always Been "Collusion Skeptics" »
March 27, 2019
Good Question: What Will Maddow and MSNBC Do Now For Programming Without Any Further RUSSIA! Bombshells?
Good question from John Sexton, though I don't know why he didn't mention CNN as well; maybe there are so many CNN fans at Hot Air that they have a blanket site-wide prohibition against Making Fake Jake Mad.
But what will they do with the nine hour per programming day they previously devoted to RUSSIA RUSSIA RUSSIA?
And what will happen to their ratings? I mean, I know CNN's ratings are garbage already, but what now?
Someone, I think on Tucker, pointed out that CNN and MSNBC are lying to their audience to keep them panicked, neurotic, and hysterical, so as to make them feel they must watch at all times to keep abreast of this Very Important, Very Dramatic Mystery Soap Opera.
Like "Who Shot JR?" on Dallas, or "Who killed Laura Palmer?" on Twin Peaks.
The cliffhangers had America buzzing, but after the answers were revealed -- both very meh answers, but better than the reveal that Mueller has provided -- interest declined. In the case of Twin Peaks, interest completely evaporated. Twin Peaks was cancelled just a couple of months after the revelation of the killer's identity.
Ratings were so bad they didn't even bother airing the last four episodes, which were already paid for and sitting on their shelves! (They did ultimately air those, but only after a fan letter-writing campaign, and only in a big block to just get rid of them and clear the schedule of low-ratings garbage.)
So what now? What's the Next Big Storyline they invent to try to hook viewers?
And what if viewers feel burned by the excessive hype and inadequate payoff of the last Big Storyline? What if they feel used? Betrayed? Lied to, just to get Jeff Zucker a bigger bonus this year?
What will viewers do when they realize the man in the suit has just bought a new car from the profit he's made on your dreams?
Now to quote Sexton on Maddow's dilemma...
Now that the pole holding up the tent over this one-ring circus has collapsed, what's next? If it's a choice between keeping the narrative going and letting viewership drop 60 percent, which will MSNBC chose? Rachel Maddow, in particular, has made a career out of this. She's making millions of dollars a year selling this narrative. Will she drop it? According to the Washington Post today, the answer is no:

Rachel Maddow, the queen of collusion, is not backing down.

A day after Attorney General William P. Barr said special prosecutor Robert S. Mueller III hadn't found collusion between President Trump's campaign and Russian agents, Maddow -- prime-time TV's primary and most tenacious proponent of the conspiracy angle -- still was not buying it.

Instead, Maddow moved on to two related questions: Did Trump obstruct justice? And did Barr let him get away with it?…

During one six-week period in 2017, the Intercept news site found that 53 percent of Maddow's broadcasts focused on Russia, dwarfing discussion of any other issue…

In her first show since Barr's memo was released, Maddow barely mentioned collusion.
Want to guess how much time Maddow spent discussing collusion when the exoneration of Trump on this charge was the biggest story in the world?
Thirty seconds, the Intercept says.
And then, Boom!, on to the next lie.
Video at the link.
Oh, you know that question I asked about what will become of these hysteria factories' ratings?
John Ekdahl sent me an article that already suggests an answer.
Within MSNBC, there's an acknowledgement that the Trump-Russia narrative on which the cable network--and especially its primetime star Maddow--built monster ratings has fizzled for the moment....

And it's also possible that the Mueller disappointment drove loyal viewers away in much the same way that people avoid looking at their 401(k)s when the stock market is down. Maddow, who has consistently vied for the first or second top-rated cable news program, was sixth on Monday evening, down almost 500,000 total viewers from the previous Monday, as was MSNBC's second top-rated program in primetime, The Last Word With Lawrence O'Donnell.
As the old people think the young people say, "VEINS." (As in, "inject that directly into my veins.")
And more VEINS: The Resistance All-Stars online, who collect money from Patreon donors for tweeting unhinghed conspiracy theories about Trump, are scrambling to figure out how to pay rent now that the Mueller Balloon has popped.
Nowhere has the anti-climactic conclusion to Mueller-mania been more acutely felt than in the alternative partisan media complex that services the so-called resistance. I first wrote about this world back in 2017, when an array of hyper-partisan Facebook pages, Twitter conspiracists, click farms, and podcasts were gaining popularity among stressed-out Trump-era liberals.

The landscape has shifted since that early attempt to map its topography. But even as new players have arrived on the scene and others have flamed out, the appetite for unsubstantiated, Mueller-centric speculation--and the attendant Trump-is-doomed narrative--never abated. So, when Attorney General William Barr notified Congress last weekend that the special counsel was closing up shop without having established a conspiracy between the Trump campaign and the Russian government, I decided to check back in on the resistance media. How were they taking the news--and what would they do now without their favorite content bonanza?

This was a mania, like tulip mania. But the business was paranoia and fear and unreasoning hatred. And business was good.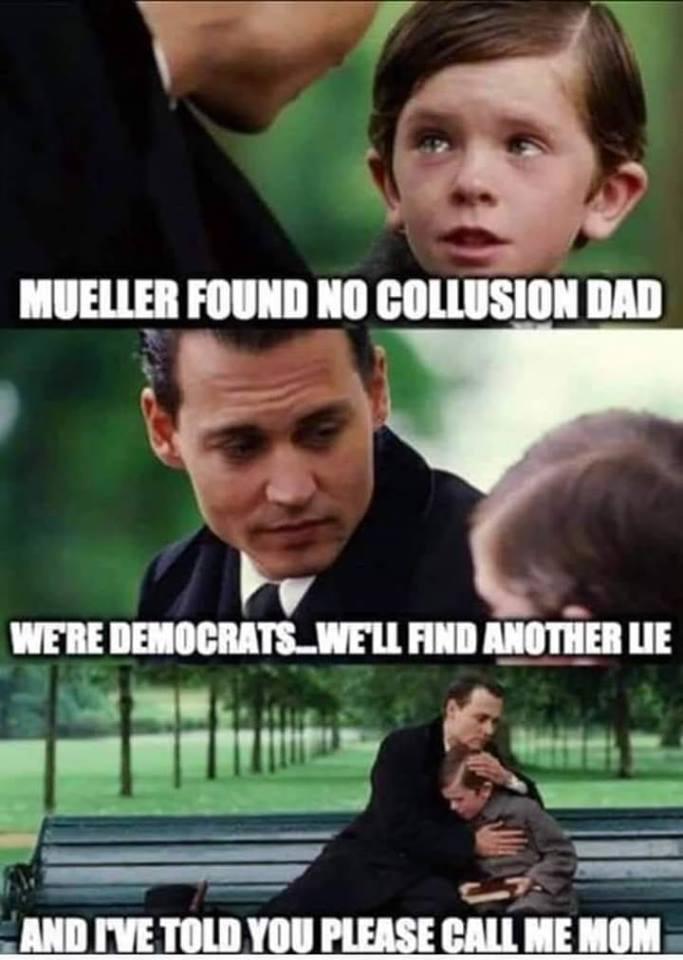 Meme stolen from this guy.
That meme is from some emotional speech at the end of "Finding Neverland." I don't know the movie.
What I do know is that this version of the meme made me howl.
And, oh: What's Little Brian Stelter going to do now? He's been a conspiracy-spreading hysteric, accusing Trump of being a traitor and being mentally ill, for years.
What new conspiracy theories will Little Brian Stelter spred?
Skip to 1:15 to hear Little Brian Stelter ask if the president "suffering from some kind of illness." Later, at 5:35, he asks if he's Trump has been "an agent of Russia, for decades."
Hilariously, he then asks Twitter to deplatform Trump -- if he's a Russian agent, then his Twitter feed would be, definitionally, Russian propaganda.
Remember, CNN has Oliver Darcy on the payroll for almost no other purpose than to take Media Matters oppo research and get people deplatformed for spreading conspiracy theories.
So does Little Brian Stelter get to keep his platform? If so, why?

posted by Ace of Spades at
12:00 PM
|
Access Comments