« Monday Overnight Open Thread (3/25/19)
|
Main
|
Mid-Morning Open Thread »
March 26, 2019
The Morning Report - 3/26/19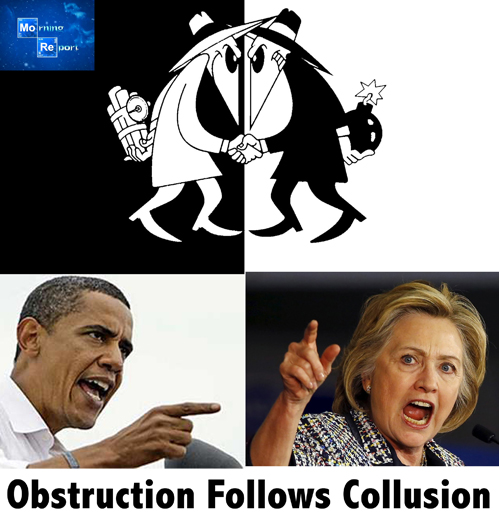 Good morning kids. The fallout from the Mueller deflection remains the top story for this Tuesday. I call it a deflection because that is exactly what it was. It's dual purpose was to a) attempt to deflect, obfuscate and cover up for as long as possible the real criminals in the Obama and Clinton regime who tried and failed to sabotage Trump's 2016 campaign and b) to smear the President so badly in the attempt to drive his approval rating down far enough to make impeachment and then removal from office palatable to the House and Senate. Oh yes, the Ryan an McConnell-controlled chambers would have been on board with that. Why do you think the agenda was stalled for the first two years with both Houses in GOP control? You bet your sweet ass they were praying for any reason to aid and abet in the overthrow of the President. I will never forgive or forget that for the rest of my born days.
Yes, the "exoneration" of Trump is something to celebrate insofar as rubbing in the faces of the Democrat-Left-Media complex and their duped and doped minions. But as I alluded to yesterday, who the hell is Robert Mueller to grant any sort of exoneration to Donald Trump? He, Mueller, was in on the charade all along to politically decapitate a duly and honestly elected President. During his show yesterday (which is one to bookmark IMHO), Rush Limbaugh expounded on my thoughts much more eloquently and passionately than I did:
...It validates a hoax to applaud the fact that Mueller found nothing. There never was anything to find! There never was any collusion! There was never, ever any evidence of collusion! Therefore, there could never, ever be any evidence of obstruction of justice. The dossier was the sole reason all of this happened, and it was created by Hillary Clinton and Robert Mueller knew it! It was paid for by Hillary Clinton. It was commissioned by Hillary Clinton. It was written by somebody paid by Hillary Clinton, Christopher Steele, working with a guy named Glenn Simpson at Fusion GPS, and it was used by the FBI, who also knew that it was total crap to get a FISA warrant to spy on the Trump administration.

There never has been any collusion between Trump and the Russians. And for those of you who remember the report, Mueller says, "Well, there were many, many efforts by the Russians to contact members of the Trump campaign, to infiltrate." That's a bunch of garbage as well. The FBI is who infiltrated the Trump campaign, not the Russians. It wasn't FBI who put informants like Stefan Halper and Alexander Downer into the Trump campaign. It was the FBI that recruited members of the Trump campaign.

There's no evidence of the Russians having done anything here! So cheering this validates. "Look, Mueller didn't find anything, yay!" They wanted to find something so bad. Now, you might be saying, "Well, Rush, if it was a hoax, how come Mueller exonerated Trump?" He didn't! In case you haven't noticed, the media is off on a new tangent now. They're demanding to see the whole report because Mueller said, "I can't really clear Trump on obstruction. I can't find any evidence, but I'm gonna have to leave this up to the attorney general." This is not what prosecutors do! Prosecutors don't acknowledge possibility of criminal behavior if they can't find any.

So the media and the Democrats now have an open roadway to impeachment on the basis of obstruction. And just like this hoax, they don't have to prove a damn thing. They just have to create media narratives, day in and day out, president obstructed, Mueller couldn't prove it, but he couldn't rule it out. That's all these idiots like Schiff and Swalwell and Jerry Nadler need to keep plugging away at impeaching Trump, which they're gonna do.

Now, it's gonna end up embarrassing the hell out of 'em, and it's gonna end up blowing up in their face. But it isn't gonna stop this nightmare! It isn't gonna stop this ridiculousness! The Drive-By Media needs to be begging the forgiveness of everybody they have lied to the past two years, but they have no shame. They are simply looking for another road or another avenue now to continue this effort of theirs to destroy the Donald Trump presidency. That's all that remains, and that's all that matters.
So much for that video of Trump and the Hindu warrior dance. But Limbaugh is dead right on this. The Left is not going to stop so now they are going to either smear Mueller or find the "penumbras and emanations" within it vis a vis what was not said to conclude that Trump is in fact guilty and did indeed obstruct justice. Note to all the soooper-geee-neee-us's out there:
You can't be guilty of obstruction of justice if there was no crime in the first place.
Remember, Trump knowing there was nothing to be found allowed Mueller to continue this shit-show unimpeded. The Left waited every day in anticipation that Mueller would be fired by OrangeManBad, therefore proving he was trying to cover up his guilt.
Meh, maybe I should rethink my obstruction point, considering the penchant for process crimes with all of these thugs with badges and titles. But my point remains. What's more disheartening is that all of this is yet one more signpost on the road to indicate a society in decline. My G-d, even after publicly failing - and spectacularly so - after over two years to destroy one man (and in essence millions of people who voted for and stand by him), they are going to double and triple down on the efforts to go after him. Whatever misguided trust there was in our media, and more importantly our law enforcement and intelligence gathering institutions who collectively are vaunted as the pillars and guardians of a civil society, really has to be completely shattered by any open-minded, right-thinking and reasonable individual.
Well, so be it. We're completely divided as it is into two political tribes with diametrically opposite world views, and all of this is not going to do anything to even attempt to begin a reconciliation. In fact, it's just going to widen the gulf even further. Perhaps as planned. Without doubt, the attempt by the Clinton/Obama machine to use the instrumentalities of government to sabotage the campaign of a political opponent to me is far and away the worst scandal in American history, bar none. Now add to that, the past two years of Mueller and the media's complicity in pumping and pimping lie after lie in the hopes of driving him from office and, well, you've got yourself what we call in the trade "a situation." G-d help us.
Good analysis and such dealing with all of this in the links here, in the First Amendment section concerning the abject criminally irresponsible behavior of the media as well as the related and as yet untouched issue of whither the likes of Hillary Clinton, Barack Obama and all the rest in their borderline seditious activity in the engineering of the aforementioned? The breath; I am not holding it.
On to immigration and amnesty where we have the cheery news of yet another migrant invasion force is shambling and child-molesting its way north to our border, thousands of illegal aliens form terrorist nations are among us and yet to be deported despite orders to do so, and Daniel Greenfield with some actual good news about Trump cutting off undeserving foreigners from Uncle Sugar. More of this, across the board, con gusto.
To the Democrat Scandal sheets we go where in the Joo-hate sub-section, Mike Pompeo rips Democrat anti-Semitism and VP Pence blasts the Dem 2020 candidates for their boycott at AIPAC, in Civil War 2.0, an essay on the dehumanization of Trump supporters, and in the Chutzpocrisy files looks at the silence of big-time SPLC booster George Clooney in the wake of the bad news surrounding that anti-American front group.
General Politics: Monday was schadenfreude day(Rush and my killjoy attitude notwithstanding), analysis of a NY Times op-ed about the 2020 Dems and the race card, jocks beat nerds in prexy races (McStains and Mittelschmerz notwithstanding), Graham is the next Lee Atwater? Hmmm..., purple-nurple-heart Steve Cohen mangles American history, and amen to the last link. Preach it.
Abortion: Good essay on the normalization of infanticide in our culture/media and Mississippi's governor signs the heartbeat bill into law.
First Amendment and Fake News Fakery: Beyond the Mueller farce fallout, Facebook conveniently clips anti-Andrew Yang criticism and an essay on beating the online censors.
Guns: Last-minute order blocks the bump-stock ban enforcement. Good.
Foreign Desk: Trump signs the declaration recognizing Israeli sovereignty over the Golan, US reacts strongly against Russian deployment to Venezuela, the Euro-peons love psychotic trannies and still hate Joos and will Europe ruin the internet?
We-All-Slam-For-I-Slam: Hungary detains ISIS commander who had all sorts of travel permits and perks as a migrant refugee, Turk Turdogan looks to desecrate the former Hagia Sophia cathedral and make it a mosque, New Zealand is knuckling under to the Islamists and a look back at the jihad of the Barbary Pirates which was the start of what the US is still burying its head in the sand about.
The Economy: More on the States' debt/pension crises.
Crime and Punishment: Kamala-Toe was harsh on crooks before she was a national Leftist figurine.
Healthcare: White men far and away the leading victims of opioid abuse, to the delight of the intersectionalists no doubt.
Education: Kamala-Toe pimps increasing teacher pay because, of course she does. They vote Democrat 99.999% of the time and, union dues kickbacks.
Red Greens: About that disastrous shrinking of glacial ice...
Hither and Yon: Naked man attempts to feel up TSA agent and board plane (okay, that first part is fake [but accurate]), Americans are having less sex; thanks Gloria Steinem!, heckling a black NBA player is racist or something, a look at the Left's capitalism bugaboo and a look back at when late night hosts/comics were actually funny.
Anyway, links from around the world, across the nation and up your street. Have a better one and remain blessed.
NOTE: The opinions expressed in some links may or may not reflect my own. I include them because of their relevance to the discussion of a particular issue.

MUELLER REPORT AFTERMATH, SPYGATE, DEEP STATE, CONGRESSIONAL COUP


posted by at
07:51 AM
|
Access Comments