« Tonight We're Gonna Party Like It's Nineteen ONT
|
Main
|
Mid-Morning Open Thread »
March 22, 2019
The Morning Report - 3/22/19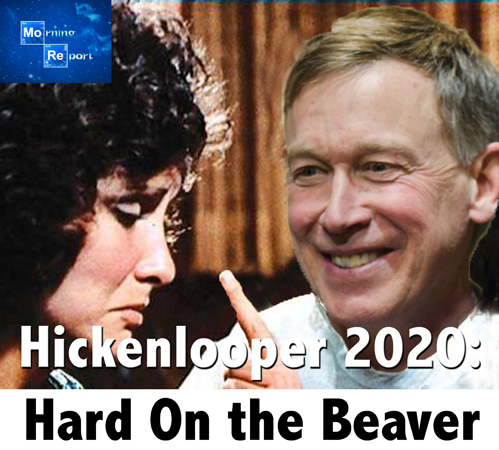 Good morning kids. Friday and I feel like a million... a million pieces of Mrs. O'Rourke's E.L. Fudge specials. Yesterday's malady is now a head cold. Feh. Anyway, let's do this before I plotz.
First up to immigration and amnesty. I am seeing these mass numbers being reported of alien invaders attempting to jump the border but more disturbingly that the authorities allegedly do not have the facilities to deal with them and so are just letting them go and disappear on our side of the border. This is just insane. Aside from the wall and building more facilities to house this human wave assault until they can be repatriated (no asylum) there has to be some way in which to punish Mexico for allowing them north, as well as Guatemala, Honduras and any other Central American nation that is intentionally doing the moral equivalent of reverse ethnic cleansing. Each and every one of them are failed third world shit-holes because of institutional corruption and, dare I say it, a cultural rot passed on from generation to generation of sloth and laziness. Is that racist? Or am I racist for suggesting it? Let's face it, racism means anyone speaking a truth or sparking a debate that could lead to learning the truth - - that must be silenced. Something has to give, and it does not involve billions of our dollars going to line the pockets of the corrupt and perpetuate the problem. Only now, that problem is our problem as much of the aforementioned region has already decamped on our side of the border, perhaps as much as 30 million or more, with more coming every day as the dissolution from within of our own nation at the hands of the Democrat-Left remains generally unchecked. Either this ends or it ends us. And the situation, despite Trump and more of an awakened populace that I had dared hope, is still very much in doubt.
Official Democrat Jew-Hatred: Get set for fireworks as so-called pro-Israel Dems are supposedly set to introduce anti-BDS legislation in the House, and Mike Pompeo rips into "Bro-Fo" Omar for her dark-age bilge.
Meanwhile, guess who James Clyburn compared President Trump to, after jettisoning Morris Dees-nuts, the SPLC has retained Michelle Obama's former aide to lead the phony anti-American front group, Bernie hires, not only a foreigner but an illegal alien, as an aide and gets slapped with an FEC complaint (where's ICE with the paddy wagon?), and Dem hopeful John Hickenlooper's favorite song is linked below. No words. Just... no.
To the general political scene where we have several good essays on the Democrats penchant for changing the rules to the election and legislative game when they can't win elections fair and square. A couple of good links including from R.S. McCain on the abject psycho klown kar that is the Dem 2020 field, Palsi Pelosi channels her inner Jack Woltz and lastly, so okay the guy raised $1 million for the GOP and spent it on hookers. I'd say he'd have wasted it if he gave it to the RNC.
An important story getting zero traction but which Rush Limbaugh is blasting from the EIB transmitters is the continued ramping up of the Russian collusion big lie despite or in anticipation that the Mueller report will be a big bust, filled with rage and invective and no real evidence at all. The usual gang of scum headed by none other than everyone's favorite actual Nazi collaborator George Soros as well as the traitors from Fusion GPS and Meathead Rob Reiner are all involved with money and mopery. We need a fistful of RICOs and one-way tickets on Aerolineas Pinochet.
Abortion: Sanity in Mississippi. May it be just the beginning.
First Amendment and Fake News Fakery: Google and Facebook fall for what is almost a 401 Nigerian mugu scam; taken down for $100 million in fake billing, and two pieces detailing John Oliver's propensity for being a malignant, no talent worm.
Guns: As predicted, New Zealand is coming for their citizens guns and making the Left here drool. And as stated, this is why we have the Second Amendment.
Foreign Desk: The big news is the President's announcing of US recognition of Israel's sovereignty over the Golan Heights. Very politically savvy as it most certainly means more Joo-hatred coming from the Democrats as well as perhaps boosting an under-fire Netanyahu. Also, it's just the right thing to do and this President more than any other I think specializes in doing just that. Elsewhere, the Maduro thuggery is warned about detaining an aide to President Guaido, Trump invokes freedom and liberty to the Iranian people on the Persian New Year holiday, the EU throws a lifeline to Theresa May, after the Golan, independence for Kurdistan is pondered, Trump sanctions China for NorK trade, Europe's problems are only exacerbated by Islam, not caused by them and in defense news, how the hell are we still giving the Turks high tech weapons systems?
We-All-Slam-For-I-Slam: With the crushing of the Islamic State in Syria, the only stronghold left is the Democrat National Committee, New Zealand goes full dhimmi in a disgusting and totally clueless display and a look at the real Islamophobia - Muzzy-inflicted muzzling from CAIR, etc.
Domestic News: Wisconsin hack-in-black puts illegal kibosh on GOP legally-passed legislation and San Francisco creates homeless encampment right in the heart of downtown. Also, the school bribery scandal highlights the ongoing and mostly ignored crony capitalism cancer on our politics, and Day-Ending-in-Y Dept., Medicaid is a multi-billion dollar pit of goniffing and corruption.
Education: The big news is the President's executive order demanding free speech for students on campus and a look at the college loan mess.
Red Greens: New York's enviro commies are hell bent to make the city and state cold and dark.
Feminazism and Transgender Mass-Psychosis: Who knew that ripping out your gonads and pumping you up with hormones could harm your heart and a the tribulations of a black feminist professor.
Lastly, an essay on the seeming transformation of the free-love generation into one of prudish scolds. It's all about the totalitarianism, darling.
Anyway, links from around the world, across the nation and up your street. Have a better one and remain blessed.

NOTE: The opinions expressed in some links may or may not reflect my own. I include them because of their relevance to the discussion of a particular issue.
BORDER WALL, MIGRANT INVASION, AMNESTY, IMMIGRATION, BORDER SECURITY
Long Distance Def Dedication to John Hickenlooper from... Momma! Thanks for the movie date, sonny!

posted by at
07:17 AM
|
Access Comments