« Monday Overnight Open Thread (3/18/19)
|
Main
|
Mid-Morning Open Thread »
March 19, 2019
The Morning Report - 3/19/19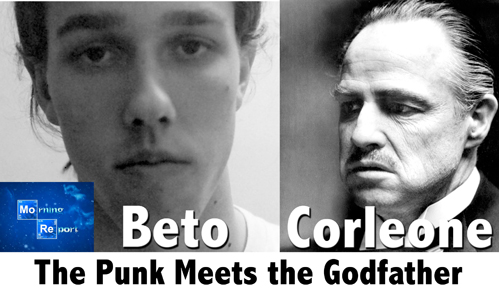 Good morning kids. Topping things this morning is the continued fallout in the wake of the New Zealand mosque shootings. Cross-categorized links include the predictable reaction of that country's government calling for even stricter gun control, despite the fact that yet again, a potential target of the shooter was able to stop the massacre by returning fire and chasing him away. We also have the equally predictable blame game by the Left to smear an entire class of people as violent, fascist, racist, white supremacist, Islamophobic Christian gun-nuts as the root cause of all the world's evils. As I said yesterday, and repeat today, that I condemn any and all forms of violence and intimidation to silence my political opponents (while naturally reserving the right to use it to defend myself from physical harm), while the Axis of Evil, to wit the Left and Islam, use them as their chief tactics to achieve the same end and are given a pass by the media and so-called responsible political leaders on that side.
On a more granular level, given what we know of the backgrounds of the perpetrators and that some very contradictory facts are emerging as to their alleged beliefs are, it's becoming less cut and dry as to the motive of the attack. In fact, it's a fair bet that if as some have postulated this may have been a crime perpetrated by actual leftists in order to touch off a civil war either there or here, watch that get memory-holed at light speed. But the propaganda will of course remain.
In any case, and to underscore it all, what they did was reprehensible and to be condemned in no uncertain terms. But again, given the lack of reaction or even excusing away by the media to the continuing decades-long bloodbath perpetrated by both the Left and Islam against the free civilized world in their shared goal of global conquest, my give-a-shit-ometer is registering in the "hardly any" range.
Moving on, a couple of links, as we have almost every day to prove the national crisis of unchecked and intentionally encouraged mass migration.
Democrat Jew-Hatred: the slag who confronted Chelsea is now pissed at "Bro-Fo" Omar for mouthing support for a two-state solution. Meh, "two-state" to her means dead after the gassing and cremated in the oven afterwards, but it seems her constituents are not happy about her big mouth. Meanwhile, at some sort of Democrat sensitivity training seminar about anti-semitism, the progressives yucked it up after hearing the punchline "because the air is free."
Also on the Dem scandal sheet, Nevada is a hotbed of Democrat corruption, Kamala-Toe has it both ways when it comes to non-whites and crime, dragon-lady Klobuchar thinks Coonman Northam got plenty o'nuthin', and black conservatives rip the NAACP for giving an award to Jussie Galore Smollett. To politics in general where Daniel Greenfield dissects "Blotto" O'Rourke and a look at what his mad hacking skills could mean for his 2020 chances, CNN is gobsmacked as a Muslim doctor says the Muslim/Arab world loves Trump and the GOP, PDT beats Donkey Chompers' approval even in NYC, more and more candidates are supporting the court-packing proposal while the attempt to combat the electoral college overthrow will have to wait a while longer according to some legal eagles, DeBolshevik is packing them in in New Hampshire - mostly in a phone booth, Jeb! wants someone to primary Trump and Rabbi Fischer having some schadenfreude about the media and the Dem 2020 field.
Mueller Inquisition and Continuing Congressional Coup: Judicial Watch goes after Schiff-for-Brains and John McStain really was a stain.
Abortion: Roswell, NM loves ETs and babies.
First Amendment and Fake News Fakery: SCOTUS fails to uphold religious freedom, Facebook muzzles the White House, more on the media's role in what happened in Christchurch, R.S. McCain on how disagreement became hate speech, Hamas beats up reporters in Gaza and the media cares fuck-all, and Jeannine Pirro's horrible crime was merely stating the facts about the hijab.
Foreign Affairs: Terrorist who shot and killed 3 on a Dutch tram is apprehended and - surprise! - was well known by the authorities, French government bans Yellow Vest protests after this past weekend's car-b-cue, Guaido allies take over Venezuelan consular offices in the US, the Farsis build 2 new nuke plants and SoS Pompeo reams the International Criminal Court.
We-All-Slam-For-I-Slam: New Mexico jihadis (remember them?) are hit with terror and kidnapping charges (how many more like them are in country right now?), and the Religion of Peace Peacenik Paleostinians butcher a father of 12 and a teenager. Sarsour and Tliban passing out Hershey bars in Congress.
Economic News: The scrap aluminum market hits the skids, Foxconn deal is a go, and the FBI should go after itself instead of the college tuition bribers.
Healthcare: Democrats paint themselves into a political corner in dealing with healthcare.
Education: This #RedforEd Commie group is now sabotaging Tennessee schools and another look at the tuition bribery scandal.
Actual Science: DeBolshevik actually has a sound idea in landfill as storm surge protector for NYC.
Feminazism and Transgender Psychosis: Virginia schools expose kindergarteners to transexual freakazoid propaganda without parental consent, Warner Bros exec and big Dem donor in deep doo doo over harassment steps down, and a child sex offender in drag is the perfect person to read stories to your kids.
Hither and Yon: Shakespeare gets politicized, Christian Toto on Sons of Anarchy star being persecuted for liking Jordan Peterson and what the tuition scandal says about our moribund meritocracy, such as it is.
Anyway, links from around the world, across the nation and up your street. Have a better one and remain blessed.
NOTE: The opinions expressed in some links may or may not reflect my own. I include them because of their relevance to the discussion of a particular issue.
BORDER WALL, MIGRANT INVASION, AMNESTY, IMMIGRATION, BORDER SECURITY

posted by at
07:44 AM
|
Access Comments