« Saturday Afternoon Chess Thread 03-16-2019
|
Main
|
Saturday Overnight Open Thread (3/16/19) »
March 16, 2019
A Black and White Occasional Fishing Thread [Bandersnatch]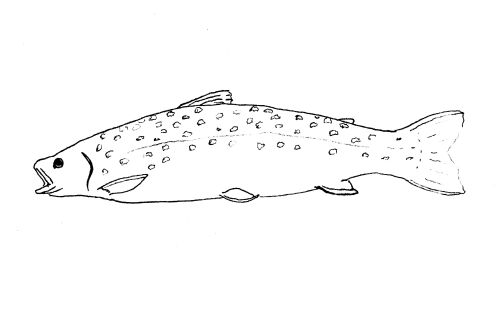 Welcome Piscators and Piscatrettes! (That's an Izaak Walton reference. You people disappointed me last time by not asking). This is an occasional fishing thread which appears like clockwork every three weeks. Occasionally. All fishing content is on topic, the musings here are just prompts.
Oh, that drawing above was supposed to be in the Deplorable Gourmet. *glares at people*
So, this week's jumping off point is the concept of the fishing partner. That's a much deeper commitment than the fishing buddy. A fishing buddy is someone you'll fish with, you talk about fishing, it's a buddy. A fishing partner is someone you can count on to meet you at the Secret Spot at 05:00. He'll share his spots with you and vice versa. And you get to a point where you trust each other enough to follow the other's lead but only after it's been talked through thoroughly. The wind sucks today, where can we find a good spot in the lee? (Cape Cod is on four bodies of water, so there is always something to try).

I met mine thanks to a site not unlike this one. It had a message board that was already archaic by 1995 standards. There was copious ball busting. Sock puppeting was enabled. Now, back then there were maybe a hundred or two people in New England who fly fished in salt water and knew what the internet was, so we eventually all met each other. Like this place the board had its own lingo.
There's a floating dock on an estuary where there's a chance to catch fish and enough room to make a backcast and you don't have to put on waders so you can sneak it in on the way home to lying to the wife. I was there one evening and another guy was doing the same and we got to talking about where we'd fished and how we'd done and he said something about "Poppy". That meant Popponesset Spit as surely as "dip my balls in pudding" means the 2016 election. So we gave the secret handshake and he's been a reliable fishing partner ever since. I call him Lassie because he claims he can smell fish.
There's a trout writer out in Colorado, John Gierach, who has made a cottage industry of going fishing with his partner and writing about what happens. The partner, A.K. Best, has got a couple of books and sold a ton of flies out of that. Do you have a fishing partner?
One day, this guy showed up at that bulletin board: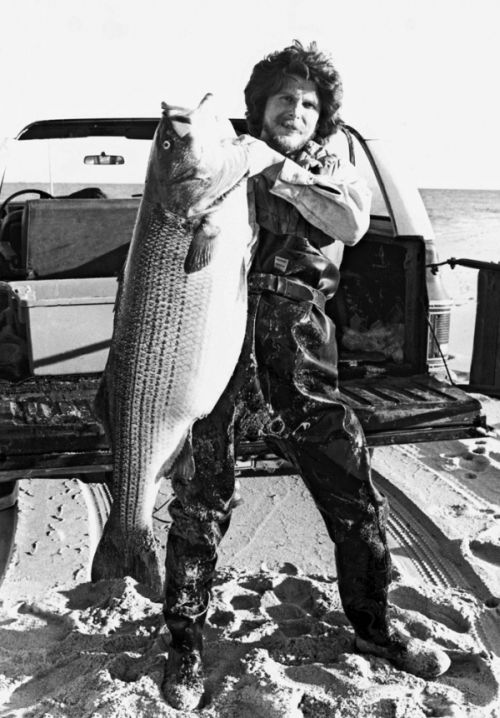 Tony Stetzko and "Bertha"
That's not a photoshop. It's 1981. That was, I thought, the world record striped bass but it was only the Massachusetts record. Missed a guy from Jersey named Frank Church's record by a little. Still, the guy is a legend, and one day he showed up on the board. I thought it was a sockpuppet. It would be like Andrew Breitbart showing up in the comments here.
I got to know him pretty well. We were not close personal friends but he treated me like one. Sometimes he was down and out and sleeping under the counter of his copy shop, sometimes he was married to a girl with a big farm and shooting coyotes off the porch at night. He was always the same in either case, and also a damn fine watercolorist.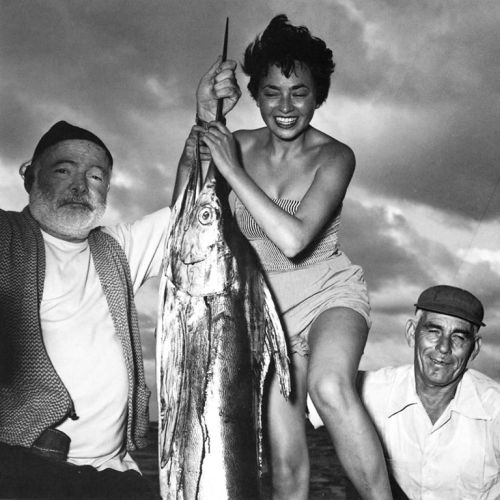 So when I decided to go with the Black & White motif for this thread I went looking for a Hemingway picture and fell into a rabbit hole. That's some Italian girl photographer.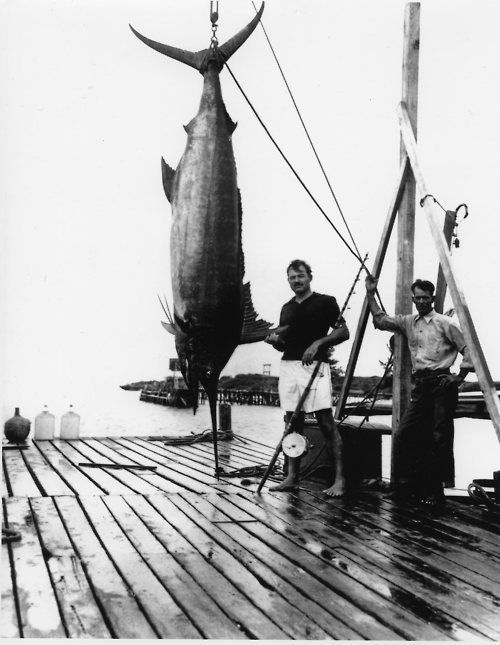 He was a legitimate innovator in offshore fishing. He was living in Havana, had the boat Pilar built, and sought out the world's leading expert on marlin fishing. The world's leading expert had caught about seven of them. Within a year Hemingway caught seventy in a season.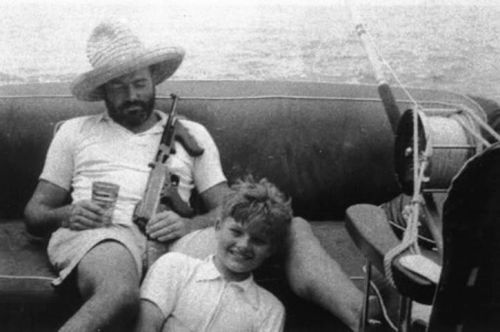 And to tie all the threads together we have the book thread, the fishing thread, the drinking thread, the gun safety thread, and the child-rearing thread all in one picture. I assume that's a Thompson but await correction. He did write entertainingly in Esquire about actually shooting himself in the leg with that gun, presumably drunk.
Now, for the next Occasion, some people have submitted fishing brag pics. I think we'll do fishing brag pics of Morons and Lurkers, sort of like the pet thread. So if you have any fishing brag pics send them to aoshqfish at gmail dot com

posted by CBD at
07:35 PM
|
Access Comments