« Food Thread: An Unexamined Food Is Not Worth Eating*
|
Main
|
Sunday Overnight Open Thread (3/17/19) »
March 17, 2019
Gun Thread: Count 'Em! Ten Reasons! [Weasel]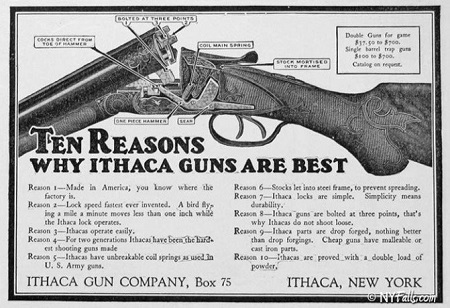 It dawned on me that after all these weeks we haven't yet had a look at what I consider to be my first choice home defense weapon. Let's take care of that now, shall we?
Here 'tis:


Ithaca 37
A while back we were talking about pocket guns and I mentioned having a .380 pistol bedside for home defense, but what I didn't mention at the time is the pistol probably isn't what I'd grab first in an emergency. Like most gun owners, I have a defensive strategy in mind should a break-in occur and I have to go all Badass Ninja-Rambo on a home intruder. Say what you will about your favorite handgun adorned with flashlights and lasers and double-tapping a perp with head shots in the dark having just awakened from a sound sleep. If that's your plan, well then more power to you. Practice, practice, practice and work your plan. Me? I'm going to try my best to make sure it's nowhere close to a fair fight.
A 12 ga. shotgun shooting 00 buckshot is a devastating weapon. A single shell usually contains a total of eight .33 caliber lead or steel pellets traveling in excess of 1,200 fps. It's literally a lot of bang for the buck! 12 ga. ammunition is available in a variety of different shot sizes to suit your circumstances, if for example, overpenetration of projectiles is a concern.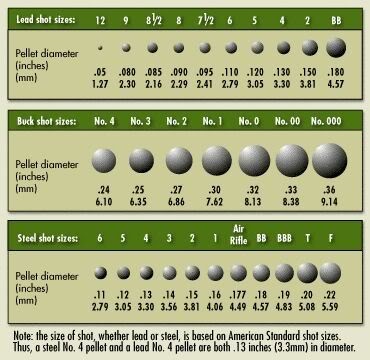 American Standard Shot Comparison

The number of pellets in a given shotgun shell is simply a function of how many are needed to make up the total desired load weight of generally around 3/4 to 1 oz. Much smaller but greater in number, birdshot can be highly effective in a home defense application.
Ithaca 37
And as long as we're all here, a few words about the Ithaca shotgun. Once again, we find ourselves looking at the work of our pal John Moses Browning. Designed in the early 1930's, the Ithaca 37 is still in production today, with millions made for the civilian, police and military markets. A unique feature of this shotgun is the downward facing loading/ejection port, and prior to about 1975, a sear arrangement that allowed the gun to be fired by holding down the trigger and racking the slide. A brief history of the Ithaca Gun Company can be found here on the company's website.
Do you own a shotgun for home defense, and is it the weapon you are inclined to choose first? All things being equal, what circumstances would cause you to respond to an intruder with a handgun if a shotgun were also available?
*******
Link-O-Rama
Article 00 Buckshot
Article #4 Buckshot
Shooting Illustrated Article: Buckshot Basics
GunDigest Article: Buckshot Overkill for Home Defense?
Shooting Illustrated Article: Buckshot vs. Birdshot for Home Defense
PewPew Tactical: Best Shotgun Ammo
***Mail Bag***
This week's Mail Bag entry is from Satrose who clearly a) is a keeper, and 2) has her priorities right!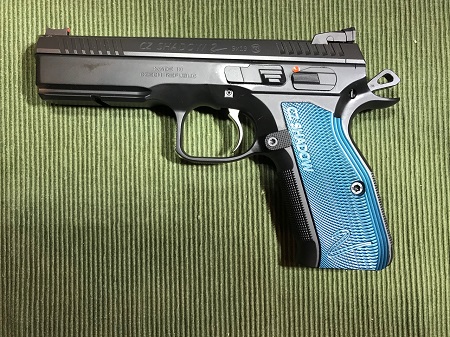 CZ Shadow 2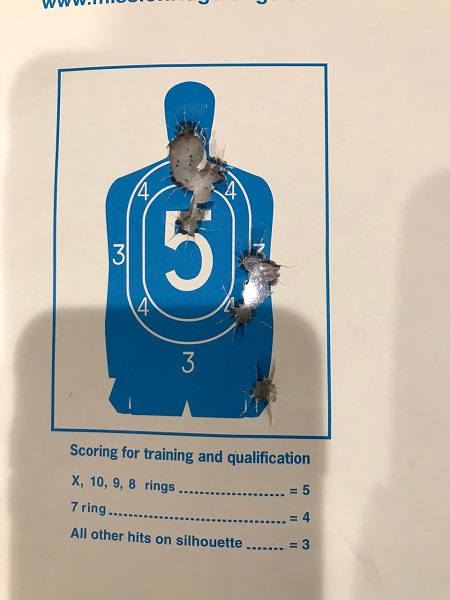 first ten rounds at ten yards
Satrose tells us:

I love my husband, I really do. He is thoughtful, kind and just all around great. Plus, he reloads my magazines for me when we go to local shooting matches. Thats true love for you! So when he came home last week, with an intense look in his eye, and asked me "how much is our tax refund going to be this year?", I knew something big was up. He then stated that he had found his "unicorn gun" (whatever that means).

What could I do? I told him to go buy the gun! He is now the proud owner of a CZ Shadow 2.

We put our first rounds on it Saturday night, because OUR date nights are spent at the range! It is a pretty fine gun. Shoots well, too heavy for me, but great for him. He is happy, I am happy he is happy. PLUS - free loading my mags for the rest of my life at matches.
Satrose does some competitive IDPA and 3-Gun match shooting, and sorry you guys, she's happily married! Thanks again, Satrose!
*************
Please note the new and improved gmail account morongunthread at gmail dot com. If you have a question you would like to ask Gun Thread Staff offline, just send us a note and we'll do our best to answer. If you care to share the story of your favorite firearm, send a picture with your nic and tell us what you sadly lost in the tragic canoe accident. If you would like to remain completely anonymous, just say so. Lurkers are always welcome!
That's it for this week - have you been to the range?

posted by Open Blogger at
07:00 PM
|
Access Comments