« Nick Sandman's Attorney Releases Video Attacking CNN, The Washington Post, and HBO for Putting the Reputation and Life of Their Client in Jeopardy
|
Main
|
The Morning Report - 3/15/19 »
March 14, 2019
M-O-O-N, That Spells ONT
Hmm, if I can just get this in place....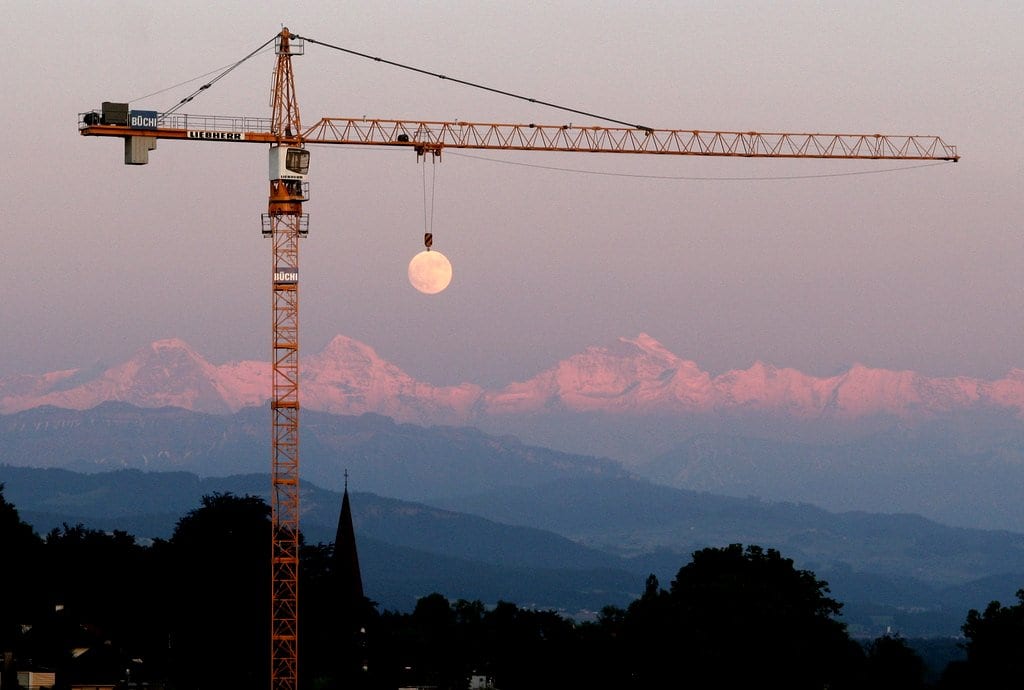 And now to label it, so everyone knows what it is: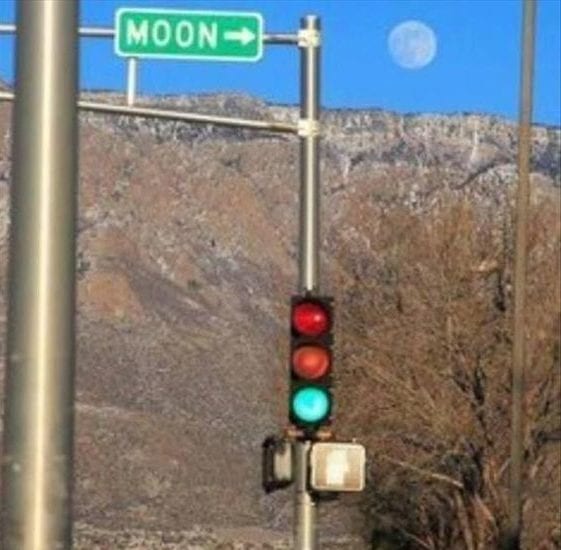 There we go. So, s'up fappers and fapperetts?
Did Some Memeing Today
Didja hear that The Bulwark has a new logo?

And of course, The big news is that Robert Francis "Beto" O'Rourke has thrown his propeller beanie into the ring. Being a cool kid, he couldn't resist doing it in a cool kid manner.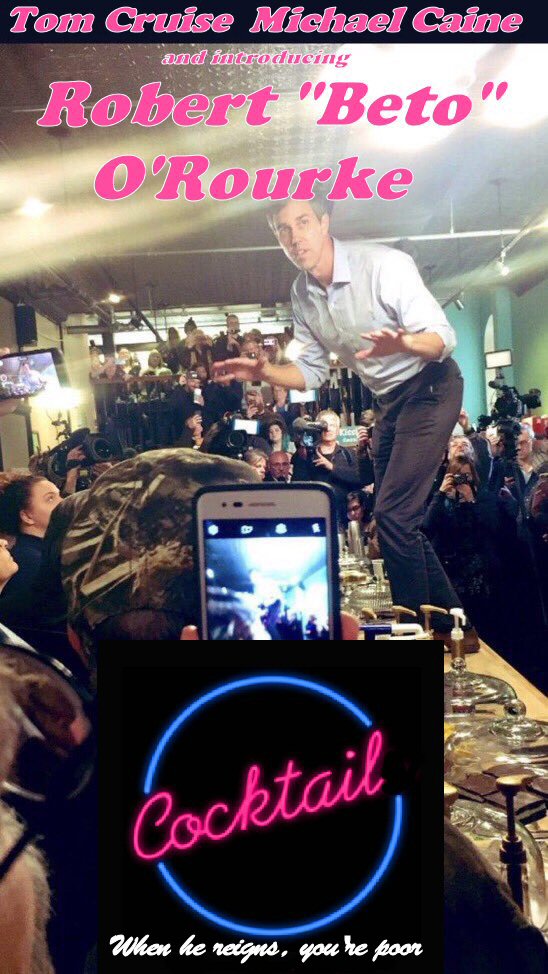 Too bad so few people remember that movie. Not that it was a great movie, and frankly I hated it at the time it came out because I was tending bar that summer and all of a sudden everybody wanted me to juggle seven bottles while opening beers with my dick. A lot of those flips aren't so hard to do (some are), but if you're not careful you'll get more booze splashed around the bar than in the glass.
Takedown of Bill Mahr
From one of the Left's leading sphincters

Pullquote:
See, Bill, here's the thing: most of those flyover clods you so arrogantly derogate don't have much interest in Teslas and artisanal ice cream. Even if they did, it's not as if those things aren't readily available in flyover country too, or within easy driving distance at least. Things have changed quite a bit in the heartland since you last flew over it, dumbass; even smaller cities have such things as hot yoga clinics, spas, nail salons, and even restaurants that serve food more exotic than a heapin' helpin' of fried meat and starches smothered in melted cheese.

Know what we DON'T have all that much of out here, though? Desperately lonely single women haunting those art galleries and theaters hoping in vain to meet someone, anyone, who might be willing to partner up and rescue them from retiring to a cramped, preposterously expensive apartment or condo filled with ten or fifteen cats. See, what people out here have are families: wives, husbands, and children they adore and are devoted to. I know how rare that is myself, having spent five years in NYC; you're more likely to hear bagpipes on the street than you are the sound of a bunch of kids laughing and romping around at play. The kids' moms and dads wouldn't trade you a million and one Teslas or gallery openings for the richness of their family life.


And the tag is spot on:
"Envy" you, Bill? Not on your life. Now admittedly we're pissed off at you, for sure. But that's only because you caged urban rats absolutely refuse to do the one and only thing we really, really want from you: leave us alone. 

Amen brother.
Related: That sneering liberal condescension was perfectly captured in a song by Pulp: Common People. What's really funny about the song is that it was covered by William Shatner of all people, and his version is in every way superior. He perfectly captures the thinly veiled contempt that the socialite he's fucking has for "common people", while at the same time showing his contempt for her, all using vocal inflections. THEN along came some fan who made a video out of it, and it may just be the most perfect video on the internet.

Speaking of Fan Videos
This is one of the most bizarre ones I've seen. Not only is the central joke somewhat obscure, but it's almost inception-like in it's self referential flogging of the deceased equine.
And no, it's not a reference to this ONT.

Some Random Political Links

In Garza v. Idaho, Thomas and Gorsuch Make Scalia Smile
Trump's Visit To Vietnam Brings $15 Billion Dollar Boeing Contract And Thousands Of Jobs To U.S. Bad news: They're all for the 737 MAX
Commentary: Where Did Alexandria Ocasio-Cortez Get Her Sweet Potatoes?
Science Minute
"Whiter than white:" How Does It Work?

How detergents get your clothes perfectly white.

Lacrosse
Probably not a lot of lax fans here, but I've been a huge fan of the Towson University Tigers since I went there (back when it was the State Normal School – just kidding, that was Vic. It was Towson State when I went there). Well, last week they did something that they've never done before: Hit #1 in the nation in all 3 polls. They've since dropped one to Cornell (the real one, not Olbermann 's cow college) and now sit at #5 with a big game against #2 Duke coming on Saturday. They've looked great this year, starting with a rout of the Charles St. Bluebirdies to open the season, and maybe, just maybe, they'll make it to the title game. Here's hoping.
Redemption: How Towson Went From 'Unacceptable' Year to Best in the Nation
Speaking of sports, Austrian Olympic skier caught by police in the middle of blood transfusion during competition The title makes it sound like he was doping during the race, which, let's face it, would be cool AF. Sadly that's not quite the case.

The Daily Cute
(Sound on)


Tonight's ONT brought to you by Canada: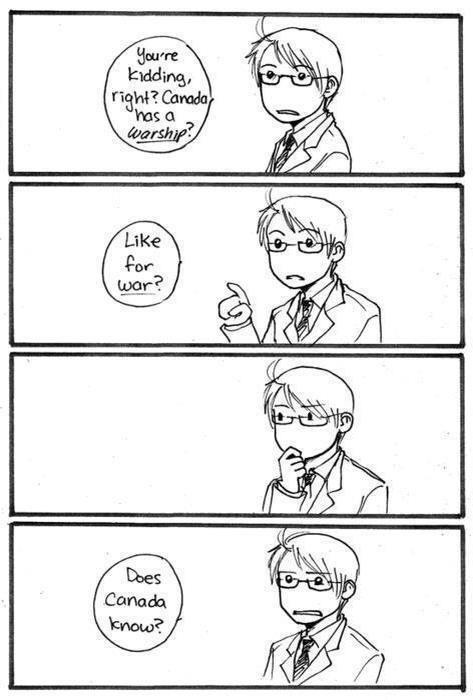 The Yahoo Group wants you to know we're just joshing. The ONT loves our canoehead brethren.

posted by WeirdDave at
10:00 PM
|
Access Comments