« Steny Hoyer, the House Majority Leader, Slams The Three Little Antisemitic Pigs Cortez, Tlaib, and Omar: "We've Got 62 New Members, Not Three"
|
Main
|
The Morning Report - 3/12/19 »
March 11, 2019
Monday Overnight Open Thread (3/11/19)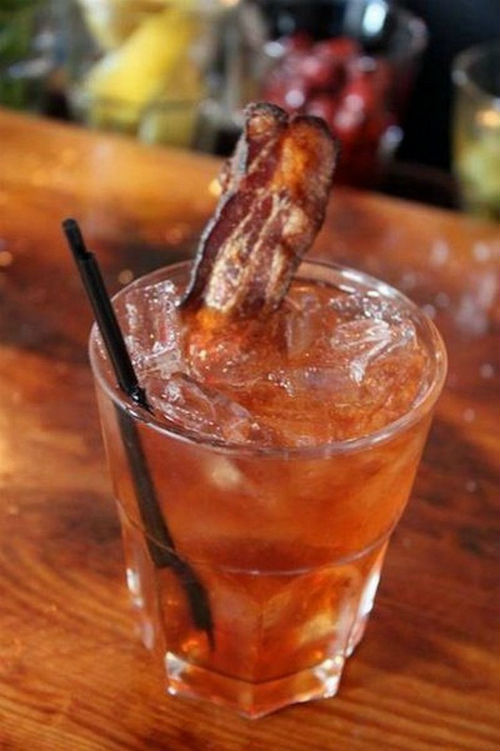 ***
The Quotes of The Day
Quote I

"President Trump's effort to ban them doesn't just fly in the face of our collective values—it's a national security threat,"Sen. Cory Booker (D-N.J.

Quote II

"We will only defeat the scourge of violence if we understand and address its complex root causes,"British Prime Minister Theresa May
How do you say, "I'll give you three guesses" in Arabic?

Quote III

"US Attorneys thoroughly enjoyed our time with AG Barr this week. He is a solid, proven leader with a clear vision for the @DOJ. We will move forward with his priorities, hold offenders accountable, and advance the rule of law," Special Prosecutor John Huber

Quote IV

Had I been fooling myself about my anti-gun stance? I don't think so, but I did come to realize through a series of unexpected exchanges that the issue was more complicated than I had allowed and that my views of just coexistence and human flourishing might not require the absolute prohibition of arms. Harvard history professor Tiya Miles

Quote V

"A living wage isn't a gift, it's a right. Workers are often paid far less than the value they create." Congress critter Donkey-Chompers
***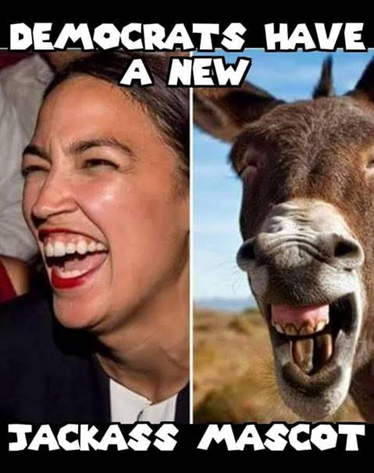 ***

As usual, The ONT is always looking out for you.

Hey, it's free breakfast.
***

I am so sick and tired of the double fucking standard. "Do you consider yourself an orthodox Catholic?"
This is perfectly fine with the progressives even though the Constitution states that there is not to be a religious litmus test given to federal nominees.
But heaven forbid if someone in the private sector asks a similar question.

"Think about it: Omar wears a hijab," Ms. Pirro said. "Is her adherence to this Islamic doctrine indicative of her adherence to Shariah law, which in itself is antithetical to the United States Constitution?"

Call me insensitive, but I do not opine the Koran and Sharia Law are compatible with the US Constitution. And I believe there are over 3,000 peoplevictims from Islamic terrorist attacks on 9/11/01 who would agree with me. If they could.
Screw you FNC and good for you Judge Jeanine for asking a tough but fair question.
***
***
The ONT wonders why this app is necessary.

It's happened to all of us: You're just trying to enjoy your meal in peace when a bunch of liberal hippies shows up waving signs saying "We don't respect President Donald Trump" and chanting, "Green New Deal / Ban your meal!" And we've all long been hoping that someone would design an app that would allow us to eat in peace, or tell us where it's okay to wear our MAGA hats, or whatever.

Enter 63red Safe, an app which the Daily Beast reports is like Yelp, except for determining whether a business will protect customers from roving squads of antifa supersoldiers or let them dine while packing heat.
Just ask:

Candace Owens and Charlie Kirk, to name but a few.
***

'Alyssa Milano says she's a trans, disabled, lesbian, black, immigrant gay man. Hard to walk that back, sister.'

Alyssa Milano says she's a trans, disabled, lesbian, black, immigrant gay man. Hard to walk that back, sister.

Outspoken left-wing Hollywood actress and "super-sciency" expert Alyssa Milano celebrated International Women's Day on Friday by giving a shout-out to men.

*facepalm*

And oh, she also insinuated that she too is a man.

*raised eyebrow*

"My transgender sisters! I am celebrating YOU this #NationalWomensDay!" she tweeted Friday afternoon.
***

Margaret Thatcher foresaw the Venezuela crisis. They've got the usual Socialist disease – they've run out of other people's money.

Much of Venezuela is still in the dark — now four days running — after the worst blackout on modern record in Latin America enveloped the country last Thursday evening. And as of Saturday, Reuters reported at least 17 deaths at hospitals across the country attributable to the power outage, given many hospitals are now for days completely reliant on back-up generators to keep life saving ventilators and other medical devices going. Other reports have claimed multiple dozens of deaths across the country, especially in hospital neonatal units.

Embattled socialist president Nicolas Maduro has continued to blame the crisis on an act of "sabotage" by the United States at the Guri hydroelectric dam, for which he's mobilized troops to protect the national electricity system for the duration of the power outage. However, most analysts agree the electrical grid mass failure is the result of generally failing infrastructure after years of underinvestment and neglect.
***

There are reasons why our laws call for orderly immigration. Here are over 2,000 reasons why.

Mumps, Other Outbreaks Force US Detention Centers to Quarantine More Than 2,000 Illegal Aliens
***

Good news. Attack cat is safe for now.

Way too often, people forget that acting carelessly around wild animals can result in a tragedy. A couple of years ago a gorilla named Harambe was killed after a 4-year-old boy managed to get into his enclosure. The killing of the gorilla resulted in a widespread backlash, with many people blaming both zookeepers and parents for allowing the child to get into gorilla's cage. Sadly, some people learned nothing from this situation and continues to get themselves into dangerous situations by not obeying the rules at the zoo.

Guess what the Misanthropic side of me says?
***
The ONT Musical Interlude
Died on this day 11 Mar 2015
Jimmy Greenspoon, keyboardist with Three Dog Knight died after a long battle with cancer at the age of 67. During the course of their career, Three Dog Knight had 21 top 40 hits, including three No.1 singles. via thisdayinmusic.com
&
Born on this day 11 Mar 1961
Bruce Watson, guitarist with Scottish rock band Big Country, who had the 1983 UK No.10 single 'Fields Of Fire' plus 14 other UK Top 40 singles.via thisdayinmusic.com
***

Once again POTUS Donald J. Trump is right.
***

Living with your Mom & Dad is unpleasant. What's worse is being a basement dweller and a Genius Award Winner.

A local fire captain is charged with arson and retaliation after he had a church friend burn his car, then threatened someone to whom he had confessed to stop them from telling others, a warrant states.

Michael Anthony Salinas, 34, a captain with the Emergency Services District 5 Fire and Rescue Fire Department, confessed to a confidential law enforcement source that he had a friend from church burn his 2017 Ford Focus because the $400 to $500 monthly payments were too high and he wanted to move out of his parents' home, court documents state.
***

Those that can't see, now see. Tonight's Feel Good Story of The Day.

Millions of blind people could have their vision actually restored using stem cells taken from the eyes of non-living donors, according to new research from Scotland.

Thanks to the pioneering tissue transplant, eight patients with a common condition that destroys vision have had the affected area repaired—and two were able to read again after having severe macular degeneration.
***

Tonight's ONT has been brought to you by the Ultimate Lumber Yard.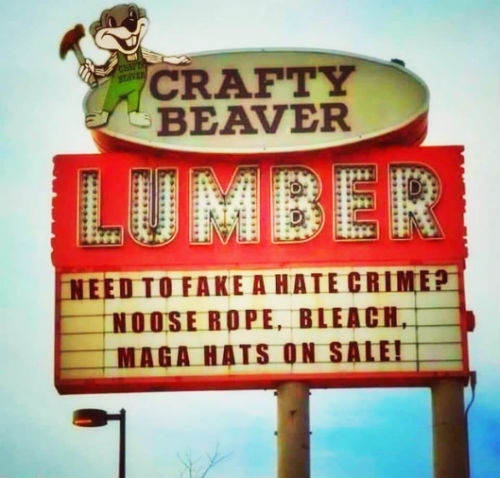 Notice: Posted with permission by the Ace Media Empire and AceCorp, LLC. 100% non-gluten free.

posted by Misanthropic Humanitarian at
09:47 PM
|
Access Comments