« Unfortunate Children's Books ONT
|
Main
|
Mid-Morning Open Thread »
March 08, 2019
The Morning Report - 3/8/19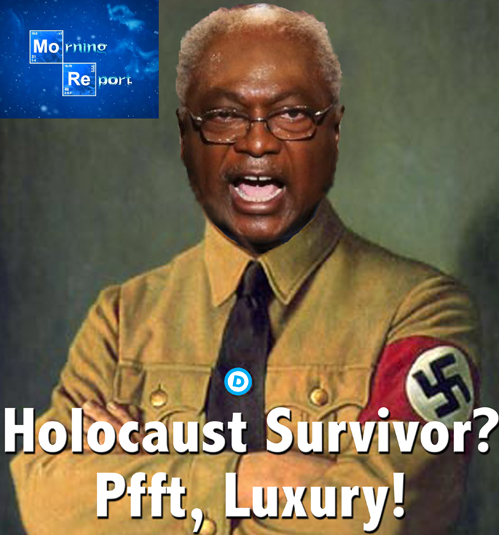 Good morning kids. Friday and "what a week it's been!" Ignoring the first rule of holes, the Democrat Party and the Media excused, explained, deflected and projected the open anti-Semitism of Ilhan "Bro-Fo" Omar by attempting to bamboozle the public with a resolution condemning everything and everyone except anti-Semitism and the bimbo in the head-burrito. It is evident to all but the most obstinate and obdurate of true believers that the Democrat Party hates Jews, Judaism, Israel and anything related to them. I don't know what's worse, those who carry the actual ancient hatred in their hearts and minds or those who excuse it as a means of political expediency. Either way, it's in your face, to the extent that if you vote for a Democrat, you're also a Jew-Hater. Period. Full stop.
Before leaving this topic, I specifically want to address the bilge that emanated from the cake-hole of James Clyburn.
The Hill described Clyburn's comments thusly:

Clyburn came to Omar's defense Wednesday, lamenting that many of the media reports surrounding the recent controversy have omitted mentioning that Omar, who was born in Somalia, had to flee the country to escape violence and spent four years in a Kenyan refugee camp before coming to the United States.

Her experience, Clyburn argued, is much more empirical - and powerful - than that of people who are generations removed from the Holocaust, Japanese internment camps during World War II and the other violent episodes that have marked history.

In case one suspects this is an uncharitable paraphrase, here's what Clyburn said right after:

"I'm serious about that. There are people who tell me, 'Well, my parents are Holocaust survivors.' 'My parents did this.' It's more personal with her," Clyburn said. "I've talked to her, and I can tell you she is living through a lot of pain."
Mr. Clyburn, Omar has provably lied to become a citizen (a deportable offense, I believe), has ties to actual terrorist organizations that have slaughtered more non-Muslims than you've had hot meals, is an adherent to a belief whose central tenets are the subjugation or liquidation of non-believers and ironically has ancestors who were running the African slave trade that no doubt brought your ancestors here against their will. For you to smear the blessed memory of my mother, her family and the thousands who survived a literal hell on earth created by your political kissing cousins in the NSDAP ("S" for Socialist), by trying to foist this utter bilge about Omar on us, is despicable in the extreme.
It is one of the great political tragedies and sad ironies that American Jews, the one group of people in this country that did more than any other to help elevate American blacks and liberate them from the party and political movement that had enslaved them, persecuted them, annihilated them in the womb and relegated them to misery (with the exception of one day every two years), are now treated with a degree of enmity and hatred by black political and (pseudo) religious leaders that far exceeds virtually any other ethnic or other group. But, today's American Jews, mostly on the Left of course, regard themselves as neither American nor Jew, so there is that. In any case, this is what you get when one of the two mainstream American political parties and their agitprop media flunkies go on diatribes against "the 1%," "east coast bankers," etc. etc. Jeez, the notion of the CIA inventing crack to annihilate black youth is still treated as gospel thanks to Maxine Waters. I'm surprised she didn't amend that to say the Mossad created it in a lab in Tel Aviv. And of course the moldering and decomposing Helen Thomas telling the Jews to get the hell out of Israel and go back to Poland, presumably to be gassed in a reconstituted Birkenau. Meh. I'm raving now. I hope Blexit is for real. We need it and a Jew-exit. Before we all wind up burned.
UPDATE: Since Mr. Clyburn dismisses the pain and suffering endured by people who are still living among us, his statement seems to obviate the need for us to pay reparations to black Americans, none of who are alive today who were once in chains. Thanks for that clarification, sir.
Elsewhere, on the immigration and amnesty front, while DHS Nielsen is sounding the alarm bells about open borders Lou Dobbs blasted Trump for his seeming endorsement of ramping up of immigration to the detriment of the American worker, Palsi's dentures clatter out the not so secret secret of allowing foreigners to vote (mostly Democrat, no doubt), and with all this talk about dual loyalty, the real McCoy is between Democrats and Mexico.
One more thing to add that I kind of touched on, Daniel Greenfield on the absolute nexus between Socialism and anti-Semitism. Also, the victim of the Berkeley attack hits the nail on the head as to why he got punched, and Cory Booker fuels the fire of anti-Americanism as well as underscoring why the Berkeley conservative got punched.
Donkey Chompers gets hit with an ethics complaint about goniffing campaign funds, and Sarsour the Hamas Louse sicks her CAIR goons on an actual reporter trying to ask Rancida some questions.
Politics: Eric Greitens finally cleared of all charges, Eric Holder pimps court packing for the next Dem prexy, Sebastian Gorka on the Democrats' internecine war, read about what Joe Bidet had to say about reparations back in '75, Sherrod Brown-note is out (as if he had a chance in this racialist flea circus), Ron DeSantis' record in Florida to date, Doug Jones' carpetbagged cash haul, Kenya-Kona Blend still trying to rewrite his own history, and the Spectator is predicting Trump winning in '20.
Mueller Inquisition and Congressional Coup: Paul Manafort gets considerably less time in jail and the usual gang of scumbags goes ape, Lindsay Graham ramps up the rhetoric on going after FISA abuse, Sloppy Daniels' suit gets tossed, and Rancida T-Labia is a blithering dolt.
Abortion: Illinois tells NY and VA "hold my speculum," and what can be done to fight back activist courts on abortion.
First Amendment and Fake News: Mollie Hemingway exhorts the GOP to fight back in the wake of the DNC blackballing of Fox for the debates, and two articles with bad news for Big Tech Brother.
Foreign Desk: Maduro blames power outage on Jews sabotage, administration official confident of NorK de-nuking, Poland tells the enviro-commies and EU to screw off as they plough ahead on the Baltic Canal, Labour Party's bad Jew-Jew, and the story of an African reformer. Also, US hits back on Chi-Com hacking.
Domestic News: Cocaine Mitch quietly ramming through judicial nominations, Senators Scott and Braun with an anti-swamp lobbying bill, $93 billion reasons for the case for zeroing out budgets, and a look at the doom befalling California and Chicago. Also, coal miner pensions cave in by 2022 and corporate tax collection down in January.
Crime and Punishment: Brits embrace SJW and affirmative action over being actually qualified to wear a police uniform.
Education: Muslim parents and kids picket school pimping homosexual indoctrination (where's Omar and Rancid?), high school student persecuted and suspended for being pro MAGA, fighting Maine's brain drain, and a broader look at the takeover of higher ed by the Commies.
Red Greens: Two on climate change including why the GOP should try to force a vote on the Green New Deal in the House.
Real Science: Space-X capsule leaves the space station and set to splash down.
Feminazism: Blue on Blue as lesbian attacks transsexuals as misogynistic, killing fatherhood and killing motherhood.
Hither and Yon: Luke Perry and the Strange Aging of Beverly Hills, 90210.
Anyway, links from around the world, across the nation and up your street. Have a better one and remain blessed.
REMINDER: Turn your clocks forward 1 hour on Saturday night.
NOTE: The opinions expressed in some links may or may not reflect my own. I include them because of their relevance to the discussion of a particular issue.
BORDER WALL, MIGRANT INVASION, AMNESTY, IMMIGRATION, BORDER SECURITY

posted by at
07:43 AM
|
Access Comments