« Ilhan Omar: Asking Me to Apologize for My Attacks on Jews for Having Dual Loyalties Is Just a Jewish Plot to Demand My Allegiance to Israel
|
Main
|
Four More Weeks of Winter: Hillary Clinton's Occasional Southern Accent Makes Quick Appearance in Selma, Alabama, Then Runs Back Into Its Burrow »
March 04, 2019
Introducing a Campaign To Make Captain Marvel Safe For Women
Brie Larson has a lot of problems with men, especially white men.
In 2017, she smiled at a TSA agent and he asked for her phone number, if you can believe his affrontery.
She did not specify his race, which means... well, given how much Brie Larson likes to rag on "white dudes," let's just say I think she would have specified his race if he were white.
She went on to suggest that the (minority) male's aggression in just asking for her phone number was akin to rape -- she actually trotted out the "just asking for it" line.
Just asking to be asked for your phone number?
Later on she announced to the world that she did not care what "white dudes" thought about movies.
"Am I saying I hate white dudes?" the Oscar-winner asked the room at the Beverly Hilton. "No, I'm not," she replied.
Generally when someone deploys the "Am I saying I hate [Group X]/No I'm not" trope, what they're saying is "I hate group x but I don't want you to print that."
"I don't want to hear what a white man has to say about 'A Wrinkle in Time.' I want to hear what a woman of color, a biracial woman has to say about the film. I want to hear what teenagers think about the film."
Teenaged movie critics? They don't really exist, except in school newspapers.
Biracial women film critics? Well, they exist, but... given that only a few hundred people in the country are biracial female critics, are you saying that only 3-4 biracial female critics are allowed to review "A Wrinkle in Time"?
By the way, it wasn't just "white male critics" who rejected this movie. It was everybody. It was a huge flop.
Brie Larson recently announced that the film Captain Marvel would be her new method of feminist evangelization:
Sana Ahmnat, who is officially Marvel's "Vice President in Charge of Content and Character Development" and the #2 at Marvel, but who is unofficially their Diversity Dictator and kinda-sorta maybe the actual #1 Head Feminist in Charge (because Marvel's diversity initiative seems to be its only corporate mission), says that Captain Marvel is "a message" and that the Captain Marvel fandom is a "virtual safe space" for women. (Quotes at about 6:10 to 6:20, and then 9:00 to 9:10.)
Although one can spend hours detailing all the quotes (including from Marvel) that Captain Marvel is intended as a "big, feminist movie," I'll just skip to a few of the latest quotes.
Brie Larson was very clear that Captain Marvel must not pander to the Male Gaze. (That's Gaze, not gays.)
And on that score -- Mission Accomplished, I'd say!
Like all celebrities who take superhero roles, the media of course had to talk about how grueling her workout regime was and how like a real-life superhero she became.
But even though she was now, in real-life, super-strong, she still had the confidence and agency to put down dirty, judgmental men who complimented her on some of her lifts:
Are men a threat to Brie Larson? I'd say so. Because Evil White Men are trolling her movie on Twitter, making claims like "I didn't like all the hardcore antisemitic propaganda in the film" and "I didn't really understand why Captain Marvel burned the gay flag at the end of the movie."
Men, you see, are a problem, and if they are permitted to sully theaters showing Captain Marvel, female spectators -- the only ones who count, according to Brie -- will have their safe space violated by unwanted penis-based behaviors.
Which is why I am stepping up to be a True Male Feminist ally to lead a new movement to stop men's shitty behaviors and sexual-assault-like invasions of sacred female spaces.
I am calling for all men to avoid seeing Captain Marvel, at least for the first four weeks of its theatrical distribution, to permit the legions of the "Carol Corps" fans to see the film in a positive, Sacred Feminine, female-only space.
I am calling for all men to observe, recognize, follow and celebrate the initiative #HeFree4Brie -- a full four weeks of only women, or female-identifying (no transphobia here!) persons attending Captain Marvel.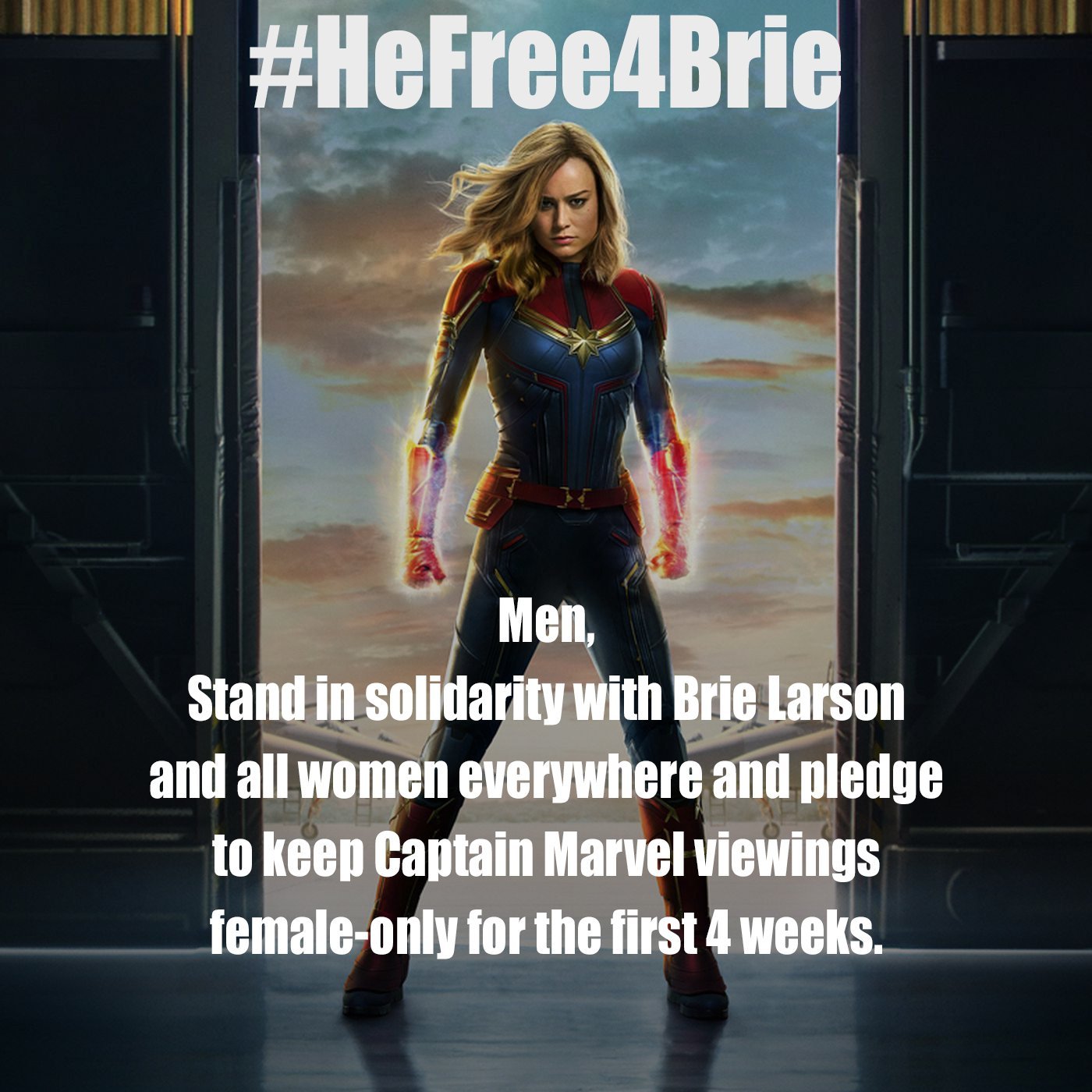 True male feminist allies can best show their allyship by keeping their unwanted, rapish presences away from Sacred Feminine spirit circles.
Now, there will be some who object, and say-- but that would mean that Captain Marvel would make less money at the box office!
Don't be absurd; it means that Brie's movie will make more money. Bear in mind, the #HeFree4Brie campaign only asks men to keep their disgusting patriarchy away from theaters for four (4) weeks.
That means in four weeks time, Captain Marvel will have one of the biggest "holds" in Hollywood's history as men come flooding into theaters they've been waiting all their lives to see since they first heard of Captain Marvel eight months ago -- it will be the only major movie of the modern age to suddenly increase ticket sales nearly a month into its run.
It will make history -- or should I say, HERstory?
Furthermore, this means that Disney and Brie Larson will make more money. It is a fact of theatrical exhibitions that the theaters usually take a huge percent of the box office in the first few weeks of a film's release -- I've heard numbers has high as 90%, but I think Disney, with its outsized market power in the industry, gets a better cut of first weekend box office.
Nevertheless, their take of the first couple of weeks' box office is low compared to the theaters' take, but rises after the first few weekends.
So that means that men who avoid seeing Captain Marvel for four (4) weeks will actually put more profit into the pockets of Disney (and Brie Larson, who probably has some kind of gross-points deal in the picture), unlike their sexist, sexually-beastly fellow men who insist on rushing into the theaters and displacing potential female ticket-buyers and reducing their enjoyment of the film with their Male Taint.
It's a win all the way around -- women get to see Captain Marvel in the "virtual safe space" that Marvel #2 (or Number #1) Sana Ahmnat spoke so favorably of, and Disney makes even more money on a repetitive, formulaic movie about a little-known and less-liked character than they otherwise would.
#HeFree4Brie -- share it on Twitter and tell all your best Male Feminist Ally friends to do the right thing and stay out of the theaters for a month!

posted by Ace of Spades at
05:28 PM
|
Access Comments