« Real Tweet from NBC
|
Main
|
Sunday Overnight Open Thread (3/3/19) »
March 03, 2019
Gun Thread: Locking Up Your Guns [Weasel]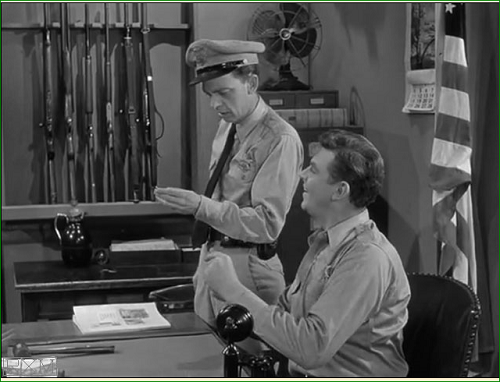 The simple days of gun storage
We've talked quite a bit about rifles and handguns, but not much about storage options for them when not in use. Has your collection grown too large(?), or too valuable for your existing storage solution? What about other considerations, such as safety and prevention from unauthorized use? Let's take a look at some options, shall we?
Where and how to store weapons is a topic that doesn't always get much attention. After all, gun safes are big, bulky, expensive, and tend to last, well, just about forever. In fact, what most of us have come to think of as a "gun safe" really aren't certified as gun safes, at all, but rather are more likely considered a Residential Security Container (RSC). Price can quickly become a consideration, and a true safe can cost a lot of money.
Given that, what are some of the considerations when you are looking to buy, and do you really need a "safe" at all?
As with many things, this is a lot more complicated than meets the eye. Safes are certified in one way or another, attesting to their fire and burglary protection, and some manufacturer's claims can be deceptively vague. Everyone is familiar with the Underwriters Laboratory (UL) symbol, which is the gold standard for testing a lot of the products we use everyday. There are also private laboratory certifications and other national testing laboratory standards around the world. Safes which are independently (or factory) tested may not conform to any standards at all if the testing isn't stringently conducted, so a buyer needs to at least have a basic understanding of what the ratings mean.
Fire Ratings and How Fire Resistance is Measured: The Class 350 Standard
In a nutshell, the testing laboratory places heat sensors inside a safe and places the safe into a furnace. A 1 hour rating means after the furnace reaches a specified outside temperature, the contents remain below 350 degrees for 1 hour. A 2 hour 350 rating means 2 hours under 350 degrees, and so forth. Maximum testing temperatures can range as high as 2,000 degrees depending on the product, the test, and the lab. There are other UL ratings such as the Class 150 and Class 125 standards for protection of other materials.
Altough I was unable to (quickly) find a specific authority to cite, the consensus, at least among among safe makers, seems to indicate the average house fire is extinguished in about 20-30 minutes and reaches approximately 1,100-1,200 degrees farenheit. Obviously, some fires may be hotter and might last longer depending on the circumstances, but the 30 minute/1,200 degree condition appears to be a reasonable place to start.
Burglary and Theft Resistance: The RSC Attack Level
The basic RSC rating is Level 1. This level indicates a container will withstand a one man attack with basic hand tools for 5 minutes. RSC-II means the container will withstand a two man attack for 10 minutes when more aggressive cutting and drilling tools are used. Level III offers protection from two men with even more sophisticated tools for 10 minutes.
A true gun safe offers much greater theft protection and is rated on a different scale.
Locking Mechanism
Several options exist with respect to locking mechanisms; biometric, combination (or dial), and electronic. As far as I can tell, these are a matter of personal preference and the efficacy of each are part of the RSC Attack Level described above. I'm not sure I trust anything other than a good ol' combination dial.
Size: It Matters
You want to bigger gun safe than you think you will ever need. Much bigger. And more bigger means more expensive.
Well Shit - Where Does that Leave Us?
Even if you cannot afford a whopping Cheyenne Mountain level of protection, a gun cabinet, container or whatever you want to call it isn't necessarily a waste of money, and may even be a requirement where you live. I have four "safes", ranging from actual safes to glorified heavy steel lockers. All things considered, I'm OK with my setup, which is designed to offer good protection from a quick grab type of burglary or small house fire. I do not expect them to survive a prolonged and determined attempt by a safe cracker who knows what they're doing, or a raging inferno that burns the house to the ground. I also have a sophisticated alarm system for the house and gun room, and a small but very loud dog as my first and second line of defense.
Everyone's circumstances are different and only you can decide what's right for you. Since we still need some pictures to make this thread less boring, I'll add a few readily available options and some commentary on them below. [links in photos]
Here is an option for the car. Not a bad choice for quick, temporary storage.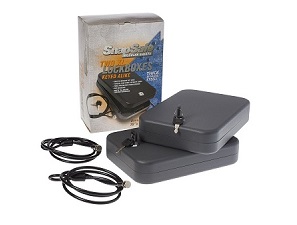 ***
Here is an option for home, perhaps in a bedside location. I don't personally have any experience with a biometric lock system, but they supposedly offer quick, unkeyed access.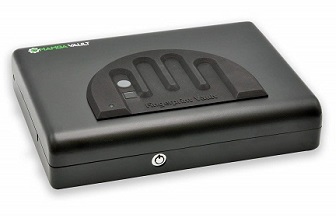 ***
Here is a slightly bigger option for home. Note this safe claims to offer some fire protection, however it must be bolted to the floor to offer theft protection.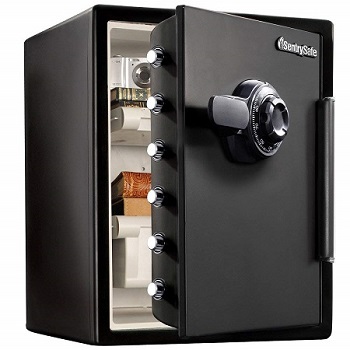 ***
Here's a locker to keep out the mostly curious, but offers no real fire protection and very little in the way of security from a determined thief.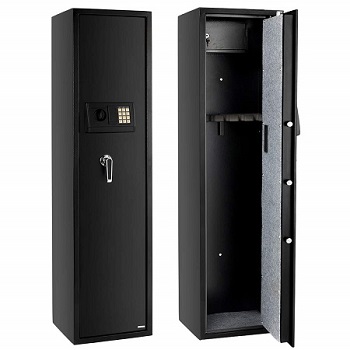 ***
Here's an option that relies on being hidden inside a wall for theft protection, but offers little in the way of fire protection. (h/t Uncle Si)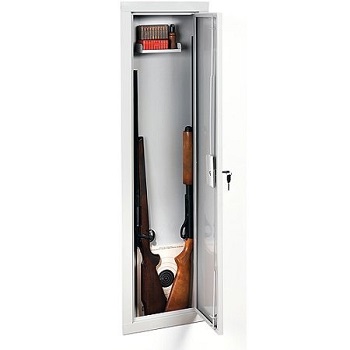 ***
Now we're getting a little more serious. Liberty Safe is, I think, the largest producer of RSC's and gun safes. This model offers moderate fire and theft protection and isn't too bad price-wise at under $1,000, although freight and delivery charges must also be considered.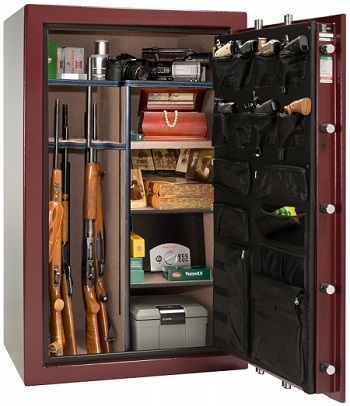 ***
Finally we have an actual safe offering excellent security and fire protection. These can weigh more than 2 tons, so freight and delivery charges can be significant.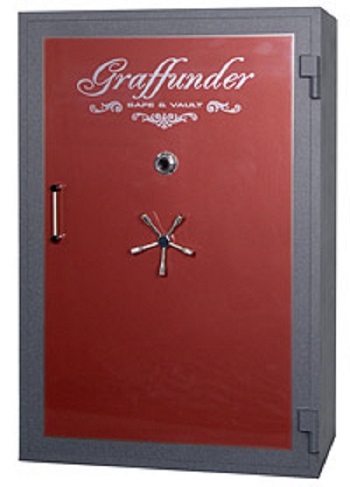 So at the end of the day, what do you do? Price is a consideration, but you might also want to think about size, weight and the value of what you're trying to protect in thee first place. The more affordable styles offering little in the way of theft and fire protection, might best be used as the last element of security after a good home security system.
So how have you addressed your security and storage concerns? Any other suggestions or recommendations?
*******
Link-O-Rama
Helpful Website - Safe Buying Guide
Article: Gun Safe Fire Ratings
Article: 10 Things to Know When Buying a Safe
Article: More on Fire Safety Ratings
Article: Still More on Fire Ratings
Article: Theft Protection
UL: Residential Security Container Standards
***Mail Bag***
Winchester White Box Ammo Recall!!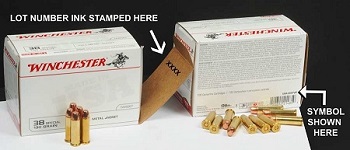 Alert Gun Thread reader redc1c4 sends us this LINK to a Winchester .38 Special ammunition recall. Thanks redc1c4!
***
Our pal and frequent contributor hcurmudgeon sends us this week's colorful entry, but failed to include a range report, and we'd like to know how it shoots! Thanks hcurmudgeon!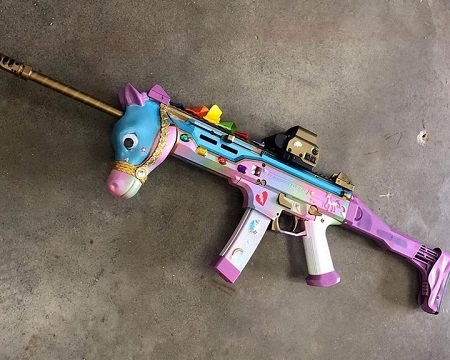 *************
Please note the new and improved gmail account morongunthread at gmail dot com. If you have a question you would like to ask Gun Thread Staff offline, just send us a note and we'll do our best to answer. If you care to share the story of your favorite firearm, send a picture with your nic and tell us what you sadly lost in the tragic canoe accident. If you would like to remain completely anonymous, just say so. Lurkers are always welcome!
That's it for this week - have you been to the range?

posted by Open Blogger at
07:30 PM
|
Access Comments