« Fake Hate Crimes' Real Victims
|
Main
|
Real Tweet from NBC »
March 03, 2019
Food Thread-Without CBD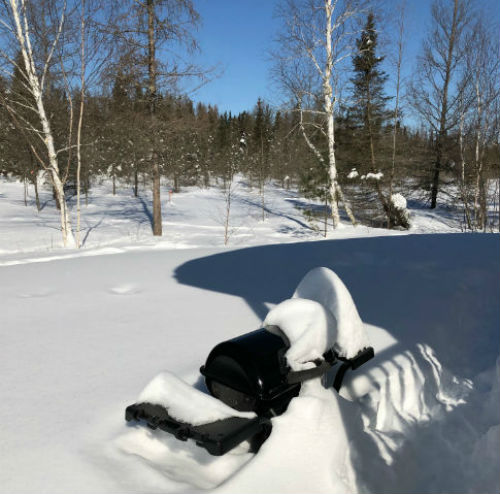 ***

Mr. CBD got stuck at the grocery store and couldn't make it to The Food Thread in time. You're stuck with me this afternoon.
The calendar says March but the snow on my grill says no cooking for you anytime soon.
So if you can't grill you can still make some side dishes that remind us of summertime meals. Here's a recipe that CBD sent my way some time ago. It's delicious.
Mesa Grill Southwestern Potato Salad
Ingredients:
1 cup prepared mayo
1/4 cup Dijon mustard
2 tablespoons fresh lime juice
2 tablespoons
2 tablespoons chipotle pepper puree
1/4 cup chopped cilantro leaves
1 scallion, chopped, white and green parts
1 medium red onion, thinly sliced
2 cloves, garlic, finely chopped
Salt and freshly ground black pepper
4 pounds Yukon Gold potatoes, cut into 3/4" chunks
Directions:
Preheat oven to 425
Toss potatoes with corn oil and Kosher salt and roast for about 25 minutes until golden brown but firm.
Combine all ingredients, except the potatoes, in a medium bowl and season with salt and pepper to taste. Place warm potatoes in a large bowl and pour the mixture over the potatoes and mix well. Season again with salt and pepper, to taste.

I've learned that if you don't have Yukon Gold spuds available fresh new red potatoes work awfully well.
***

Since the grill above the fold is not ready for cooking. Maybe you and a cast iron skillet can make the best ribeye steak ever.
***

Recently I attempted to step into the 21st century. I had been called out of town unexpectedly to a city I had never frequented before. So at dinner time I used TripAdvisor. It sent me to a restaurant that was closed up.
So do you use TripAdvisor and if you do, do you rate the establishment? Did you give a negative review? Meet Roger Cazaly of The Plume of Feathers restaurant. he doesn't take critical reviews lying down.

TripAdvisor might be popular, but as with, well, the entire internet, buyer beware: It's also a place where a bogus Italian restaurant can get bogus reviews. It can, however, a reliable source for drama such as, say, when the co-owner of an English pub gets into a digital kerfuffle with reviewers who deem his business "terrible." Over 560 people have reviewed the Plume of Feathers in Portscatho, Cornwall, and of those, only 25 have pilloried the business. The pub's co-owner Roger Cazaly is getting attention not for the fish-and-chips, but his riotous responses to those reviews.

Speaking to Cornwall Live, Calazy explains he is a righteous defender of truth who must fight lies, and that with TripAdvisor, "you have no defense … I can't take it when they are lying — I have to respond."
***

Unless you were vegan, would you ever eat the Impossible Burger?

Mmm, Smells Like...
Mac and cheese
Roses
Feet
Crackers
Apricots
That old people smell
Based on this list, you might guess I was describing the aromas that might greet/assault your nose whenever you visit your nanna and papa's house, but that's not where I was going.

If I want a hamburger, I'll eat a real honest to goodness hamburger. And if I so desire I'll put real cheese and real bacon on it as well.
***

So until CBD returns feel free to pour maple syrup on your French Toast, or contact me with loose change from the sofa, gift certificates for Ace Hardware or other interesting items at petmorons at gmail dot com.

posted by Misanthropic Humanitarian at
04:00 PM
|
Access Comments