« Come Out With Your ONT Up!
|
Main
|
Mid-Morning Open Thread »
March 01, 2019
The Morning Report - 3/1/19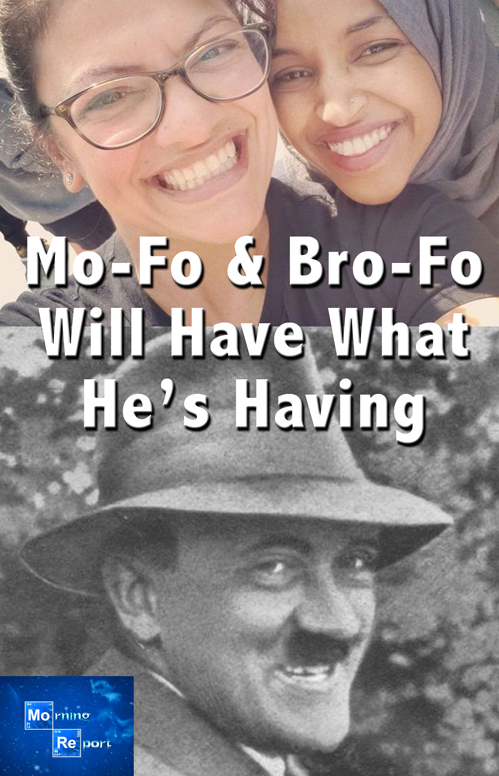 Good morning kids. The weekend and a new month are upon us, so here we go. The Democrat fiasco that was the Michael Cohen hearings have concluded with the low-life in question reading what amounted to a hostage statement prepared by his handlers/captors, namely Lanny Davis and his overlords Clinton and Obama, smearing the President with the same old tripe and tropes that are nothing more than projection on their part. In the event, Cohen, who is already facing jail time for lying to Congress, committed further perjury over smears and libels against the President that he himself confirmed as such. Add to it the disgusting vomitus of Palestinian terrorist Rancid T-Labia and this whole thing is not going well for the Democrats. And yet still they persist, as Adam Schiff-for-Brains is set to bring Cohen before yet another House committee to do it all over again. Speaking of Schiff, Cohen openly stated that he met with him and the Democrats in advance to prep his testimony. Say, what?! I'm no Perry Mason, but that seems to violate quite a number of ethical statues and laws. Or am I missing something? Yeah. They are above the law and intend to stay that way. In any case, let them keep on f***ing that chicken. All the way to November 2020.
Despite this fiasco hogging the limelight, Amnesty and the Border Emergency still remains a huge issue where we have the hypocrisy of Obama stealing power and money to enable the invaders while Trump is castigated and vilified for acting within his authority to secure our sovereignty, Tom Cotton introduces a "Singh's Law" to protect cops from Palsi Pelosi's "spark-of-humanity" animals, Brownsville, TX is on the front line and now behind it and Congress is stabbing us in the front and back vis a vis the border emergency.
Civil War 2.0: Yes, we are in one which is a follow-up to yesterday's link that asked if we were, the Berkeley PD has issued an arrest warrant for the yet-to-be identified coward who sucker punched a conservative on campus and two shit-stains were arrested at the Tennessee capital, one for assaulting the Speaker of the House. Remember to click your heels three times and say our speech is violence and their violence is speech.
Democrat-Left Scandal Sheet: Subsection of the Joo-hate files where "Bro-Fo" Ilhan Omar continues to emit vile flatus from her shawarma hole, where she joined her BFF Rancid T-Labia at a notorious eatery run by a fellow Joo-hater for a round of Joo-hate over some Profiteroles of the Elders of Zion and taqqiya sunrises, and Daniel Greenfield on Virginia's own newly elected Islamist. Slap some shoe polish on his face, give him some cotton, make him comfortable as you talk it over with his parents and you've got a winner!
Speaking of T-Labia, how did $45,000 from her campaign end up in her own pocket? Must be the lousy Hebe weather-controllers, right? Also, Donkey Chompers looks like she laundered money in paying off her boyfriend and T.J. Cox in California still got some 'splainin' to do but ain't doing much of that over his shady dealings. Meh. Three more incidents of graft while Democrat.
Elsewhere, Joey Bidet had nice words for Mike Pence until "Dickless" Nixon ordered him to recant and repent, Beta Beto won't challenge Cornyn so he's probably going to jump into the Democrat 2020 klown kar, Palsi Pelosi's dentures have the good sense to not clatter impeachment talk, Van Jones gets booed at CPAC for lying about illegal alien crime which begs the question, what the fuck is a bus-out communist doing at CPAC in the first place? Palsi and Donkey Chompers now join forces against Dems who dare cross the aisle, the Left's muzzling of Howard Schultz (I hope he stays in the race), and Conrad Black is high on a big re-election win for Trump which then leaves the question, what comes after him?
Mueller Inquisition and Deep State Coup: Judge orders release of Steele's deposition. Most Americans are saying "who?"
Abortion: Democrat States will fight back against Trump's kneecapping of Planned Parenthood and I can't tell if the accompanying piece is real or not. I know it will cause reactions.
First Amendment and Fake News Fakery: Two from Canada, with the first being the government hot and horny to emulate the Chi-Com social credit model, some rando who's hot and horny for a reporter whilst live on TV and a look at the social media guardians and who guards them.
Guns: The House evidently passed some hideous gun grabbing garbage which will go nowhere in the Senate and encouraging news from Maryland vis a vis cops complying with anything remotely like that.
Foreign Desk: The President's walking away from the NorK summit was the right thing to do, the NorKs contradict PDT on why the talks broke down, a look at the President's comments on Otto Warmbier and the media reaction to same, Pakistan and India still on a knife edge as Pakis set to return Indian fighter pilot today, Netanyahu gets indicted on what appears to be trumped up Israeli Deep State bullshit charges but it could be a while before anything substantive happens, a look into why Maduro and company are still holding on, Trudeau in real trouble, UN Geneva HQ is a Che of fools, the ambitions of this Jeremy Corbyn cancer, and a million buck bounty on a spawn of Bin Laden.
Economic news: US posted 13th straight year of less than 3% GDP growth although last year - a Trump year - saw the highest in that stretch, and Baby-Killer Cuomo and the Empire State Dems don the kneepads and head over to Bezos' joint (phrasing!) to undo Donkey Chompers' damage and try to salvage the HQ deal.
Crime & Punishment: The FBI sez crime dropped last year, big mega church leader in hot water of sex hanky-panky and the real victims from fake hoax crimes.
Vatican Sex Scandal Coverup: Francis the Talking Pope is a fraud.
Healthcare: GOPers rip Dems over their Medicare-For-All fraud.
Education: Duke knuckles under to the Joo-haters while Cornell stands tall, a call for PDT to federalize school choice and Colorado brainwashes the children.
Red Greens: Colorado will not ban plastic straws (for now), the Green New Deal is the Great Leap Forward and Holodomar and beyond, and a look at its pseudo-religious aspect.
Feminazism: Rebuking the Dem 2020 plan to abscond with America's children.
Hither and Yon: Christian Toto pans Greta, more on the airbrushing of our history and Milo Yiannopoulos on l'affaire Jussie Galore.
NOTE: The opinions expressed in some links may or may not reflect my own. I include them because of their relevance to the discussion of a particular issue.
Anyway, links from around the world, across the nation and up your street. Have a better one and remain blessed.

posted by at
07:16 AM
|
Access Comments