« EMT 03/03/19
|
Main
|
The United States of America »
March 03, 2019
Sunday Morning Book Thread 03-03-2019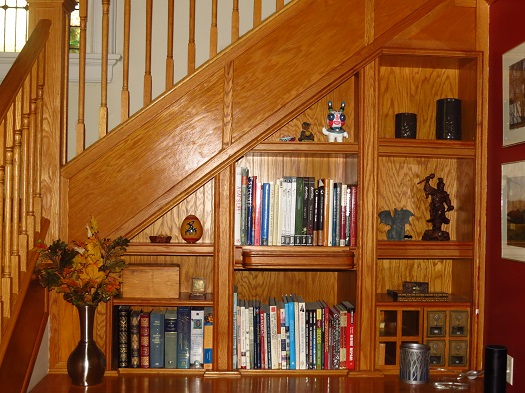 Good morning to all you 'rons, 'ettes, lurkers, and lurkettes, wine moms, frat bros, and everybody who's holding your beer. Welcome once again to the stately, prestigious, internationally acclaimed and high-class Sunday Morning Book Thread, a weekly compendium of reviews, observations, snark, and a continuing conversation on books, reading, writing, and publishing by escaped oafs who follow words with their fingers and whose lips move as they read. Unlike other AoSHQ comment threads, the Sunday Morning Book Thread is so hoity-toity, pants are required. Even if it's these pants, which walk like a farg, and their snit's all retarded. Seriously. If I had a 'top 10' list of all the ugly pants pics I've posted, this one would be up near the top. Once you see them, they can't be unseen. You have been warned.

Pic Note
Last November, I posted a pic of Victor Tango Kilo's library. Here is another shot he sent me. Or, perhaps, 'a photo of another place in his house where Victor Tango Kilo keeps books' might be more appropriate. Whatever the case, the wood paneling is very nice. Which you can better appreciate if you click on it to see the larger version.

It Pays To Increase Your Word Power®
Something that is CEDRINE is made of cedar wood.
Usage: Is a cedrine headache anything like a hickory shampoo?



Early Kindle: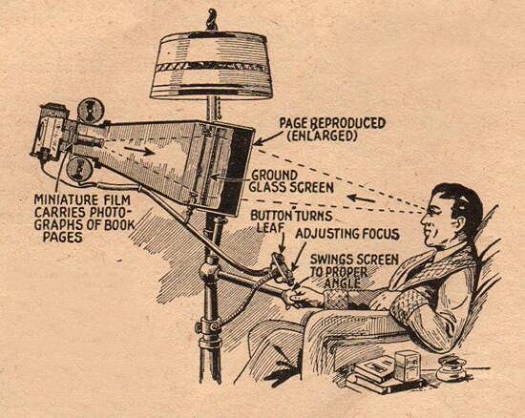 Hate, Fake Hate, and the Fakers Who Hate
You know, there's not a lot of books about hate crime hoaxes out there. In fact, up until recently, the only one I've been able to find is Laird Wilcox's Crying Wolf: Hate Crime Hoaxes in America, which is now out of print. I guess this is one of those things where people thought, "let's increase the criminal penalties for ordinary crimes by adding the word 'hate' to them and what could possibly go wrong with that?"
So many people believe that fake hate crimes don't exist, or if they do, their number is vanishingly small. Spectacular failures like Jussie Smollett's dismissed as one-offs, if they're acknowledged at all.
Except that Wilfred Reilly, an associate professor of political science at Kentucky State University, a historically Black institution located in Frankfort might disagree. In a recent USA today article, he writes:
Doing research for a book, Hate Crime Hoax, I was able to easily put together a data set of 409 confirmed hate hoaxes. An overlapping but substantially different list of 348 hoaxes exists at fakehatecrimes.org, and researcher Laird Wilcox put together another list of at least 300 in his still-contemporary book Crying Wolf. To put these numbers in context, a little over 7,000 hate crimes were reported by the FBI in 2017 and perhaps 8-10% of these are widely reported enough to catch the eye of a national researcher.
Reilly's new book is Hate Crime Hoax: How the Left is Selling a Fake Race War examines whether, as you might think if you watch CNN or MSNBC, today's America is plagued by an epidemic of violent hate crimes:
In Hoax, Professor Wilfred Reilly examines over one hundred widely publicized incidents of so-called hate crimes that never actually happened. With a critical eye and attention to detail, Reilly debunks these fabricated incidents—many of them alleged to have happened on college campuses—and explores why so many Americans are driven to fake hate crimes. We're not experiencing an epidemic of hate crimes, Reilly concludes—but we might be experiencing an unprecedented epidemic of hate crime hoaxes.
I doubt Reilly will be seen all that often on CNN. But, if you don't want to slog through all of this academic stuff, you can grab a copy of Hate-Crime Hoaxing For Fun And Profit (Right-Wing Rants! Book 1) and cut right to the chase. You'll learn how you, yes you, can
Be inspired by the rich history of hate-crime hoaxing and all the hate-crime hoaxes that have spread across the world since the invention of hate-crime law!

See how much money you can pocket by being a professional victim!

Learn how much panic you can create by pretending to have seen a Ku Klux Klan chapter hanging around your town!

Be the greatest hero your community has ever known, simply by being the most sympathetic victim of a hate-crime! A hate-crime you yourself created!
So it's a "how-to" book, then.

Moron Recommendations
I just finished reading Sources of the River by Jack Nisbet.

It's the true story of David Thompson, who, as a 14 year old boy in London was hired from the orphanage that raised and educated him, by the Hudson's Bay Co for the Canadian fur trade.

His long goal was to locate and navigate the length of the Columbia River from source to the Pacific.

He was an astronomer, map maker and literate and assiduous record keeper. His management of a profitable fur trading operation while not being killed by the Indians, nor, did he ever lose a man to any reason, is fascinating.

Nisbet, has several other books which are now on my list to read. He also manages to do a good job of keeping himself out of the story though he does have several asides. 4/5

Posted by: Winston a dreg of society at February 24, 2019 10:58 AM (vVLnV)
The blurb for Sources of the River, 2nd Edition: Tracking David Thompson Across North America almost convinces me that Thompson makes the Lewis and Clark expeditions look like a bunch of Cub Scouts:
In this true story of adventure, author Jack Nisbet re-creates the life and times of David Thompson—fur trader, explorer, surveyor, and mapmaker. From 1784 to 1812, Thompson explored western North America, and his field journals provide the earliest written accounts of the natural history and indigenous cultures of the what is now British Columbia, Alberta, Montana, Idaho, Washington, and Oregon. Thompson was the first person to chart the entire route of the Columbia river, and his wilderness expeditions have become the stuff of legend. Jack Nisbet tracks the explorer across the content, interweaving his own observations with Thompson's historical writings. The result is a fascinating story of two men discovering the Northwest territory almost two hundred years apart.
A paperback edition is also available.
Nisbet is the author of a number of other natural history books that look like they're worth checking out, such as Visible Bones: Journeys Across Time in the Columbia River Country and Ancient Places: People and Landscape in the Emerging Northwest.
___________
330 I'm coming in late here, but if anyone wants a really good book, try Philip J. Sampson's Six Modern Myths about Christianity and Western Civilization. The six chapters are on Galileo, Darwin, environment, the human body, missionaries, and the witch craze. Really an outstanding resource.

Posted by: Jim S. at February 24, 2019 11:44 AM (ynUnH)
Six Modern Myths about Christianity and Western Civilization, Sampson asks:
How often have you heard the story, for example, of plucky Galileo, armed merely with a telescope and reason, doing battle with a superstitious church only to be condemned as a heretic and harshly imprisoned? Even though most of the "facts" commonly assumed to be true about this story are just not so, the romanticized myth of Galileo boldly marches forward. Sampson dispels this myth and five others--that the rise of Christianity led to ecological crisis, that missionaries have oppressed native peoples, that Darwin's evolutionary ideas were embraced by scientists but vilified by religious leaders, that the church was responsible for persecution of witches, and that Christianity teaches the repression of bodily pleasures--all woven nearly inextricably into the fabric of Christianity and Western civilization. To tease apart historical fact from cultural fiction Sampson tells different stories, rich in historical detail, fascinating characters and surprising twists.
Alas, there does not appear to be an ebook edition available. But the 'look inside' sample on Amazon is really quite extensive, and includes his argument that we're all modern and sceptical and myths of other cultures, that doesn't mean we don't have myths of our own. I was intrigued enough that I snatched up a 'like new' used copy for $6.00 (and free shipping). That's a lot of bang for the buck. Thanks, Jim S.!
Another book that looks like it's along these same lines is Galileo Goes to Jail and Other Myths about Science and Religion by Ronald L. Numbers:
Until about the 1970s, the dominant narrative in the history of science had long been that of science triumphant, and science at war with religion. But a new generation of historians both of science and of the church began to examine episodes in the history of science and religion through the values and knowledge of the actors themselves. Now Ronald Numbers has recruited the leading scholars in this new history of science to ­puncture the myths, from Galileo's incarceration to Darwin's deathbed conversion to Einstein's belief in a personal God who "didn't play dice with the universe." The picture of science and religion at each other's throats persists in mainstream media and scholarly journals, but each chapter in Galileo Goes to Jail shows how much we have to gain by seeing beyond the myths.

___________

Oh, I Can Hardly Wait For This One:

Just read the Amazon blurb and you'll get an idea what a puffed-up popinjay Acosta is:
...From the hazy denials and accusations meant to discredit the Mueller investigation, to the president's scurrilous tweets, Jim Acosta is in the eye of the storm while reporting live to millions of people across the world. After spending hundreds of hours with the revolving door of White House personnel, Acosta paints portraits of the personalities of Sarah Huckabee Sanders, Stephen Miller, Steve Bannon, Sean Spicer, Hope Hicks, Jared Kushner and more. Acosta is tenacious and unyielding in his public battle to preserve the First Amendment and #RealNews.
Ugh. He probably gazes longingly at himself in the mirror every morning and kisses his own reflection.
And if the defense of our First Amendment rights is in the hands of Jim Acosta and the rest of the CNN clown car, we are in serious, serious trouble.


Books By Morons
Now this is interesting. Lurker 'Locomotive Breath' e-mailed me earlier in the week to tell me that his
...adult autistic son, Patrick, has written and published 2 books of poetry. If you could give a shout-out and link to his amazon page, it would be greatly appreciated.
Colors of the Heart: A Collection of Christian Poetry (also in paperback)
Catch the Moment: A Collection of Narrative Poetry (also in paperback)
According to the Patrick's Amazon author's page:
Patrick D. Kaiser is a contest-winning poet with Asperger's Syndrome. Since his middle school debut he has touched and impressed many with his honest take on life through his writing. His poems evoke emotional, thought-provoking questions. His writing mission is to spread entertaining content that makes his readers ask the big, difficult questions. His writing manages to be captivating without excessive gore and sexual undertones & captures the raw emotions of his characters.
So his books might be worth checking out.
___________
Moron author Alec Lloyd has just published what he refers to as a "real world" novel, Three Weeks with the Coasties: A tale of disaster and also an oil spill, which is based on real events, namely, the Deepwater Horizon disaster:
For eight years Tech. Sergeant Eric March has been preparing for a "real world" operation, training for an overseas deployment that never comes.

Finally, in the spring of 2010, the Air National Guardsman is mobilized – not for a tour in Iraq or Afghanistan, but to assist the Coast Guard with the Deepwater Horizon oil spill response. Based on the author's personal experiences, Three Weeks with the Coasties is a brisk and sharply humorous take on the challenges of crisis management, the absurdity of military bureaucracy, and the unique challenges reservists face as they try to balance their civilian jobs, their families' needs and their service obligations.

It also documents the dedicated efforts of thousands of men and women to contain and clean up the worst environmental disaster in American history.

Funny, lighthearted, yet also poignant, Three Weeks with the Coasties presents the human side of the relief effort that the official histories leave out.
As Alec is in the Coast Guard himself, so he knows whereof he speaks. He describes his novel like this:
In terms of style it's more "Sword of Honour" style plausible absurdity rather than the outright farce of "Catch-22." And it's a pretty obscure operation (even though it was huge at the time.) Hopefully the 'rons will like it.
Well, they'll certainly like the $2.99 Kindle price. I know I do.
Nevergiveup got to read the pre-publication and said in the thread that he liked it
High praise, indeed.
___________
Heard from 'ette author artemis via e-mail who told me that her new novel, Murder in Just Cause, has just been released. In this, the 9th installment of her 'Doyle and Acton' mystery series,
Doyle was back at Scotland Yard after taking maternity leave, and the powers-that-be had decided they'd ease her way by assigning her to assist DS Isabella Munoz, which was a fate only slightly worse than death.

Annoying, it was, that she had to answer to Munoz; not to mention that Munoz wasn't given many high-quality homicide assignments in the first place.

As a case in point, the first assignment out of the box was a possible suicide at the housing projects, something that happened with such regularity that it was a wonder the responding officer had even thought it worthy of a detective's notice...
$4.99 on Kindle, and also available in paperback.

___________
Don't forget the AoSHQ reading group on Goodreads. It's meant to support horde writers and to talk about the great books that come up on the book thread. It's called AoSHQ Moron Horde and the link to it is here: https://www.goodreads.com/group/show/175335-aoshq-moron-horde.
___________
So that's all for this week. As always, book thread tips, suggestions, bribes, insults, threats, ugly pants pics and moron library submissions may be sent to OregonMuse, Proprietor, AoSHQ Book Thread, at the book thread e-mail address: aoshqbookthread, followed by the 'at' sign, and then 'G' mail, and then dot cee oh emm.
What have you all been reading this week? Hopefully something good, because, as you all know, life is too short to be reading lousy books.


posted by OregonMuse at
08:40 AM
|
Access Comments