« Monday Overnight Open Thread (2/18/19) President's Day Edition
|
Main
|
Mid-Morning Open Thread »
February 19, 2019
The Morning Report - 2/19/19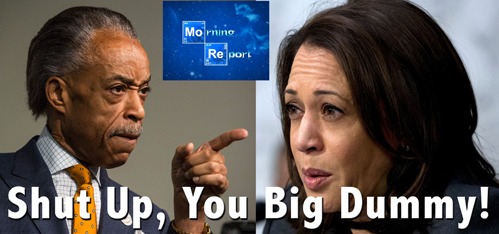 Good morning kids. Tuesday, and the lead story is the now all-but-certain confirmation that the alleged racist attack on homosexual black actor Jussie Smollett by two MAGA hat-wearing white men was in fact a hoax. The reasons why he did it are completely irrelevant. The important takeaways are that even the most patently transparent of lies will be swallowed whole by the media if the accused is a non-Democrat-Leftist. Smollet knew this going in and for days, the geschrei from every quarter was intolerably loud, strident and virulent. That is until all of this began to unravel over the weekend with the refusal to be forthcoming to investigators, the lack of any surveillance video of the incident, the discovery of his buff Nigerian cohorts who helped stage the non-attack, and now a juicy nugget wherein Smollett participated in a reading of a play in New York City hours before the attack that had in its plot an incident strikingly similar to the one he reported happened to him hours later in the Loop. But I digress.
The salient issues are the aforementioned willingness of the media to both run with the story and then do everything it could to run cover for Smollett, the stammering, hemming and hawing by both the self-proclaimed media and cultural "elite" when faced with the cold, hard irrefutable truth and refusal to apologize let alone admit they were wrong. Even Al Sharpton, the loathsome lout who became a very successful and very wealthy national political figure as the preeminent hoax manufacturer and racial arsonist of our age, has vocally condemned Smollett. And yet leading Democrat 2020 candidates Kamala-Toe Harris and Spartacus Booker are, when they're not hemming, hawing and dodging, doing the equivocation boogie.
The willingness and even eagerness to ramp up the stoking of racial animus for political gain that began under Obama is continuing unabated - especially now that a man like Trump is in office who is loudly and proudly doing all that he can to restore those things, ideas and history that defined America and made it great. And that's because all of those things are defined as "racist" or "unjust" or "immoral" by those that seek to divide and conquer. QED.
The other big story is, of course, the aftermath of the CR and the will it or won't it be built Border Wall and border security. As I stated on Friday, I'm not happy about this at all. I felt it would have been a wiser political move for the President to veto the bill and then let Congress in toto - Dems and RINOs alike - take the full blame in the eyes of the American people for trying to bamboozle us with the bullshit, and not insignificantly, continue the generational theft by borrowing and spending America into oblivion. I have several links that are rather on the pessimistic side about the remainder of Trump's first term (hopefully there will be another, please G-d), while Jeffrey Lord has a completely different and optimistic take on the situation. Meanwhile, House Dems are all in on not alerting ICE even if an illegal alien fails a gun background check and groups connected to Nazi collaborator Soros are already filing the first lawsuits against the wall.
In Civil War 2.0 news, a man in a MAGA hat has a gun shoved in his face at a Sam's Club, "Bro-Fo" Omar really needs to be investigated for ties to America- and Joo-hating terrorists, a cemetery in Brooklyn, the epicenter of American Jewry, feels the love from the "Bro-Fo's" and T-Labia contingent, and if you're a Christian you are unqualified to be a judge according to the Left.
To politics where Illinois Governor Pritzker is all about being transparent except when it comes to the salaries of his aides, Kamala-Toe goes full racialist in pimping the abolition of Columbus Day, all of the records for Bite-Sized Bloomberg's time in Gracie Mansion have somehow vanished, the battle brewing in West Virginia over the insane automatic voting registration, and Trump v Dems in 2020 = Borders/Babies v SJW Activism.
Abortion: Utah passes a sane bill while the administration continues to fund Planned Parenthood baby-butchery for medical experiments.
First Amendment and Fake News Fakery: The NY Times states an obvious truth, a You Tube user claims the giant allows an on line pedophile ring to operate with it, Google was in bed with National Review (surprise!), and Al Jazeera foments/pimps Islamism (surprise, surprise!).
The Mueller Inquisition: Big news here is Rod Rosen-traitor is ankling the DoJ in March, as well as a look at the aftermath of the failed coup attempt, or at least this aspect of it as les jeux sont fait elsewhere.
At the foreign desk, President Trump warns Venezuela's military that all options are on the table vis a vis the current crisis there, Europe is still butt-hurt over VP Pence's smacking them around with a dose of reality, certain members of the Brit Labour Party are fed up with the Joo-hate and are leaving to form their own family, Obama's "red line" was in fact a green light for Assad to use chemical weapons hundreds of times, a Chinese cardinal warns about a secret Vatican deal with the Chi-Coms over Chinese bishops, PDT touts a hemisphere free of socialism and another sane call for US troops to get the hell out of Syria. Lastly, the Air Force dame who converted to Islam and spied on us for Iran was radicalized at GWU, the same school that collected millions from Muslim countries. Fire up the Mossad laser Joo-shark. And speaking of Islam, a look at Muslim front groups doing Turkish Turd-ogon's bidding across the globe.
In economic news, food stamp use is at a 12-month low (Dems hardest hit!), Donkey-Chompers Cortez is open to hearing how Bill Gates would confiscate everyone's wealth, a look at the latest obfuscations/misrepresentations about the withholding tax and why your refund might be smaller than usual, and why Breakfast Club Evita was perhaps right about killing the Amazon NYC HQ deal.
Healthcare: Dowdy Depends-Wearing Dipsomaniac decries dearth of healthcare for Americans not realizing that Obamacare, such as it is, is still the law of the land, and an essay about pre-existing conditions vis a vis accepting the premise of forcing the coverage of same.
Education: #RedForEd movement ramps up (meh, the reds already control academia) ahead of a Denver teachers strike, and Klown-Kar Klobuchar is not ingratiating herself with the radicals.
Red-Greens: A good essay on the corruption of science for political ends and the invaluable Discover the Networks takes a look at exactly who these "Justice Democrats" are vis a vis the insanity of this Green New Deal.
Feminazism: Cue Chicago or Spencer Davis singing "I'm a Man" as Rabbi Fischer says it loud and proud.
Hither and Yon: Christian Toto rips yet another anti-Trump agitprop flick, First Lady Melania Trump blasts socialism and offers hope for suffering Venezuelans and finally, George Mendonsa, identified as the sailor captured in the iconic Life magazine VJ day cover photo kissing a surprised nurse, has passed away at age 95. I hope that that is not an allegory for the last vestige of America as founded. Requiscat In Pace.

NOTE: The opinions expressed in some links may or may not reflect my own. I include them because of their relevance to the discussion of a particular issue. Anyway, links from around the world, across the nation and up your street. Have a better one and remain blessed.
BORDER WALL, MIGRANT INVASION, AMNESTY, IMMIGRATION, BORDER SECURITY

posted by at
07:22 AM
|
Access Comments