« Sunday Overnight Open Thread (2/17/19)
|
Main
|
Mid-Morning Open Thread »
February 18, 2019
The Morning Report - 2/18/19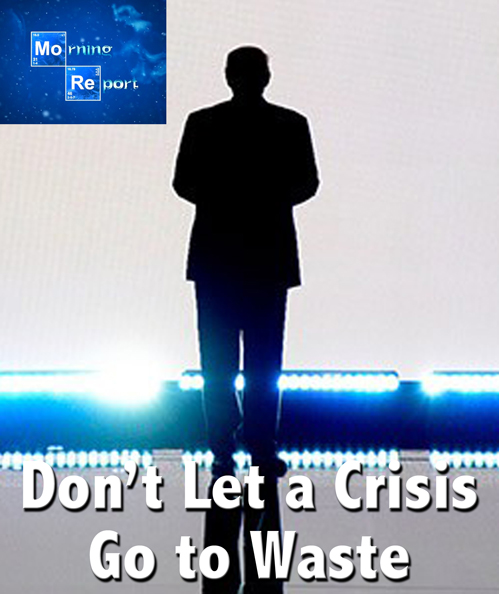 Good morning kids. Start of a new week and the lead story continues to be immigration and border security in the wake of the President's signing of the CR monstrosity that allowed the government to remain open (G-d forbid it shouldn't, right?) while providing some funds for the building of the border wall, along with his simultaneous declaration of a national emergency to use his executive authority to appropriate funds from other agencies. Except within the over 1,100-page monstrosity are thousands of tiny time pills that actually prevent even a shovelful of dirt from being dug, adequate funds or not. I don't know; Trump is boastful as ever that it's going to get done but frankly, I don't see how. From a political standpoint, I would have preferred him vetoing the bill and then forcing Congress - Democrats and GOP-e alike - to override him and then letting them take full blame for this. Beyond that, the insanity of our national debt as well as the size and scope of the feral Federal government are travesties in and of themselves, as well as the lifeblood of the very swamp that the President set out to drain.
I'm disappointed. I still stand behind our President 100% and am grateful for what the alternative could have been. Angelo Codevilla, the author of the seminal essay (and now book) The Ruling Class now laments in Foggy Crossroads (linked below, as well):
...Trump slid into this bind as more than half his presidency slid by because he relied on the Republican Party's establishment. This reliance was his choice. Nobody else's. Recall that Trump won both the nomination and the presidency by running as much against the Republican part of the ruling class as against the Democrat part of the ruling class.

Since the Republican Party is part and parcel of the ruling class that is ruining America, relying on it to make America great again was doomed to be self-defeating...

...But Trump knows (or does he?) that the Deplorables are not stupid, and that a spreading sense of betrayal among them is the one and only thing sure to defeat him and to deliver him, friendless, to ruling class revenge.

On the other hand, Trump really might carry through in deed the role he previewed in his El Paso rally. In that case, through Obamian-Bushite behavior toward existing law (selective enforcement, executive orders) and Jacksonian behavior toward the courts ("now let them enforce it!") he would create pressure on the Republican establishment to bet their jobs on the outcome of the next election. For which outcome he would set the agenda...
Elsewhere, legal eagles from Mark Levin to William Jacobson opine that the declaration of a national emergency is well within the President's Constitutional authority but surprisingly, Heather MacDonald, a woman who is usually spot on about politics is way off base, and declares the President's action a danger to the Constitution, and encouraging SCOTUS to strike it down. On what planet has Ms. MacDonald been living on since 2009? I left this comment for her:
...I think she fails to fully appreciate the situation the nation is in. The Constitution has been all but shredded, especially during the 8-year reign of error that was Obama. The Democrats will do everything to seize and hold power and then use the very same Constitution as either a shield or a cudgel whenever we attempt to reign them in and reverse course.

Does she really think that if and more likely when (G-d forbid) the Democrats regain the White House they will play by the rules and respect the Constitution? Look what they'e done with virtually every part of the Bill of Rights so far and yet she is upset at what the President has done vis a vis declaring a national emergency...

...I really hate to be the bearer of bad news, but we crossed the rubicon ages ago. Frankly, given the nature of who and what the Democrats are, as well as their stooges in the GOP establishment, if President Trump here and now declared martial law, dissolved Congress, took control of the legacy media, outlawed the Democrat and other leftist parties as well somehow rooted out ever anti-American element in society, I would cheer.

America is in the opening stages of breaking apart anyway. I pray its nonviolent and as amicable as possible. I fear it will be the opposite. To not see this is sticking one's head in the sand.
Other links highlight some of the points stated above such as Obama's flagrant and serial lawlessness, the NY Times even admitting that the President's border enforcement policies are working, and the globalist element in the opposition to his policies.
In other news, "Bro-Fo" Omar raising funds for terrorist front group CAIR and Louis Farrakhan with another Day-Ending-in-"Y" entry on who is to blame for the attack on the Women's March. Also, one hum-dinger of a Huma-Danger as the Weiner is loose.
As the Jussie Smollet hoax is confirmed as such, several good links on how no one is distancing themselves from him and/or apologizing for helping to pimp the lie and an indictment of Palsi-Pelosi's refusal to condemn the America-hating and Joo-hating radicals in her midst. Other political news, Joe Bidet slimes his own country in Europe, Fauxca-Has-Been Warren gets heckled on her campaign trail of tears in Georgia, and a look at beyond "the Flight 93 election." Meanwhile, intrepid independent journalists help Kamala-Toe pick out a Lindsay Nelson horse blanket, and Klown-Kar Klobuchar pimps more gun grabbing in response to the shooting in Aurora, IL.
Several good links about the crashing and burning of the Russia Collusion hoax and traitor Andrew McCabe's admission of attempting a coup against candidate and then President Trump, plus a good overview of this madness from Victor Davis Hanson.
Overseas, Austria's chancellor has high praise for Trump's foreign policy, Venezuela is still in crisis, the Deep State State Dept. may be conducting sabotage-cum-shadow diplomacy in Iran with John Kerry and a look at Iran 40 years after the casbah got rocked.
Surprise! "Bro-Fo" Omar's district is the terrorist recruiting capital of the nation, Canada captures an ISIS animal who may have narrated beheading videos and Daniel Greenfield on another troubled young man who was just turning his life around... before raping and killing a teenager.
Domestically, as alluded to up top the swamp is swamping even Bush and Obama levels of pork, the money from Food Stamp fraud could build one big mother wall, and a look at even more Deep State sabotage of Trump vis a vis the failure to get 5-G telecom up and running. Also, I hope we are not going to resurrect Fannie and Freddie, further analysis of the Amazon-NYC HQ fiasco, the future of Social Security and unionized bureaucrats are at a 40-year low.
We need more gun laws, despite the fact that gun-grabbing Illinois already prohibited the Aurora shooter from possessing a firearm, the Vatican finally defrocks Theodore McCarrick, the pants have lost their crease with Brooks and the Green Marxists, real scientists/experts warn of even more forest fires if we do not ramp up logging and finally Colin Kaepernick successfully extorts millions from the NFL. Oh happy day.
NOTE: The opinions expressed in some links may or may not reflect my own. I include them because of their relevance to the discussion of a particular issue. Anyway, links from around the world, across the nation and up your street. Have a better one and remain blessed.
BORDER WALL, MIGRANT INVASION, AMNESTY, IMMIGRATION, BORDER SECURITY

posted by at
07:32 AM
|
Access Comments