« Chess Thread 02-16-2019
|
Main
|
Saturday Overnight Open Thread (2/16/19) Bachelor & Bachelorette Party Night »
February 16, 2019
Saturday Evening Movie Thread 02-16-2019 [Hosted By: TheJamesMadison]
One Frame at a Time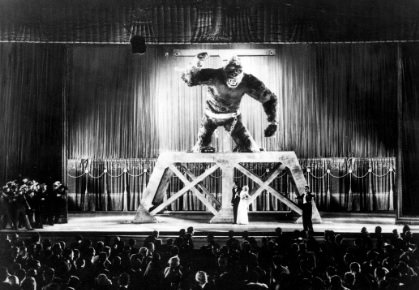 I love old special effects.
Rear projection that's obviously fake, compositing that has elements fading into each other, literal drawing on the film cells, I love it all. Beyond their quaint qualities, I like to see people with limited means to create the impossible visually stretch, using every tool they had at their disposal, to invent new images that the audience had never seen before.
Out of all of it, though, my personal favorite is probably stop-motion animation, using a stiff and articulated doll, filming it a single frame at a time, to create the illusion of moving, breathing creatures on film. The technique is almost as old as film itself (there's a lost short film from 1898 called Humpty Dumpty's Circus), and it was used for decades until newer technologies supplanted it.
Early History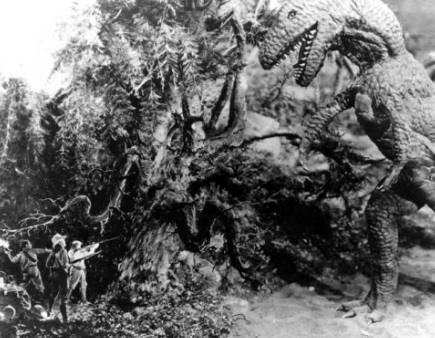 Stop-motion animation is largely used for fantasy type movies. Silent films used it, in particular around The Lost World, the adaptation of Sir Arthur Conan Doyle's story, but there was something about its use in King Kong that inspired a young boy in California.
The interesting thing about Kong is the hair on his body. Willis O'Brien used rabbit fur to cover the giant ape's rubber musculature, but they never figured out a good way to keep the hair from moving when they manipulated the armature from one shot to the next. Without any way to solve the issue, the team charged forward with the work, concerned that the public would see the movement of the fur from shot to shot and instantly call it fake looking.
The movie released, and there are contemporary reviews of the film that actually praised the movement of the fur.
I don't think that anyone over the age of 8 ever really considered Kong to be terribly realistic looking, but audiences of the day were more open to less than realistic special effects because it was the best they could get. They seemed to be more open than modern audiences in general to extend suspension of disbelief towards things like a giant ape made from a puppet moving jerkily from one frame to the next.
I remember talking to my dad about the film, and he told me that he didn't like the movie. All he could see was the fake looking puppet.

Ray Harryhausen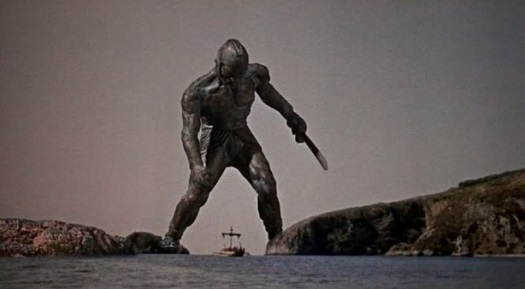 That little boy in California was none other than Ray Harryhausen who would go on to become the name known for stop-motion animation. He worked for decades creating models and moving them slightly and very slowly while taking their pictures and trying to combine them with footage of actors.
What he ended up creating were some of the most magical fantastical creatures in film. From Kali, the six armed goddess in The Golden Voyage of Sinbad and the skeletons in Clash of the Titans all the way back to his work on the ape in Mighty Joe Young, Harryhausen embraced the fantastical, eschewing the literal, and bringing classic visions to celluloid.
And that's really what I love about stop-motion animation. It was a combination of heedless ambition, limited means, and the desire to simply bring new visions to the screen. There was little concern for providing evolutionary explanations for how a giant cyclops would populate on a small island, it was simply there. Jason lived in a land of magic, and that was enough explanation.

What We've Begun to Lose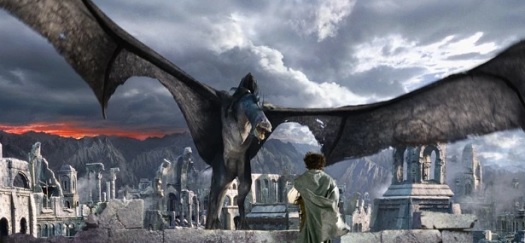 That heedless embrace of fantasy in its widest terms is something that I feel is lost in modern fantasy cinema. I love the design of The Lord of the Rings, but it flies in the face of the old aesthetic. Everything in Peter Jackson's fantasy feels like it came from a real time and place, long ago, and it works there, but most fantasy has embraced that philosophy in its wake.
There's a literalism to many filmgoers that discourages things like weird images unmoored from reality. There's a pickiness about how some creature could never exist in Earth's gravity or that wings that small couldn't provide the lift to carry a creature of that size. Most audiences don't care, but the ones who do tend to have Youtube channels that get millions of hits complaining about little things just like that (*cough*Cinema Sins*cough*) and they highlight all of it. Writers and directors see that sort of traffic around such nitpicks and don't want to be called out for such "sins", so they actively move to prevent it, undermining the sort of fantasy you might want from lighter fare.
That aesthetic isn't quite gone, though. I think of the Pirates of the Caribbean movies. The first one had walking skeletons, a la Jason, while the next two films were filled with sea monster people and ended with a goddess growing in size to a giant and then turning into a sea of crabs. I know that the director of all three movies, Gore Verbinski, was influenced directly by Harryhausen, and it's this embrace of the absurd that helps me to appreciate all three films.
My favorite is actually the second one, Dead Man's Chest, because, while the plot went ridiculous, it had a light and fun tone that matched well with its clippy pace and the absurd design of Davy Jones and his crew. It was the third movie that embraced a more somber and serious tone (for some reason) where the clash really began to set in for me.
Still, the films worked best when it combined unrealistic design with a light tone. We didn't need a literal mindset to appreciate how the weird creatures fit into the world, because the movie never really asked us to take the creatures' origins terribly seriously. Hand waving the word "magic" at weird things in stories can have a certain charm that I feel isn't really appreciated.

Back to the Point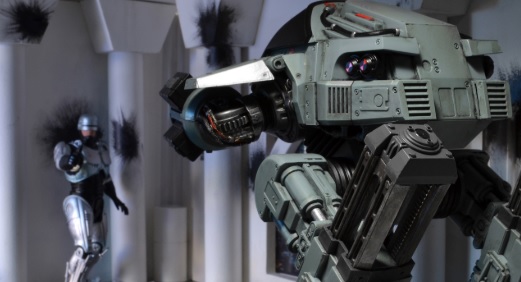 The unreality of stop motion animation, the fact that it's really hard to get smooth motion from moving dolls one frame at a time, lends itself naturally towards fantasy. In order to get the kind of smooth motion from a stop motion puppet, you'd need a very large model in order to produce the tiny movement that real life sees in one-twenty-fourth of a second. It doesn't help the art form's reality when most productions actually film at a slightly lower framerate (like sixteen frames per second), which ups the jauntiness.
The last major motion picture that I can find that used stop-motion animation in a way to create an intendedly believable creature (as opposed to something jokey like in Monkeybone) was Coneheads. The below represents about the best that stop-motion animation was ever going to get:
That very same year, Steven Spielberg rejected a form of stop-motion animation for Jurassic Park (called Go-Motion, which was used in Robocop), and the success of the computer generated dinosaurs represented the end of the stop-motion technique for believable creatures. Just compare the look of the (now 26-year old) CGI to the stop-motion above:
It moves so much more smoothly and in a much more lifelike manner than the stop-motion monster. It's inherently more believable because it moves more in line with how we see motion in the real world. For many, that's an all around plus, but for me, it represents the end of something that I found wonderful. It represents the end of the embrace of pure fantasy, which is ironic since computer generated effects can produce so much more than stop-motion animation ever did. But it was the unreality of stop-motion animation techniques that I found provided that intangible sense of fantasy, almost like I was stepping into another world that operated on different rules.

Movies of Today
Opening in Theaters:
Alita: Battle Angel
Isn't It Romantic
Next in my Netflix Queue:
The Babe
Movies I Saw This Fortnight:
Dragon Inn Full Review (Netflix Rating 3/5 | Quality Rating 2/4) Poster blurb: "Hu obviously has a strong eye and can fill a frame artfully, but it all felt so artificial to me." [Netflix DVD]
Top Hat Full Review (Netflix Rating 4/5 | Quality Rating 3/4) "Astaire and Rogers have real chemistry. The music and dancing really is well done." [Netflix DVD]
The Big Country Full Review (Netflix Rating 5/5 | Quality Rating 4/4) "It's amazing that Wyler and Heston went on to release the gargantuan Ben-Hur just a year later." [Amazon Prime]
Bird Full Review (Netflix Rating 3/5 | Quality Rating 2.5/4) "[F]inely produced and well acted, but it felt too all over the place, trying to gather up as much of the life of Charlie Parker that could fit into 160 minutes." [STARZ]
Wild Strawberries Full Review (Netflix Rating 5/5 | Quality Rating 4/4) "It's a wonderfully humanist tale from a director who is more well-known for existential dread and stark images rather than a gentle touch." [Personal Collection]
Faster (Netflix Rating 2/5 | Quality Rating 1/4) Full Review "Faster piles characters and plot twists where they don't belong, turning what should have been a simple but fun throwback into a mess." [Netflix DVD]
Shoeshine Full Review (Netflix Rating 5/5 | Quality Rating 3.5/4) "It's not de Sica's best film (I still think that's Umberto D and most consider it to be Bicycle Thieves), but it's still very good and very much worth the time." [Amazon Prime]
Glass Full Review (Netflix Rating 4/5 | Quality Rating 3/4) "[W]ell acted, looks good, and has a very interesting take on its central idea." [Theater]
To Joy Full Review (Netflix Rating 3/5 | Quality Rating 2.5/4) "I wanted to like it more than I did, but there are some larger elements that I don't think get quite the support that they should." [Personal Collection]
Khartoum Full Review (Netflix Rating 4/5 | Quality Rating 3/4) "It's thin, razor thin, and assembled so poorly that I was exasperated through the entire movie, desperate for anything to actually grab onto except the occasionally sumptuous desert vistas." ["Library"]

Contact
Email any suggestions or questions to thejamesmadison.aos at symbol gmail dot com.
Follow me on Twitter.
I've also archived all the old posts here, by request. I'll add new posts a week after they originally post at the HQ.


posted by OregonMuse at
07:28 PM
|
Access Comments