« Saturday Gardening Thread: February 16 [KT]
|
Main
|
Chess Thread 02-16-2019 »
February 16, 2019
Ace of Spades Pet Thread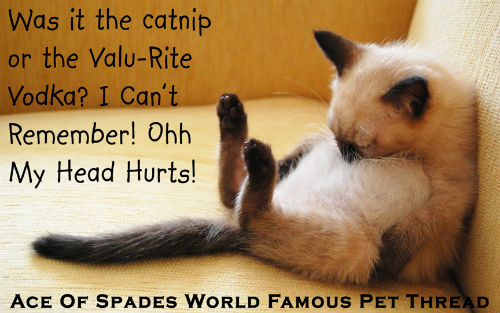 Welcome to the almost world famous Ace of Spades Pet Thread. Put down the snow shovels and the umbrella laced drinks and enjoy the world of pets.
***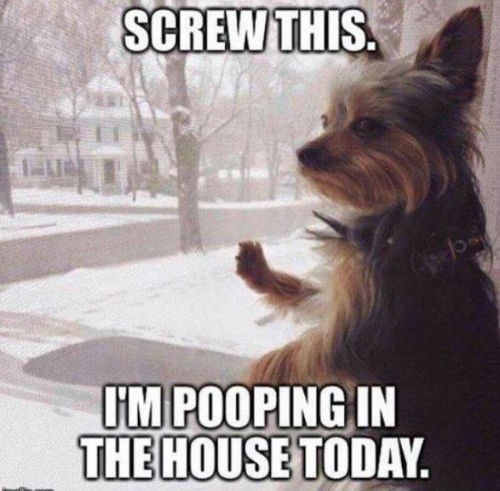 Misanthropic Acres has about 36" of snow on the ground. Our dogs are having a hard time getting around. I'll be using the snow blower this weekend in the back yard.
For those of you in snow country, what do you do for your pets to make their lives easier?
***
A Little of This. A Little of That.

American settlers had dogs. What did they eat? Dog bread! H/T Hank Curmudgeon


In an era long before pet stores and commercial dog food, what did Appalachian settlers feed their dogs?

Not too long ago, I asked my grandmother this question and her answer was quite interesting, "Each Saturday, my mother would take all of our table scraps that weren't considered unhealthy for the dog and bake it together — we called it 'dog bread' and it was the dog's food for the coming week."
***

There is always "one", isn't there? Busy body evicts cat.

A California fire department had to evict their beloved cat after it received a complaint about the animal being around fire equipment and supplies.

Edna the cat was evicted from Station 49 of the San Francisco Fire Department after the city received an anonymous complaint about the animal's location near medical equipment.
***

Missing socks? It just might be your dastardly cat.

It's a universal truth that socks tend to go missing — they get mismatched or they altogether vanish.

But Kim Crosland, a graphic designer in New Zealand, knew that the rate at which her own socks were disappearing was extreme.

Crosland and her family started to notice it two years ago. "We just thought the socks were getting lost in the washing or getting misplaced," Crosland told The Dodo.

Then, one day, speaking to a neighbor, Crosland realized she wasn't alone. "One of my neighbors had mentioned their socks going missing and we laughed about it," she said. "Our sock pile had dwindled as well."

Usually, the socks would disappear overnight, sometimes right out of her shoes.
***
Meet The PetMorons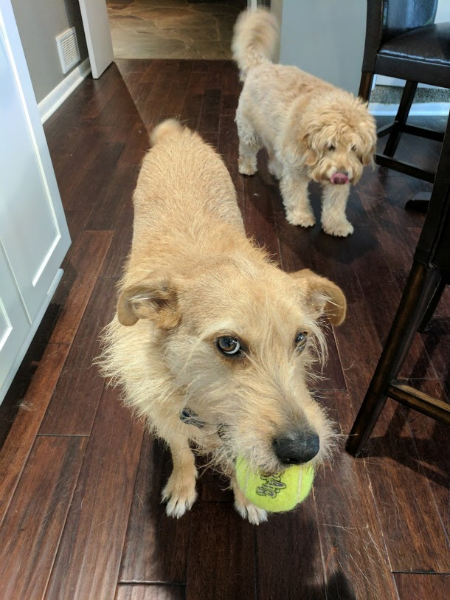 "I double dog dare you to throw this ball"

Hermes, rescue Lab-Airedale, is intensely projecting that thought into your skull.

Artemis, mini Golden Doodle, is just looking for treats.

Hermes has a hypersonic tail stub, Yoda ears, AT-AT legs and Wookie speech patterns. He's a real StarWars dog. Just like that Last Jedi thing was a dog. AmiRight.

Artie just hypnotizes people with her tail and licks 'em to death.

I'm just a blog reader. Never a commenter. Never even a comment reader. (Wha?) Don't even call me lurker.

Terry
Atlanta

(Hermes will wookie for treats.)
Adorable dogs Terry. Thanks for commenting, lurking submitting your photo and story. Stick around we don't bite.
***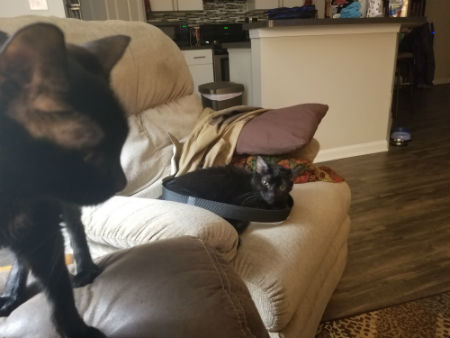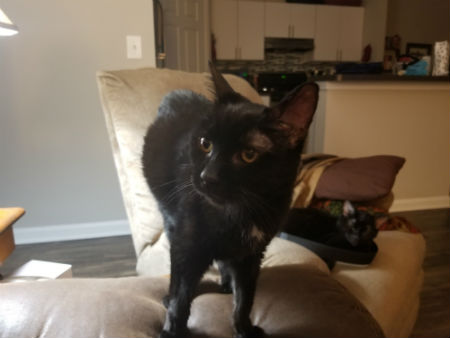 Been lurking around the blog for a long time, and I thought I'd pitch in with my two adorable deplorables. The one curled up in my belt is Angus, the Platonic ideal of the word "galoot" - rambunctious, friendly and slightly dumber than a pile of his own fur. In the foreground is his sister Rally, who at six and a half pounds is the undisputed queen of the house. They've been steadily transforming my paychecks into vet bills and used litter for about thirteen and a half years now, after I went to a Humane Society event in Omaha looking for *a* cat and the furry little devils were being all adorable at me so I couldn't bear to split them up. Had a nasty scare with them, especially Rally, after they had a bad reaction to their rabies vaccine last month and stopped eating for a few days. With a great deal of prayer and an assist from St. Francis they pulled through, much to the collective relief of their humans, and are back to their usual shenanigans. Hopefully they keep it up for a long while yet! -Stephen
Talk about a big heart, adopting 2 cats at one time. Awesome. We are happy to hear that your scare is over and all is well with Rally. Thanks for sharing with us.
***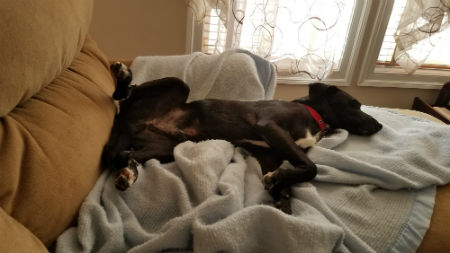 Zuko is a lab mix rescue. He has no shame and assumes this position whenever he naps...which is often. -Roger
Rescued and living the high life it appears. What a tough existence Zuko has. And an unusual but neat name. We appreciate his story.
***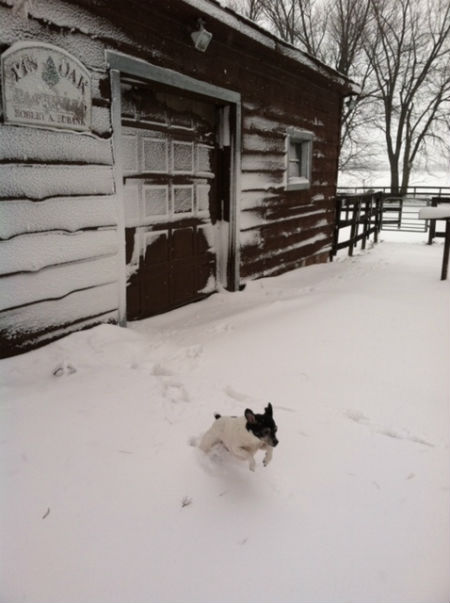 Here is Darla, my smooth-haired fox terrier. My daughters and I got her from a town south of us—Amo, Indiana—at a place we nicknamed the Poop Farm, because that is what they had the most of. Dogs, cats, goats, ducks, chickens, all for sale there. Darla loves the snow and is a great little friend -AgathaPagatha
Amazing how dogs love the snow. Good thing little Darla isn't way up north in snow country. It sounds like she has quite the life with you folks. Thanks for sharing.
***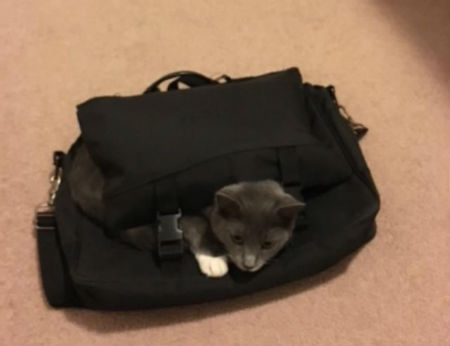 Not an oaf, lurker or lout, but I can be a poltroon in times of great danger, unless I have my magic weapon, called by the elves a "Browning Semi-Automatic". You remember Saki, our rice wine kitteh. You had a picture of her watching college football on my knee. Here she is ready for me to take her to work. She'd be fantastic, better than most I've worked with. Too bad I'm retired. -Ken
Good to see you guys again here at the Pet Thread. Saki appears to be quite comfy in the world of labor. Thanks for the submission.
***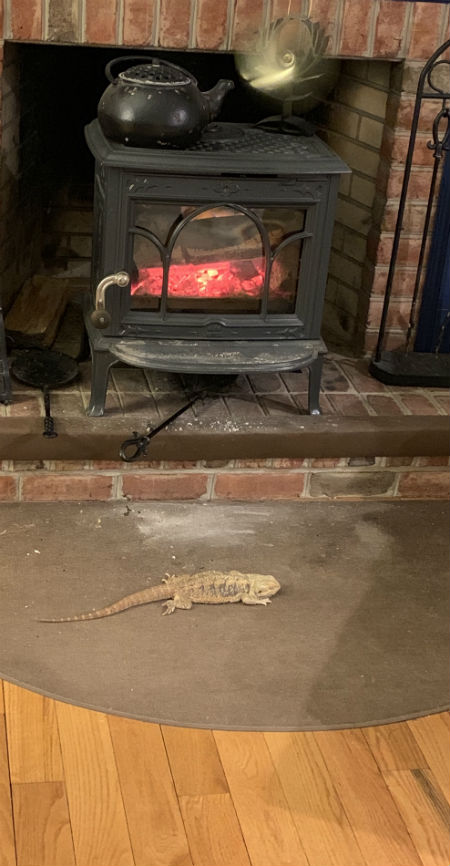 Our bearded dragon Newbie enjoying a snoozer in the warm spot in front of our wood stove. He's spent much of the winter asleep, since it's too chilly to be out on our porch. He will wake up though for his favorite bugs or slices from an orange. -Christopher
Newbie is no dummie. I think most of us would enjoy curling up in front of that wood stove. Looks comfortable. We don't see too many bearded dragon submissions. Thanks.
***
Long time lurker, love the thread. Don't know if you do video, attached video is of my loved German Shepherd Darby "helping" me mow the lawn. And here is Darby and rescue pup Bean! - Terrence
Sorry Terrence & Darby, the Pet Thread doesn't do videos unless they are in You Tube with a link. Helping mow the lawn? Interesting. Looks like you have 2 very nice buddies there.
***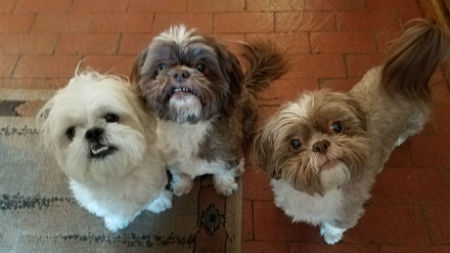 All three Gizmo, Chino and Rocky too posing for the camera - Bill
Thanks Bill for the photo of the 3 Amigos. How many T-R-E-A-T-S did you have to use for the pose?
***
Mis Hum, I'm sending you a real bull story of how a foundling calf turned into a pet. I will tell his story in the comments so as not to take up too much space. Ben Had
OK Ben, spill the story. Your pet looks delicious. I think we are all waiting for how this little calf became a big bull and a pet. :)
***
An astounding group of pets today and wonderful stories. Thank you so much for sharing with the AoS Pet Thread.
Do you have a video, photo or story you would like to share? You can reach us at petmorons at gmail dot com.
Have a wonderful week!

posted by Misanthropic Humanitarian at
03:00 PM
|
Access Comments