« CNN's Manu Raju Is a Straight Up Fake News Propagandist
|
Main
|
The Morning Report - 2/14/19 »
February 13, 2019
Wednesday Overnight Open Thread (2/13/19)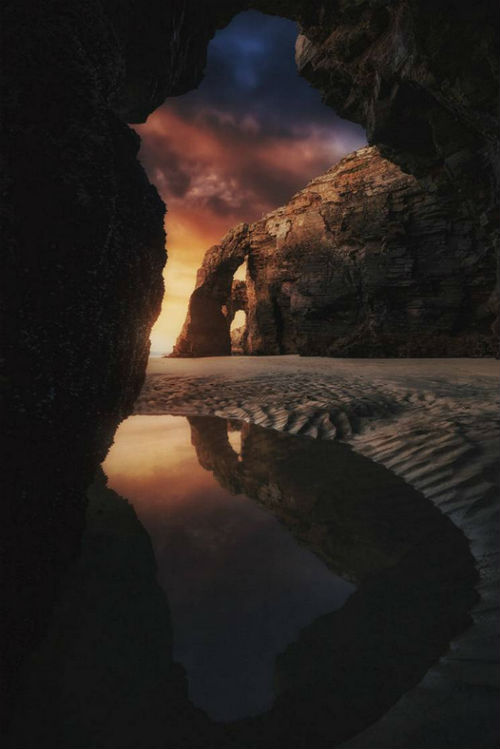 ***
The Quotes of The Day

Quote I

The price of a new home "far exceeds what buyers paid years ago, even adjusting for inflation. This disappearance of affordable new homes is not due to a change in buyer or builder preferences, but to homebuilders simply being unable to build at a price that many buyers in the region can afford."David Siegel,Housing First Minnesota

Quote II

"The truth of the matter is weapons like the AR-15 have an effective range of over 1,500 meters. If you're using a weapon with an effective range of over 1,500 meters, you are not defending yourself. You are hunting a human being." David Hogg

Quote III

"I removed Capt. Kotnik from her position as the commander of the Viper Demo team [Monday], because I lost confidence in her ability to lead the team. I know that loss of confidence is a common response from the Air Force, whenever someone is removed from a command position, and I think it's important to understand why we take this approach." Col. Derek O'Malley, the 20th Fighter Wing commander at Shaw Air Force Base in South Carolina

Quote IV

Globalization is making people richer — and that absolutely includes the American middle class. The economic insecurities most relevant to the interests of middle-income Americans have to do with defective markets that are, not coincidentally, those most shielded from the effects of globalization: health care and health insurance, higher education, and housing. Most of those defective markets are dominated by state-created cartels and semi-cartels; the exception is housing, which federal, state, and local governments have intentionally made more expensive as a matter of public policy.Kevin D. Williamson
***

Riding the storm out, and no, we aren't talking REO Speedwagon.

If you ever find yourself stranded in a storm — whether it's a hurricane, blizzard, or tornado — there's not much you can do besides wait it out. Until someone invents a machine that controls the weather, we only have so much power over Mother Nature.

But that doesn't mean a good sense of humor doesn't help. These creative individuals poked fun at the crazy weather around them and, against all odds, seemed to be having the time of their lives!
***
'Veterinarians Face Disproportionately High Suicide Rates, Study Says'

More than three decades of data shows that veterinarians are up to 3.5 times more likely to die by suicide than members of the general population, according to new a study in the Journal of the American Veterinary Medical Association.

Death records for more than 11,600 veterinarians filed between 1979 and 2015 showed that almost 400 veterinarians died by suicide during this time period. Consistent with general population trends, more male than female veterinarians died by suicide (326 versus 72) during the study. From 2000 to 2015, roughly 10% of deaths among female veterinarians could be attributed to suicide.
***

He calls himself, The Rick Wilson. I call him "Old Scrotum Head"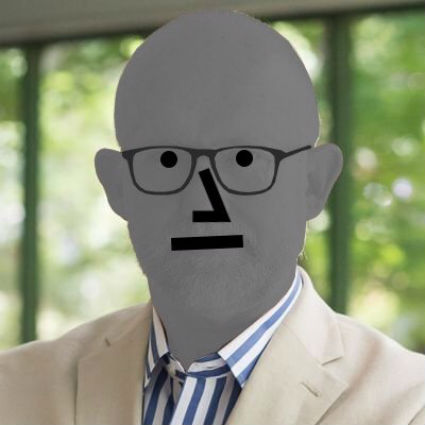 Rick Wilson has some explaining to do. He's not only a NeverTrumper but is he also an AmericaHater?
Prominent NeverTrump publications are shuttering, while pseudo-conservative commentators are struggling to find funds from wealthy backers for their influence campaigns. With the reality setting in that domestic dollars are becoming harder and harder to find, it appears that the NeverTrump movement may be pivoting overseas.

"GOP media guy" Rick Wilson, who has made a name for himself on liberal networks as a Trump-obsessed media pundit, attended the Doha Forum in Qatar this weekend alongside other establishment Republican voices and a delegation of congressional Democrats.

Wilson had nothing but great things to say about the annual Qatari conference, which was populated by a who's who of extremist voices and representatives from terrorist states.
The emirate of Qatar on the coastline of the Persian Gulf has benefited greatly from the limited attention span of Americans, who think that the only threats in that region emanate from Iran, ISIS terrorists or Saudi Arabia. But given Qatar's determination to spend a lot of its oil wealth on spreading Islamism and funding terror, even while this Gulf state enjoys the status of U.S. ally, it's high time that the West started paying more attention to the insidious nature of its activities.

>
>
>
>
>
But the same madrassas and mosques that were being influenced by the Saudis are now getting money from Qatar. That wouldn't be a bad thing if Qatar was pushing a moderate curriculum, but it's doing just the opposite. Yusuf al-Qaradawi, the exiled Egyptian cleric who is the chief ideologue of the Muslim Brotherhood, is orchestrating all of Qatar's efforts in spreading Islam. The Brotherhood is one of the chief sources of radical Islam in the region and was responsible for Egypt's brief period of radical Islamic rule after the fall of the Mubarak regime, as well as serves as the spiritual godfather of the Hamas terrorist movement. Qaradawi is also deeply involved in the Qatar Foundation, an institution supported and sustained by members of the Qatari ruling family that has spread radicalism around the world while masquerading as a charitable group.
***

NSFW You get what you pay for.

The average cost of breast augmentation in Australia is $13,000 [£7,000], so Jacqueline was thrilled to find a discounted price of $6,000 (£4,500).

But she now regrets choosing the knock-down rate as she will have to spend the same amount on corrective surgery.

She added: "It was a lot more affordable than what I had previously been quoted for breast augmentations, which range around $13,000.
***

The New Green Deal. It will not work.

Achieving the Green New Deal's objectives in ten years—or in 20 or 40—is clearly impossible. Even if hundreds of thousands of windmills, tens of millions of solar panels, and hundreds of millions of car batteries could be fabricated, the grid cannot operate on 100% intermittent and variable power—or even 50%.

One aspect of covering the landscape with hundreds of thousands of square miles of windmills and solar panels is that to do so would require suspending federal, state, and local environmental statutes, permitting procedures, and land use plans. Forget about the Endangered Species Act's habitat protections and prohibitions on killing endangered birds and bats. The Clean Water Act's wetlands protections will have to be overlooked. Environmental impact statements that now take years to prepare, years to move through the permitting process, and more years to litigate, are out the window. Wind and solar projects will have to be permitted in days.
***

Our country is wussifying at an alarming rate.

MILWAUKEE (AP) — Classes in Wisconsin's largest school district have been canceled because of the bitter cold.

Nearly 78,000 students in Milwaukee Public Schools are off Friday when high temperatures for the day could reach just 2 degrees. The wind chill factor is of even more concern because frostbite can occur within minutes.

The Racine Unified School District as well as dozens of other schools have also canceled classes Friday. Others have a delayed start.
Finland maybe nuts with their Universal Basic Income. But at least they aren't weather pansies.

Kids In Finland Continue To Ride Bicycles To School In -17°C (1.4°F) Weather And It's A Lesson In Commuting
***

Twitter is f*cked up, #LearnToCode @jack

Twitter CEO Jack Dorsey, whose platform has become synonymous with yelling, trolling, and a less-than-stable president who uses it for incoherent rants and threats of nuclear annihilation, is in a tough spot: Many if not most of the criticisms of his site are accurate, and Dorsey's tactic of choice when responding to them is usually sputtering out a bunch of five-dollar words about how he needs to make unspecified changes.

On Tuesday, Dorsey went through with a planned Q&A with Recode co-founder and New York Times contributor Kara Swisher. Unfortunately, this all played out in Twitter replies—a format that is ideal for conveying quick thoughts à la carte, but very hard to track in real-time. Just as unfortunately, Dorsey's interview strategy has not changed. About the only thing he conceded was that he has not been handling his role as CEO well and that major issues plague the entire platform.
***
The ONT Musical Interlude
Dedication To One's Craft
***

When planning a heist, you must take into consideration your footing. Genius Award Winner.

WATERVILLE, Maine —
A man accused of robbing a bank Tuesday morning in Waterville, Maine, was arrested after slipping on ice, police said.

Waterville police said Jason Mackenrodt robbed the Bangor Savings Bank on Upper Main Street just after 10 a.m.


Advertisement
Police said he showed a handgun, which was later determined to be a BB gun, and demanded cash.

Police said Mackenrodt got some money but slipped on ice in a parking, spilling the cash and the gun.
H/T that ibguy
***

Stranger helps out struggling student. Tonight's Feel Good Story of The Day.

Dan Laguardia was trading in his Scion at Auto City in El Cajon for a new BMW and overheard Kayla Cooper pleading with a salesman to help her finance a car.

Seoul Fields, an employee at Auto City, shared the story on his Facebook page:
***

Public Service Announcement time. Just a reminder guys, tomorrow is Valentine's Day. I'll let you know how this mug works out.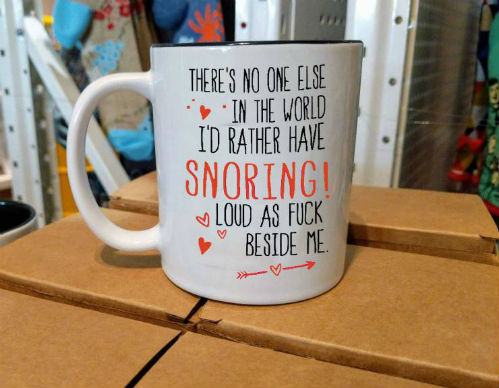 ***

Tonight's ONT has been brought to you by Comfort.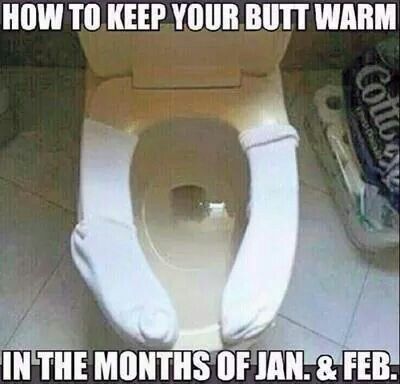 Notice: Posted with permission by the Ace Media Empire and AceCorp, LLC. Accept no substitutes or reasonable facsimiles.

posted by Misanthropic Humanitarian at
10:02 PM
|
Access Comments