« Sunday Overnight Open Thread (2/10/19)
|
Main
|
Mid-Morning Open Thread »
February 11, 2019
The Morning Report - 2/11/19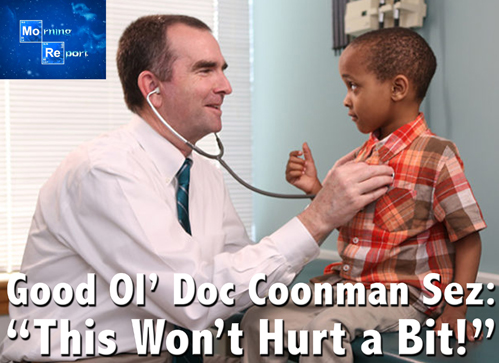 Good morning kids. Start of a new week and the howls of laughter and derision over Breakfast Cub Evita Ocasio-Cortez's "Green New Deal" precipitated both her and her aides pulling of the proposal from public scrutiny as well as a full court press in the media to shield her from criticism. Also, failing any other major breaking news (real or manufactured) such as the confirmation that Justice Ruth "Mrs. Bates-er" Ginsburg is in fact dead, the reaction to the Green New Deal fiasco provided much needed cover in order for the outrage over the Virginia Minstrel and Wife-Beater Sideshow to die down. Appearing on CBS' (De)Face the Nation, despite host-ette Gayle King, renowned for being best friends with Oprah Winfrey as well as being black, debased herself into a Stepin Fetchit routine by lobbing Jupiter-sized softball questions, Coonman Northam still managed to shoot himself in the face - twice. First, by declaring "...Right now, Virginia needs someone that can heal. There's no better person to do that than a doctor." This, from a man who not a week earlier doubled down on his support for legalized infanticide. He then went on to seemingly commemorate the 400th anniversary of indentured servitude in the Commonwealth, to which the handful of active neurons in King's empty cranium managed to crackle in response with "also known as slavery." Sheesh.
The only thing "Coonman" Northam can be thankful for is that the Sunday shows these days have essentially no viewers. Other than this complete fiasco, I cannot find any news on him other than his refusal to step down, and there's nothing about sexual abuser Lieutenant Governor Justin Fairfax or AG Mark Herring who has also been, er, tarred, with the blackface brush. As the essay from American Thinker points out, it's rather interesting and enlightening to see when grievance groups collide. Stay tuned.
The other story making headlines is Democrat Rep Ilan "Bro-Fo" Omar once again opening her cake-hole to spout out more rancid Joo-hatred, to which her colleagues and fellow travelers, including Chelsea Hubbell were forced to condemn, in theory for the nature of the comments and not for being openly overt in their espousal. Also, two good essays take a look at American Jews, black anti-Semitism and the direction of the Democrat Party.
To the border we go where one study shows we would need to end legal immigration for a period of decades if we want to truly save American jobs for Americans, a contractor who worked on the 2006 version of the wall says that building the luxury Trump model today is not only feasible but actually rather easy, and a look at how illegal aliens actually comprise a de-facto 51st state.
In politics, both Amy Klobuchar and Fauxca-Has-Been have announced their entry into the Democrat 2020 race, the latter spouting off some piffle about Trump winding up in jail before the next election even as evidence about her lying about her heritage turns from being merely fabulist to perhaps criminal, as Palsi Pelosi rattles her dentures about forcing Trump to release his tax returns, some Dem stooge in California says that of course she should not have to do the same because Democrat, "Closeted Organizer" Cory Booker thinks judicial nominee Neomi Rao should be disqualified if she supports normal marriage, Powerline thinks Booker actually has a shot, Trump has really come through for Christian voters, Victor Davis Hanson on the unabashed socialism being a gift for PDT echoed in a piece that thanks Breakfast Club Evita, and RIP North Carolina Congressman Walter Jones.
First Amendment and Fake News Fakery: On the media in total defense mode for Donkey Chompers Ocasio-Cortez, the Jussie Smollet hate crime hoax, what compels billionaires to photograph their genitals and post them, Candace Owens is not a Nazi and yes, the greatest threat to freedom of the press is the media itself.
Guns, Guns, Guns: Along with all their other surefire vote-getting schemes, the Dems are going to try to advance the banning of private gun sales, Illinois is putting the regulatory squeeze on gun stores and Smith & Wesson is fighting back agains anti-gun stockholders trying to sabotage the company from within. Well, that is the Leftist way, isn't it?
Mueller Inquisition: Acting AG Whitaker's utter smoking of the House Judiciary Committee, while a joy to behold, is merely a foretaste of the bureaucratic persecution about to be unleashed on the President, his family and anyone remotely associated with him.
Foreign Desk: Ayatollah Assaholea sez "Death to America" doesn't mean what it means, the urgency to eradicate the regime as we mark its 40th anniversary, Matt Whitaker says Merkwurdige Merkel actively helped a terrorist evade American justice, Spengler takes a look at the problems of Germany trying to save itself from within, and reading the tea lives with the national elections in India.
Defense: NASA moves from the vital mission of apologizing to Muslims to frivolous bullshit of testing technology that can deflect planet-killing SMs-OD.
We-All-Slam-For-I-Slam: Bring out your dead... in fishnets, garter belts and stilettos, and a deeper look into the murder of Jewish teen in Israel.
Domestic News: The usual gang of whores, thieves, globalists an their flunkies are plotting to sabotage the President's wildly successful tariff agenda, and a review of a new book on the administrative state and the subversion of the Constitution.
Raskolnikov News: Thanks to "Cui-Bono" Cuomo's infanticide law, a thug who stabbed his pregnant girlfriend to death will only be charged with her murder and not that of the unborn child, after the Green New Deal, Donky Chompers Ocasio-Cortez brays like a jackass about the unfair criminal justice system, or something, and some dame named Toni Periwinkle is running for mayor of Chicago and evidently her views on criminal justice will make Chicago as it is today look like Rudy Giuliani's New York in comparison.
Economic News: Two more from Illinois where Windy City breaks wind with yet another guaranteed income scheme, and this Governor Pritzker has just the ticket - raise taxes on the rich. Elsewhere, Trump has been very good for overall quality of life in America and his deregulation agenda has worked miracles on the manufacturing sector, the insanity of Leftist modern monetary theory, and lastly a call to actually raise the marginal tax rate on the wealthy as a strategery to beat the Dems. Yeah, I get the idea, but how about slashing government across the board and lowering our debt and deficits? I know, too many of us bristle at losing "muh entitlemintz!" but we gotta start winning hearts and minds about this or else Leviathan will consume us. Probably too late already, but still. The principle of the thing dictates we gotta try.
Healthcare: If they can't get you as you exit the hoo-hoo, they'll get you in your dotage or before, a measles outbreak in Washington State is the perfect opportunity to protest required vaccination, and Jello-Brain Gillibrand jumps on the wipeout private insurance bandwagon because she has to politically.
Education: A flash of sanity, finally, from Johns Hopkins University where schools officials tell the spoiled little bastards demanding the school cut ties with ICE to piss off, but more insanity from New York's CUNY as it muzzles whatever is left of the concept of free speech on campus.
Red Greens: The invaluable resource of Discover the Networks goes behind the green curtain to reveal the reds behind the Green New Deal, Palsi Pelosi spits out some sort of platitude towards this shambling fiasco of a naked hijacking of America, and another look at nuclear energy. Meh, thanks to fracking and other technology we have 500 years worth of oil, but it's a good talking point with which to nail a Lefty.
Feminazism, Transgender Freak Show, War on Manhood, Etc.: The APA is dangerously full of shit with its "toxic masculinity" report and a psychiatry professor correctly labels the transgender movement as mass hysteria.
Hither and Yon: Aww, Michal "Tubby Riefenstahl" Moore's TV show got canceled (didn't know he had one), Baseball succumbs to social justice madness by disabling the "disabled list," a look at the politicization of the Covington MAGA Hat Catholic School boys, and Daniel Greenfield on blackface madness and the war on Poppins.
NOTE: The opinions expressed in some links may or may not reflect my own. I include them because of their relevance to the discussion of a particular issue.
Anyway, links from around the world, across the nation and up your street. Have a better one and remain blessed.
COONMAN & POONMAN VIRGINIA DEMOCRAT IMPLOSION

posted by at
07:00 AM
|
Access Comments